TRX40: More High-End Motherboards for TR3
The new sTRX4 socket will be paired with a TRX40 chipset – a design that AMD says comes from an in-house team and built on GlobalFoundries 14nm. The new chipset, updated from the previous X399 in this space and even updated from the X570 in the consumer space, is the other half in the CPU-to-chipset bandwidth story. By using a PCIe 4.0 x8 link, AMD is removing almost any practical bandwidth limitation downstream from the CPU.
The new TRX40 chipset will come with a degree of modularity.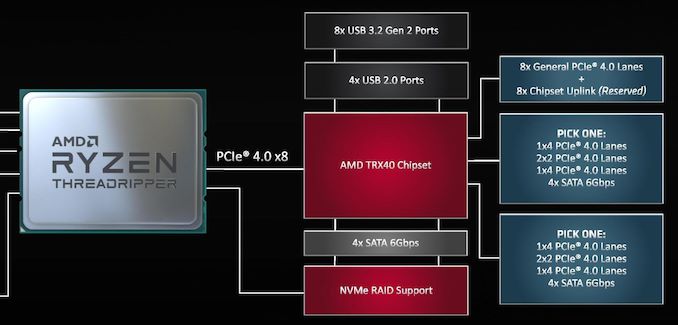 From the chipset, we can see motherboard manufacturers afforded a full PCIe 4.0 x8 slot, up to another x8 lanes as two x4 connections or further bifurcated, or instead of those bifurcated lanes, either four or eight more SATA ports. That's 8 SATA ports on top of the four already present on the chipset.
So I like these modular systems. It allows motherboard manufacturers to go crazy with offering potential systems. For example:
Potential TRX40 Variants
AnandTech
CPU
Chipset
TRX40 SATA Powerhouse
20 drives
x48 for PCIe slots
x8 for downlink
8x SATA from options
x8 for dual NVMe
8x SATA from options
4x SATA from chipset
TRX40 NVMe
Powerhouse
18+ drives
x48 for PCIe slots
x8 for downlink
dual NVMe from options
x8 for dual NVMe
dual NVMe for options
-
So that would be a motherboard with x16/x16/x16 (or x16/x8/x16/x8) in terms of PCIe 4.0 slots, a single x8 slot for a pair of NVMe drives, and then TWENTY SATA ports, all directly supported on the system without any additional controllers.
If SATA isn't your thing, then the same arguments could be made for 48 PCIe lanes and six PCIe 4.0 x4 NVMe slots, making a total of 18 high capacity PCIe 4.0 drives. The fact that AMD has put more PCIe lanes into their high end desktop platforms, plus this amount of modularity, wants me to play Dr. Frankenstein.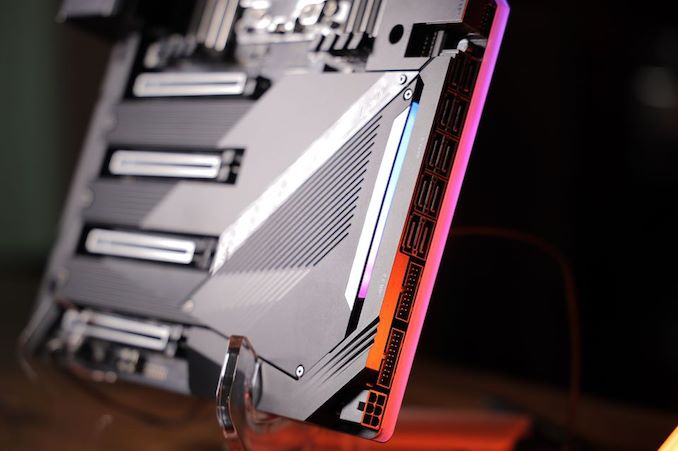 To be fair, those ideas are a bit extreme. Motherboard manufacturers will likely have to partition off a few lanes for 10 GbE networking, perhaps Thunderbolt, or maybe something more exotic like a RAID controller, or an RGB controller.
As noted in some of our previous news posts, motherboard manufacturers have been slowly leaking names of their TRX40 products. At this point in time we have seen mentions of the following:
ASRock TRX40 Creator
ASRock TRX40 Taichi
GIGABYTE TRX40 AORUS XTREME
ASUS Prime TRX40 Pro
ASUS ROG Zenith II Extreme
MSI TRX40 Creator
MSI TRX40 Pro 10G
MSI TRX40 Pro Wi-Fi
We expect details of some of these to perhaps be announced today, or on the 25th when the CPUs come to market. GIGABYTE has even been showing previews of their motherboards on social media, with one showing an obscene number of power phases, and we've seen images of boards with 8 SATA ports. We'll have our usual motherboard overview article up on that date, and we'll be looking at reviews of these motherboards through the new year.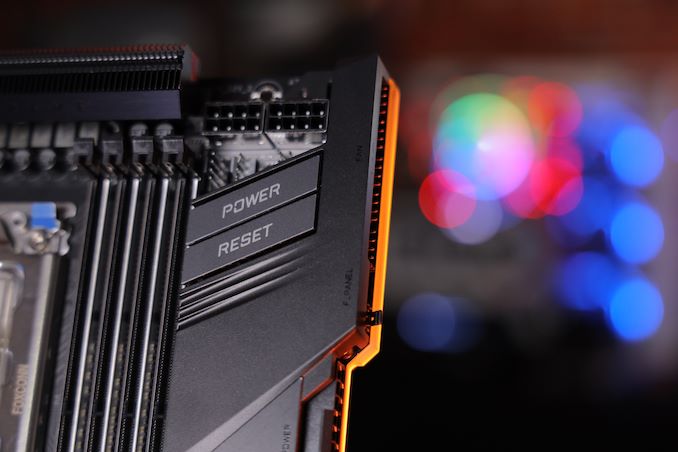 I will address comments about potential TRX80/WRX80 motherboards which have been put into the ether as potential other chipsets being launched. When asked, AMD said that the only chipset they are launching today is TRX40.