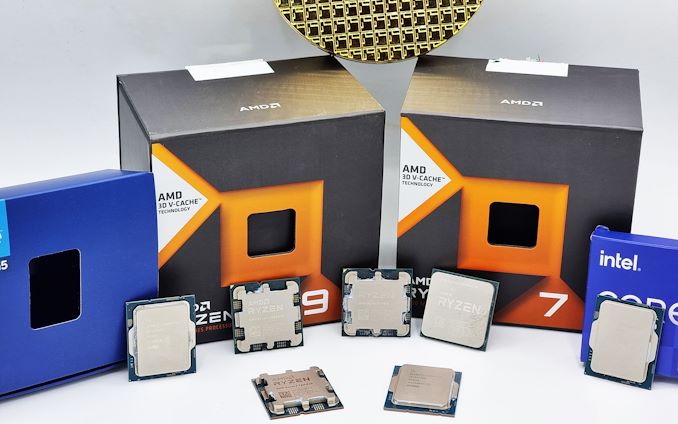 In our series of Best CPU guides, here's the latest update to our recommended Gaming CPUs list. All numbers in the text are updated to reflect pricing at the time of writing. Numbers in graphs reflect MSRP.
CPU Market Overview, Holiday 2023
As we stride through the holiday period, the tinsel, glitz, and fanfare of festivities are on their way. And the CPU market looks pretty solid as we round out the end of the year. Intel recently launched their latest 14th Gen Core family to the market, with the Core i9-14900K spearheading things with 6.0 GHz out of the box. While impressive on paper, there's AMD's Ryzen 7000 series to contend with, with competitiveness at the top end of the market scorching right now, and that's not a pun. Stock levels look good on processors at popular retailers such as Amazon and Newegg, and many motherboards/DDR5 memory are floating around to satisfy demand. The CPU market, on the whole, looks strong as we move into the final stages of 2023.
Looking at a wider and broader overview of the current CPU market, the top end is dominated by the new Intel Core i9-14900K (8P+16E/32T) and AMD's Ryzen 9 7950X (16C/32T). An honorable mention does need to be made regarding the Core i9-13900K (8P+16E/32T), which, although it hails from Intel's previous 13th Gen family, is nearly identical to the new 14900K bar a bump to core frequencies. All three of these processors are similarly matched in compute performance, whereas the only 'real' gain separating them is in AVX-512/AVX2 workloads, as AMD's Ryzen 7000 does support these instruction sets. Other than that, it's very competitive at the top.
Another notable processor, which is technically a flagship but is primarily aimed at gamers, is the Ryzen 9 7950X3D (16C/32T), which has 3D V-Cache packaging, giving the gamers 96 MB of L3 V-Cache on one CCD and 32 MB on the other. Another more value-orientated chip for gamers is the Ryzen 7 7800X3D, which has all the benefits in gaming that the Ryzen 9 7950X3D has but without the notoriously high price of the flagship.
The mid-range (Core i7/i5 and Ryzen 7/5) processors offer decent compute performance and are more than adequate for gaming when paired with a competent discrete graphics card. One major talking point is the latest Intel Core i7-14700K (8P+12E/28T), which is a marked upgrade over the previous Core i7-13700K (8P+8E/24T) and puts the 14th Gen Core i7 much closer to the i9 series than we've previously seen before. Given both the Core i7-14700K and Core i7-13700K share the same $409 MSRP (same price at launch), there's certainly some value to be found there.
When deciding which chip to use when upgrading or building a new system, users can find lots of value in Intel and AMD's previous generations (13th/12th Gen Core series and Ryzen 5000). These processors now offer unprecedented cost-effectiveness, and some of the previous generation's high-performing CPUs from these previous lineups can be paired with more affordable DDR4 memory, which has come down in price massively since DDR5 was launched. Additionally, both Intel and AMD have been aggressively reducing prices as they shift their focus toward promoting their latest cutting-edge technologies and architectural advancements. While Intel's 13th Gen pricing hasn't changed since the launch of 14th Gen, we expect these price cuts to come over the coming months as retailers look to offload their older stock.
Consequently, prospective buyers can take advantage of sporadic, continuously fluctuating, and decreasing prices. Among the noteworthy options is AMD's Ryzen 7 5800X3D, featuring 8 cores and 16 threads, along with the 3D packaged 96 MB of L3 cache. This CPU is particularly well-suited for games and applications optimized to leverage its unique 3D V-Cache in games that can support more L3 cache. With not much difference in performance between Intel's 14th and 13th Gen, this makes 12th Gen an even more attractive proposition in terms of value. Let's look at where the market is signalling, and we'll make our best picks for the 2023 Holiday period.
A short overview of the best sellers updates:
Looking at the best sellers list at Amazon (at the time of writing), the landscape has changed dramatically since our last guide. Over half of the top 10 best-sellers are new to the list since our September 23 guide, which represents a shift. Most notably, the gaming-centric AMD Ryzen 7 7800X3D takes the #1 spot, up two places from #3. Perhaps one of the best buys for gamers, the Ryzen 7 7800X3D has 8 x Zen 4 cores with 96 MB of 3D L3 V-Cache, which, in games that can make use of large pools of L3 cache, makes the 7800X3D exceptional value at $397.
Coming in at #2 is a new entry into the top-10 list representing AMD's Zen 3-based Ryzen 5000 family, the Ryzen 5 5600X. At $159, it's a very value-orientated processor right now, with 6 x Zen 3 cores, and provides a solid balance of price versus performance. Even the #3 on the list is the next step up in CPUs, the Ryzen 7 5800X, which has 8 x Zen 3 cores and a price tag of $208, shows users looking for value over raw performance. At #3 is the Ryzen 7 5800X ($208), a mid-range 8C/16T chip with Zen 3 cores, at a very respectable price compared to pricing on 8-core chips of four or five years ago.
Another Zen 3-based chip from AMD coming in at #4 is the Ryzen 5 5600G (6C/12T), which is an APU with 7 Radeon graphics cores and provides an entry to gaming without the need for a discrete graphics card; this is $124 at Amazon right now and represents great value, so it's easy to see why it's currently in the top-10.
Digesting the Amazon best-selling processors, the top 10 looks like this:
Moving down the list to #5, we have one of three Intel CPUs in the top 10 of Amazon's top-selling CPUs. The Intel Core i7-13700K (8P+8E/24) represents Intel's 13th Gen family, which has subsequently been refreshed with Intel's 14th Gen Raptor Lake refresh. With a price tag of $378 at Amazon, there should be more value to Intel's latest Core i7-14700K with 4 more E-cores than its older sibling, although at $415 (MSRP is $409), this isn't the case at present. Intel's second entry onto the list is currently at #7, is the latest flagship, the Core i9-14900K ($579), and is the first mass-produced processor to hit 6 GHz clock speeds out of the box.
At #9 is the Intel Core i9-13900K ($547), which is essentially the Core i9-14900K with slightly slower core clock speeds, or visa versa, depending on how you look at it. Both have the same 8P+16E/32T configurations and while the 14900K is the faster and newer chip, there isn't much difference in performance between the two.
Pivoting back to #6, up from #10 from our September 23 buyers guide, the Ryzen 7 5700X has dropped to $184 (from $190) and looks to offer users even more value. The other AMD APU on the list is the slightly higher spec Ryzen 7 5700G ($175), which is $2 cheaper than the 5600G and has 2C/4T more with an additional Radeon graphics core.
At #8 is the Ryzen 7 5800X3D, with 96 MB of L3 3D stacked V-Cache and 8 x Zen 3 cores for $323. Even though it represents AMD's previous Zen 3 generation, it's a competitor in gaming performance to the Ryzen 7 7800X3D ($397), although the newer chip with Zen 4 cores does offer more compute grunt. The Ryzen 7 5800X might be a generation old, but it still offers exceptional value at $323, given how cheap AM4 and DDR4 memory is at present.
In a volatile global economic climate, people are typically spending less, but there is a wide variety of options available. With the price cuts on previous generations, such as Ryzen 5000 and Intel's 12th Gen Core series, it allows users to get the most out of their money. Finding that sweet spot between value and performance is seemingly more straightforward, but with most tech, the more performance you want, the more you'll have to pay. Interestingly, two of AMD's Ryzen 50000 series APUs make Amazon's top 10 sellers. They still offer unparalleled levels of performance with the added benefit of semi-decent integrated graphics for gamers on a strict budget, such as the Ryzen 5 5600G at $126, a 6C/12T processor with Radeon graphics.
Best CPUs for Gaming Holiday 2023
Sometimes choosing a CPU is hard. So we've got you covered. In our CPU Guides, we give you our pick of some of the best processors available, supplying data from our reviews.
AnandTech Gaming CPU Recommendations
Holiday 2023
(Prices as of time of writing)
Segment
Recommendation
Amazon
($)
The High-Performance Pick

AMD Ryzen 9 7950X3D (16C/32T)


Intel Core i9-13900K

(8P+16E/32T)

$637
$547
The Smart Money Pick (Price versus Performance)
Intel Core i5-13600K (6P+8E/20T)
$308
Gaming on a Budget
AMD Ryzen 7 7800X3D (8C/16T)
AMD Ryzen 7 5800X3D (8C/16T)
$397
$323
The majority of our recommendations aim to hit the performance/price curve just right, with a side nod to power consumption as well.
The High-Performance Pick
AMD Ryzen 9 7950X3D (16-core, $637) - Stronger Gaming Performance
Intel Core i9-13900K (8+16-core, $547) - Stronger Compute Performance
Now, before we explain why we have gone with the picks we have, one obvious exclusion from these is the Intel Core i9-14900K. While the 14900K ($579) sits at the top as Intel's latest flagship, it's essentially a Core i9-13900K with a 6.0 GHz boost frequency. Outside of the bumps to core frequencies, it is the same chip, architecturally and from our review, in performance, too. We've opted for two picks in our high-performance pick, both for slightly different reasons, and we're giving a nod to both Intel and AMD for high-end gaming.
That is because both the Ryzen 9 7950X3D and the Core i9-13900K are fantastic representatives from both camps for gaming and non-gaming situations. It wins in gaming performance in titles that can use the additional L3 cache of the Ryzen 9 7950X3D. Still, in non-gaming scenarios, the latest Core i9-14900K and Core i9-13900K both play to the strengths of its hybrid architecture, giving them a total of 24-cores versus 16-cores on the AMD chip. In compute, the extra cores coupled with the high clock speeds shine, whereas both models are competent for gaming.
While the Ryzen 9 7950X3D is our top choice for gaming, the Intel Core i9-13900K presents itself as a compelling alternative. It boasts equivalent power in compute-intensive tasks and comes at a cheaper price of $537. If your budget and availability allow, the AMD Ryzen 9 7950X3D, coupled with the AM5 platform and DDR5 memory, offers solid levels of all-around performance.
In the desktop processor market's upper echelons, four noteworthy options exist—two from AMD and two from Intel, each with unique strengths. Our current preference is the Intel Core i9-13900K, but there's also the Intel Core i9-13900KS, running at a remarkable 6 GHz and offering even faster clock speeds; all other specifications remain identical. Keeping the Core i9-13900KS cooled optimally so that it can hit 6 GHz in single-threaded applications can be difficult without equally premium cooling options, and with that in mind, we've decided against selecting it.
Focusing on the AMD side, you have the Ryzen 9 7950X and the Ryzen 9 7950X3D. Like their Intel counterparts, these chips share similar specifications, differing mainly in clock speeds and L3 cache. The Ryzen 9 7950X3D stands out with its 96 MB of 3D V-Cache on the CCD, optimized for gaming. This configuration transforms it into an 8-core, 16-thread powerhouse with a massive 96 MB of L3 cache when gaming, especially with Microsoft Game Mode enabled and the relevant AMD drivers installed. In gaming, the Ryzen 9 7950X3D with 96 MB of L3 3D V-Cache in favorable situations is the winner here, whereas the Ryzen 9 7950X has marginally more grunt in compute performance.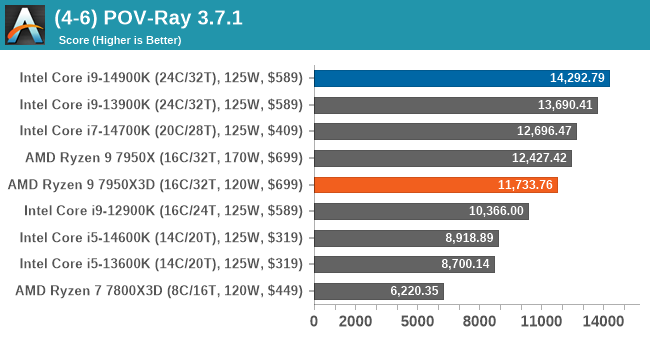 As we can see in our POV-Ray benchmark results, the Intel Core i9-14900K is at the top of the pile with slightly faster clocks, and while the Core i9-13900K is the next best in the list, the AMD Ryzen 9 7950X3D was around 17% behind the Core i9-14900K which is still good. In tasks such as our V-Ray render, the Ryzen 9 7950X3D was marginally ahead of the Core i9-13900K by around 2%, and when rendering in Blender 3.3 in the long Barbershop test, the 7950X3D was ahead by about 23 seconds. Of course, both processors are more than capable of rendering and encoding, and overall, in our suite, the Core i9-13900K beats the Ryzen 7950X3D across the majority of our CPU test suite. However, still, the Ryzen 9 7950X was competitive with the 13900K in the more compute-heavy scenarios.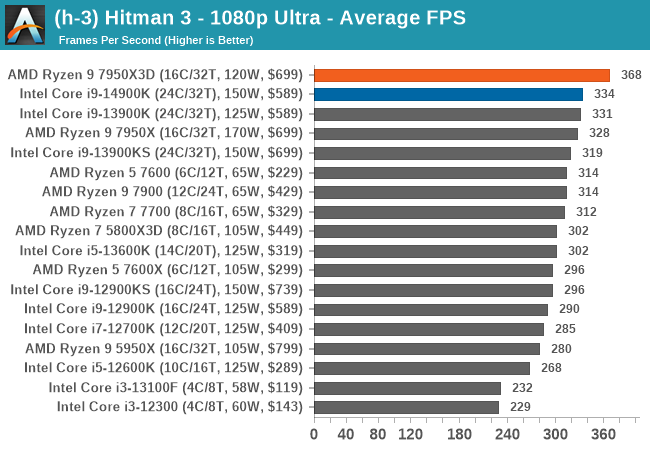 Regarding gaming performance, the AMD Ryzen 7950X3D has the advantage in titles that can leverage that additional L3 cache due to their implementation and execution of 3D V-Cache packaging. In other games that don't benefit from the large levels of L3 cache, things are much closer throughout most of the games. It's a very specific use case that AMD is capitalizing on. Still, as we've mentioned throughout much of our Ryzen X3D series coverage if the games you play don't utilize the L3 cache, then there's not much of a real-world benefit over the competition.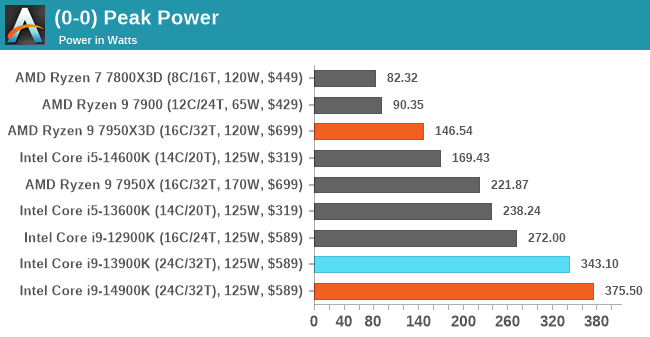 Outside of the aforementioned benefits of the 3D V-Cache, things are so competitive that it really boils down to the use case, the type of workload, and what programs and applications are being used. Neither AMD nor Intel's flagship offerings do much wrong in compute-heavy tasks and gaming. Still, if power draw is a concern, then AMD's highly efficient Zen 4 cores really take things to another level, or, should I say, a lower level as far as total power draw goes. AMD's Ryzen 7000 series chips at full-load generate much lower wattage levels than Intel's 13th Gen Core series; the Ryzen 9 7950X3D with 16 x Zen 4 cores draws much less power than Intel's Core i5-13600K, which is a 14-core part. The Intel Core i9-14900K at maximum load draw over 428 W of power using the MSI MEG Z790 Ace Max motherboard, which is a ridiculous amount; this is another reason we opted against selecting it.
Overall, when it comes primarily to gaming, there's much more benefit to be had from upgrading the graphics card than focusing purely on the processor, especially at higher resolutions such as 1440p and 4K. Although there's a lot of furor surrounding current GPU pricing (still), NVIDIA's GeForce RTX 4090 is nothing short of a beast. Even AMD's Radeon RX 7900 XTX/XT caters to high resolution and those with high refresh rate monitors such as 144 Hz at a slightly lower price point, and it's unlikely that anyone will endure lower than 144 Hz frame rates with any of the mentioned options at sub 4K resolutions.
Another question to really consider is, what are you upgrading from? If the answer is Ryzen 5000 or Intel's 12th Gen Core, then you're more likely to notice a much bigger jump in performance by upgrading your graphics card. Of course, any of the latest and greatest chips will do the job. Even a CPU such as the Core i5-13600K ($308) will provide enough compute grunt in practically every title outside of those insane CPU-heavy games such as Microsoft Flight Simulator 2020. Even here, upgrading to a more powerful graphics card will increase frame rates more than any processor will. There's a reason why many users are opting for CPUs from the previous generation, as price cuts have made them even more attractive, and they are still competent in terms of overall performance.
Despite this, we are opting for the AMD Ryzen 9 7950X3D ($637) as the best gaming CPU of the current generation (so far), and with 128 MB (96+32 MB) of 3D V-Cache, it really does the job in titles that can benefit from it. Even on the compute side of things, the 7950X3D has enough oomph, whereas the Ryzen 7 5800X3D, when it first launched, didn't do so well in comparison. The Intel Core i9-13900K ($547) is the next best, and it's cheaper by $100 right now, and is faster in more scenarios than not, but AMD has a clear advantage on the power consumption and performance per watt. That being said, the Core i9-13900K can reduce the overall cost of the system by allowing use with the previous generation's Intel 600 series chipsets, as well as be paired up with cheaper DDR4 memory and still deliver high levels of multithreaded performance.
The question of future-proofing is also answered with both of these options, as PCIe 5.0 SSDs have rapidly become available on the shelves, but in contrast, PCIe 4.0 x4 M.2 drives have been reduced as a result, and there are plenty of storage bargains to be had at present.
The Smart Money Pick (Price versus Performance)
Intel Core i5-13600K (6+8-Core/20T, $308)
Unlike our previous recommendations for those with an unlimited budget, most PC builders in the current economic climate must consider their financial constraints while striving for decent performance levels. This selection aims to strike that balance. Sitting at the juncture between Intel's entry-level Core i3 series and the more upscale Core i9 and i7 series is the Intel Core i5-13600K, priced at $308. We've opted to retain our previous pick based solely on what's available in the market, and with prices fluctuating regularly on the market, the Core i5-13600K has held its price around the $310-320 price point. While Intel has the newer Core i5-14600K as part of its Raptor Lake refresh, it is currently selling for $339 on Amazon, and we believe the Core i5-13600K offers better value at the current price points. It is, after all, the same processor rebadged with such minor frequency differences that there is no benefit in paying more for the same chip with a new model number.
So, what makes Intel's Core i5-13600K such an attractive choice within the sub-$350 price range? It's crucial to acknowledge that even at $308, it still represents a significant investment, especially when compared to CPU prices from a decade ago. However, when you consider the performance-to-cost ratio and the ability to achieve solid value for gamers seeking areas to make savings without sacrificing too much compute performance, the Core i5-13600K certainly shines. Intel's hybrid core architecture, blending performance (P) and efficiency (E) cores, combined with Intel's Thread Director, designed to assign the right tasks on the right cores within Windows 11 21H2 or later, further enhances its appeal. This is all about delivering solid performance while keeping your budget in check and allowing savings to be made that could be allocated to other devices, such as memory, storage, and graphics.
The Core i5-13600K has a total of 14-cores (6P+8E), with 12 threads, and 24 MB of L3 cache, and on the surface, this doesn't sound like much. The reality is, the Core i5-13600K has everything under the hood that it could need to make it a viable option for users looking to game at resolutions of 1080p up to 4K in combination with a good discrete graphics card. Looking at the finer specifications, the Core i5-13600K can boost up to 5.1 GHz on the Performance (P) cores, while the Efficiency (E) cores can hit frequencies of up to 3.9 GHz.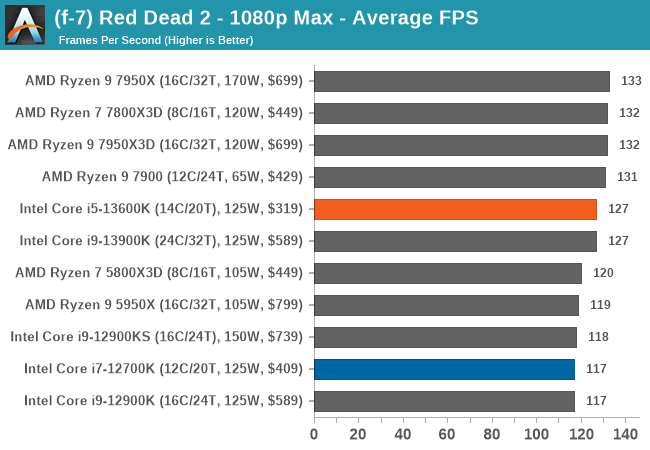 What makes the Intel Core i5-13600K such a solid buy for $308 is that it's highly versatile and can be used as a very well-rounded option for both compute-related tasks and gaming. It benefits from all of the single-threaded IPC performance uplifts over Alder Lake as the Core i9-13900K does, but outside of highly multi-thread applications where the flagship comes out the clear winner, there's not that much difference in gaming. As we can see above in Red Dead Redemption 2 at 1080p Maximum settings, the Core i5-13600K performs similarly to the Core i9-13900K, but the Core i5-13600K is cheaper (at the time of writing).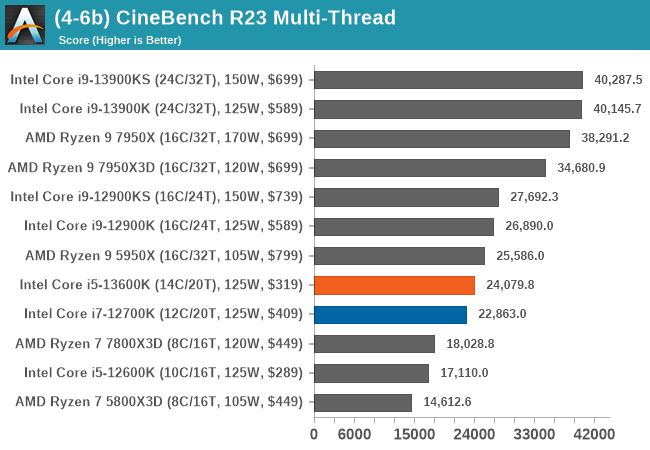 We have highlighted the two-generation old Intel Core i7-12700K in the above charts to highlight how close it is in performance to the Core i5-13600K. Both have merits and while the Core i7-12700K is currently cheaper at $290 at Amazon, users have flexibility in what they want to do in terms of making a decision. The Core i5-13600K has slightly marginally better compute performance, while both share similar performance levels in gaming. The differential between both chips comes down to the price, as the money saved could be put towards a better graphics card, higher-density memory, or even storage.
Overall, the Intel Core i5-13600K, despite the new 14th Gen, is still our pick for balancing out price to performance, especially in gaming, and at $308, it represents a solid buy.
The Best Overall Value Pick For Gaming
AMD Ryzen 7 5800X3D (8C/16T, $322)
AMD Ryzen 7 7800X3D (8C/16T, $397)
Turning our attention to our final selection, which places gaming at the forefront while maintaining a value-orientated approach to balancing performance and affordability. Within AMD's Ryzen 7000 and 5000 series, numerous options can potentially fulfill this criterion. For instance, the Ryzen 7 5700X boasts 8 cores and is priced at an enticing $184, making it a standout value proposition under the $200 mark. Furthermore, considering all the price drops on AMD's previous Ryzen 5000 series, it's worth noting that the Ryzen 7 5800X3D, now available at $322, is a very solid proposition for gamers on a budget.
Now we did really have a hard time making our value pick, and while the Ryzen 7 5800X3D ($322) did edge as the leading contender, a notable mention should also go to the Ryzen 7 7800X3D ($397). Despite both of these chips having a similar makeup with 5.0 GHz boost clocks, 96 MB of 3D V-Cache, and a TDP of 120 W, the price difference between both, especially in the value segment, did sway us to the Ryzen 7 5800X3D. The key takeaway in value is, for the price difference, users could put up a cheaper set of DDR4 memory and would be one step closer to a full system.
The AMD Ryzen 7 7800X3D Review: A Simpler Slice of V-Cache For Gaming
Even though the Ryzen 7 7800X3D benefits from the latest Zen 4 cores, the makeup of the system has a larger cost overall with the combination of more expensive AM5 motherboards and a reliance on the higher-cost DDR5 memory. While $75 doesn't seem a lot, adding the extra premiums of an AM5 motherboard and DDR5 into the equation quickly expands, and that money would be better spent on a faster graphics card, especially in relation to gaming performance.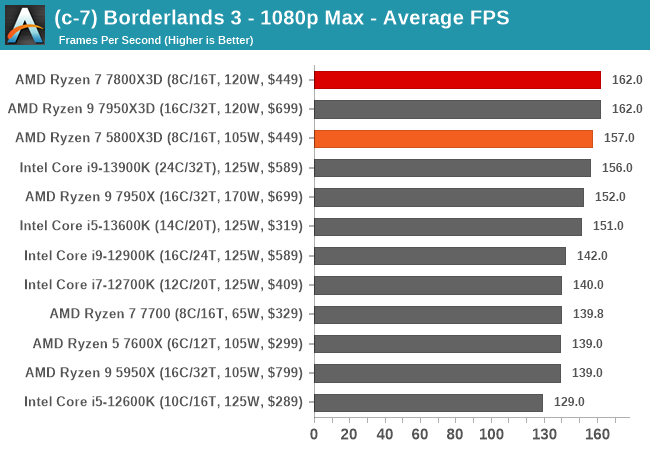 The benefits of the additional L3 cache are not especially consistent from game to game – among other things, you need to be CPU-limited to begin with to really enjoy them. Still, coupled with a cheap AM4 board and DDR4 memory, the Ryzen 7 5800X3D still warrants a look for buyers who aren't focused on gaming performance. Using Borderlands 3 at 1080p maximum settings as an example where the L3 cache does benefit performance, there's not too much difference between the flagship Ryzen 9 7950X3D ($637), the Ryzen 7 7800X3D ($397), and our pick, the Ryzen 7 5800X3D ($322). This is much the case in most of the titles that can benefit from the large levels of L3 cache, which is made possible through AMD and TSMC's 3D V-Cache packaging technology. In games that don't use the L3 cache, the beefier and gruntier CPUs take the edge, especially when not primarily CPU-limited.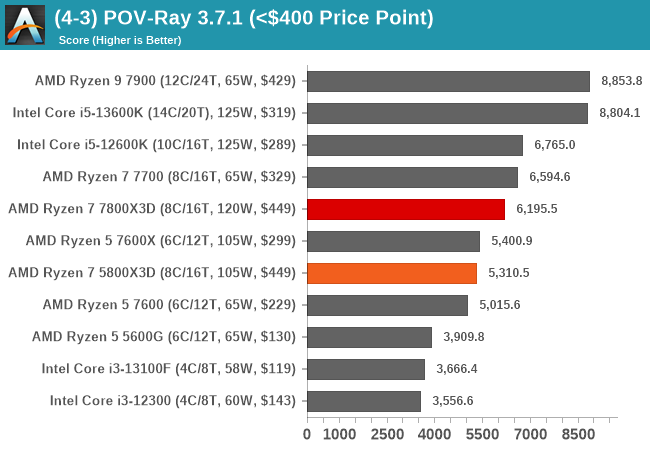 In compute-focused scenarios, that's where other similarly priced CPUs, such as the Intel Core i5-13600K ($318), really do shine. Still, the Ryzen 7 5800X3D ($322) holds its own, and while there are trade-offs in balancing compute and gaming performance, the Ryzen 7 5800X3D in various games certainly makes it a very worthwhile offering. Even the Ryzen 7 7800X3D at $397 isn't too far ahead of the Ryzen 7 5800X3D in compute performance, which is why the cost savings associated with opting for Zen 3, AM4, and DDR4, make it all that much sweeter and easier on the pocket.
Touching more on the associated cost savings with opting for the Ryzen 7 5800X3D, it works with the AM4 platform and can be combined with a good set of DDR4 memory for optimal performance. Paired up with a relatively cheap B550 motherboard, which is much cheaper than current AM5 motherboards, leaves some extra spending money to pick up a better discrete video card, which, although cheaper than they used to be (thankfully), they are still not especially cheap. There's also the benefit of having eight Zen 3 cores to consider, as it means multi-platform games coming from the consoles (which use eight-core Zen 2 CPUs) won't find themselves for want of a CPU core.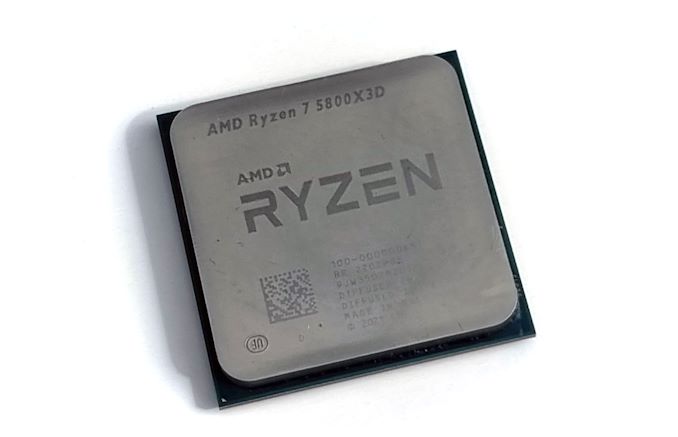 Even in games and scenarios that favor faster cores, the Ryzen 7 5800X3D is still competitive, and the onus is more on the graphics card than the processor, essentially meaning that the money saved on the 5800X3D over the AMD/Intel flagships can be spent on a better graphics card that will push framerates even higher. The Ryzen 7 7800X3D ($397) wins out in all situations, but the added cost makes it a case of, if you have the extra money, then go for this. If on a budget, the Ryzen 7 5800X3D ($323) is more affordable overall and is still very capable.
It's worth noting that the Ryzen 7 5800X3D does require a discrete graphics card to be effective. The previous generation of CPUs, such as Ryzen 5000 and Intel's 12th Gen, are cheaper this year due to the launch of the newer counterparts. With the ever-increasing demand for specifications from game developers making titles on the latest game engines and with poorly optimized console ports, it's getting harder to recommend gaming on an integrated GPU. Even though GPU prices are still relatively high, even in the mid-range, they aren't as bad as they were during the mining craze, and there are bargains to be had if users are willing to look around.
In the grand scheme of all things gaming, it is still hard for PCs to compete with the game consoles regarding a true budget solution. Although it's taken over 2 years(!), the PlayStation 5 and Xbox Series X are now very easy to get a hold of, and with an Xbox Series S starter bundle on Amazon for as low as $250, it's easy to see why users would opt that route. True, they're consoles, so they don't come with the flexibility that we tend to appreciate as PC gamers; but it's hard to beat the power of bulk buying that Microsoft and Sony enjoy – especially as the two of them are willing to sell these consoles at cost (if not at a loss). Factor in Xbox Game Pass and other subscription-based services such as EA Play (also on PC by the way), and consoles offer a different level of value.