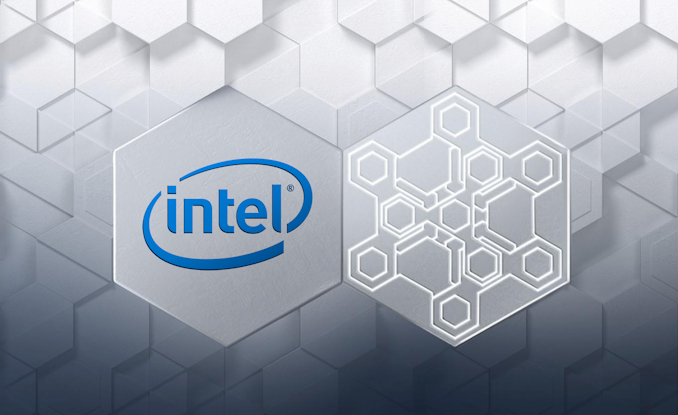 At a press event today in South Korea (?!) Intel shared plans for many of their next round of storage products, including the second generation of Optane enterprise SSDs and Optane DC Persistent Memory modules. They also announced that their next generation of 3D NAND flash memory will use 144 layers and come to market first with QLC-based SSDs, to be followed later by TLC-based SSDs.
It appears that the new Optane products are still using first-generation 3D XPoint memory, though Intel is not confirming that at this time. The Intel-Micron partnership that produced 3D XPoint memory and many generations of NAND flash memory is now ended, but Intel has not announced any plans for high-volume manufacturing of 3D XPoint outside of the IMFT fab in Utah that Micron is keeping in the divorce. Intel is bringing up a "technology development line" for 3D XPoint at a facility in Rio Rancho, NM, but so far this is only being discussed as an R&D location, not a large-scale manufacturing center. Last we heard, the long-term plan was to move 3D XPoint manufacturing to China.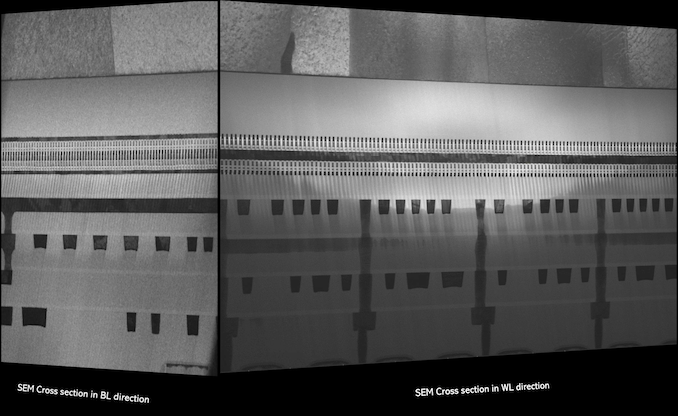 Official electron microscope images of 3D XPoint memory along two axes
Intel's Optane DC Persistent Memory that attaches directly to the memory controllers of server CPUs using the DIMM form factor was a bit late in coming to market, arriving with the current Cascade Lake-SP generation instead of with Skylake-SP as originally planned. Those first-generation Optane DCPM modules are also known under the codename Apache Pass. Their successor will be the Barlow Pass modules, planned to coincide with Cooper Lake (14nm) and Ice Lake (10nm) server processors scheduled for 2020. Furthermore, Intel's roadmap extends out for at least two more generations of unnamed DCPM modules to be paired with Sapphire Rapids processors and their successor(s), respectively. Based on previous Intel statements, Sapphire Rapids and third-generation Optane DCPM modules should be using a DDR5 interface. In the more immediate future, the current Apache Pass Optane DCPM modules will soon be arriving in the high-end workstation market alongside Cascade Lake. In the long run, Intel is working with Microsoft to lay the groundwork for persistent memory support in client editions of Windows, but Intel isn't ready to make specific promises about bringing persistent memory support to their consumer hardware platforms.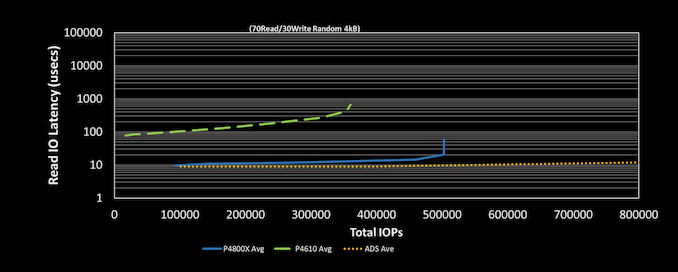 Optane "Alder Stream" SSD compared to Optane DC P4800X and SSD DC P4610
On the NVMe SSD side, Intel will be inaugurating the second generation of enterprise Optane SSDs in 2020. The original Optane SSD DC P4800X (codenamed Coldstream) will be replaced by Alder Stream next year. Intel is promising major performance improvements but is being coy about just how big a jump we can expect; they provided a graph that cuts off the end of the curve for Alder Stream but indicates it should at least get close to doubling random IO performance. (Intel's graph is for 70/30 mixed 4kB random IO.) It wouldn't be a surprise to see PCIe 4.0 support given the lifespan Intel's new Optane SSD controller can be expected to have, but the performance data Intel has shared so far doesn't require more than the current generation's PCIe 3 x4 interface. After Alder Stream it is reasonable to expect enthusiast derivatives to replace the Optane SSD 900P and 905P, and eventually a replacement for the dual-port Optane SSD DC D4800X, but Intel hasn't made mention of these yet.
Notably missing from Intel's presentation is anything new for consumers based on Optane. They are still touting the Optane Memory H10 two-in-one SSD, but the second-generation consumer Optane M.2 drives (Optane Memory M15 and Optane SSD 815P) have been officially cancelled. The 815P is dead because 118GB is simply too small for a standalone SSD to be competitive, and the M15 is dead because there aren't enough systems still shipping with mechanical hard drives to support another generation of cache drives. The current Optane Memory M10 and Optane SSD 800P are not being discontinued yet.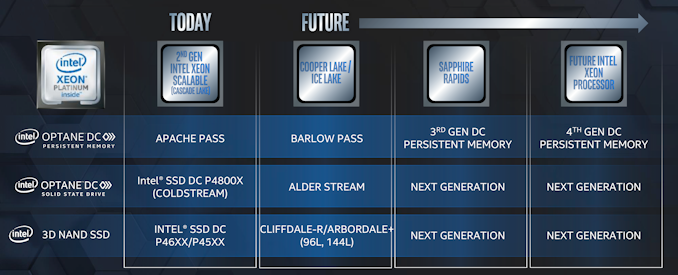 3D NAND Developments
As for flash-based SSDs, Intel's presentation focused primarily on QLC NAND. Intel's SSD 660p is the most successful consumer QLC drive to date, and it will soon be replaced by a 665p that switches to 96-layer QLC from the current 64-layer QLC NAND. This isn't a full product announcement with specs or an exact release date, but we predict it will not bring major performance changes and will arrive by the end of the year.
Intel's next generation of 3D NAND after 96 layers will be 144 layers. This will be a QLC-first generation, keeping the same 1Tb die capacity as their 96 and 64-layer QLC. Intel is still committed to their 3D floating gate memory cell design, which they claim provides superior data retention to the charge trap flash designs used by most of their competitors. Intel has not stated whether they are taking their string stacking construction beyond two decks, but it seems most likely that they are reaching 144 layers with something like a 72+72 layer design rather than 48+48+48.
Intel has followed in the footsteps of some of their competitors by bringing up the subject of 5 bit per cell NAND flash to push density beyond QLC (4 bit per cell) NAND flash. Their report is similar to what Toshiba said at Flash Memory Summit: they have it working in the lab, but have not determined if it is feasible for real products.
Intel's next round of enterprise/datacenter flash-based SSDs will be arriving in 2020, including a 144L QLC SSD. We don't have any model numbers yet, just codenames. Arbordale+ is tricky to speculate about since the original Arbordale codename was only used internally and didn't result in any shipping products, so all we know is that it will be a 144L QLC product. Cliffdale-R will be the 96L TLC refresh of the current Cliffdale SSD DC P46xx/45xx family. This probably means that 144L TLC enterprise SSDs won't be arriving in 2020 and their 144L node will be QLC-only for quite a while. Cliffdale-R should be the first SSDs under Intel's new naming scheme to occupy the SSD D7 tier.
Related Reading