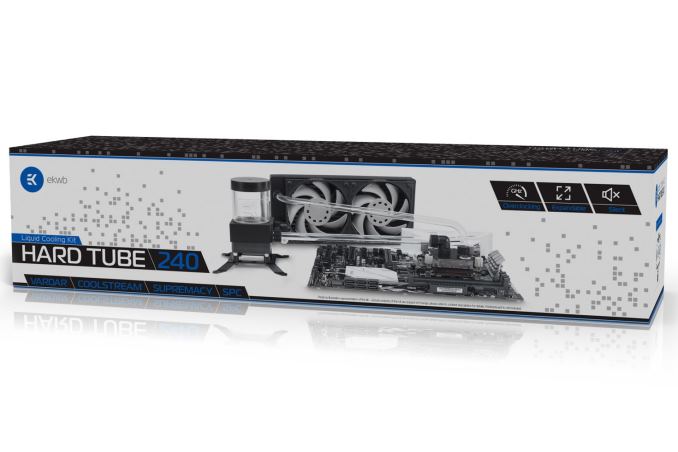 EKWB has offered enthusiasts water cooling parts and complete kits for years now. The kits are intended to simplify custom water cooling in what can be a complicated matter. They offer users a one-stop solution for their water cooling needs including the pump, reservoir, radiator, fittings, and soft tubing – everything one needs to get started on cooling your system with water. To that end, EK has put together new kits, the EK-KIT HT240 and HT360 that includes hard tubing instead of the typical soft tubing we see on most DIY kits. Hard tubing will take a bit more thought and effort for loop design, but the appearance, in the end, is worth it to many.

Outside of offering the hard tubing, the new kits come with the EK-Supremacy MX block; a universal CPU block intended to fit modern sockets (Read: 115x, 20xx, and AM4). It uses a universal mounting mechanism said to offer error-preventing, tool-less installation. The copper block is built using the same cooling engine as the popular EK-Supremacy EVO with the same flow properties and almost identical thermal performance according to EK.
Both kits contain an EK-CoolStream SE radiator which is a slim (sub 30mm) radiator using parallel flow brass cooling chambers for reduced hydraulic flow resistance as well as copper fins with a fairly high 22 FPI density. The 240 kit includes a 240mm radiator while the 360 kit a 360mm radiator. Mating with the radiator is EK-Vardar F3-120 high-static pressure fans. This specific model is PWM controlled via a 4-pin header with speeds up to 1850 RPM rated at 29.5 dBA. Air flow rates are 63 CFM with static pressure measuring in at 2.24mm H20 which should have no issues sending air through the radiators.
EK supplies an EK-XRES 100 SPC MX PWM water cooling pump reservoir combo which only needs power through a 4-pin PWM fan header for operation – no Molex connector required as the pump uses around 6W. PWM control will allow users to set automatic pump speeds dependant on CPU temperature through the onboard headers. The pump is rated with maximum pressure head at 3.2m (10.5 feet), with a maximum flow rate of 450L/h. This pump/res combo measures in at 2.6" x 2.6" x 4.6" making for a small footprint while being able to hold around 125ml of liquid. The kit also comes with its EK-Cryofuel Clear Concentrate coolant to mix with distilled water for filling the loop.
Also included in the kit are six EK-HDC 12mm G/14 hard tube compression fittings. Designed specifically for use with solid tubing, the fitting is said to prevent the hard tube to be pulled out of the fittings by compressing a rubber gasket below the ring. The barb itself is constructed of nickel plated CNC machined brass with the locking ring made of black-chrome plated CNC machined brass. The kits also have two angled adapters, EK-AF 90°, to help simplify tubing routing.
As far as the hard tubing, EK uses an extruded acrylic and comes with four 500mm long 10/12mm (ID/OD) clear tubes. Users will need to purchase materials to bend the tubing and EK does offer an EK-HD Tube DIY kit that includes silicone cord/rod, sandpaper, and a hacksaw – a heat gun is not included. Primochill also has a rigid tool bender and is a bit more precise. Just like with soft tubing, if users happen to be new at running hard tubing, it is suggested to get additional hard tubing for the trial and error based work it can be to bend tubing properly.
The new HT Series kits are available for purchase now through the EK Webshop and Partner Reseller Network. The EK-KIT HT240 is priced at $279.99/€259.90 while the EK-KIT HT360 is priced at $309.99/€279.90. There is a slight premium (around $20) for HT kits versus the S Series which use the same radiator, pump/res combo, and blocks.
EKWB HT Series Kits
EK-KIT HT240
EK-KIT HT360
CPU Water Block
EK-Supremacy MX UNI
Radiator
EK-CoolStream SE 240

EK-CoolStream SE 360

Water Pump/Reservoir Combo
EX-XRES 100 SPC-60 MX PWM
Radiator Fan
2 x EK-Vardar F3-120 (1850RPM)
3 x EK-Varar F3-120 (1850RPM)
Tubing
4 x EK-HD Tube 10/12mm 500mm
Compression Fittings
6 x EK-HDC Fittings 12mm G 1/4 - Black

6 x EK-HDC Fittings 12mm G 1/4 - Black

Angled Adapters
2 x EK-AF Angled 90° G 1/4 (black)
Coolant Concentrate
EK_Cryofuel Clear Concentrate 100ml
Additional Pump Holder
EK-UNI Pump Bracket
Y-Cable Splitter
EK-Cable Y-Splitter 2-Fan PWM (10cm)

EK-Cable Y-Splitter 3-Fan PWM (10cm)

ATX Bridging Plug
Included
Pump Testing Adapter

Included

MSRP (incl. VAT)

$279.99 / €259.90

$309.99 / €279.90
Related Reading
Source: EKWB