EKWB
EKWB is launching a new liquid cooling kit designed to support AMD Radeon RX Vega based video cards, which the company is dubbing the EK Fluid Gaming A240R kit. The kit includes the EK-AC Radeon Vega full-cover block, the Supremacy AX CPU block, the Alustream SE 240 radiator, as well as the Vardar 120 series of fans. Though we have seen similar kits before from the Fluid gaming line, the EK-A240G, this is EK's first kit engineered to support AMD Vega video cards and is an easier way to jump into custom liquid cooling without the hassle of finding all the parts needed. The Fluid Gaming A240R kit's star of the show is the EK-AC Radeon Vega full-cover water block. Designed with AMD, the water...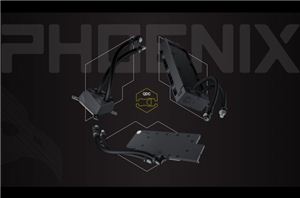 This week EKWB has taken the wraps off of a new lineup of pre-filled products for liquid cooling, which the company is naming the MLC Phoenix family. The Phoenix...
10
by Joe Shields on 11/29/2017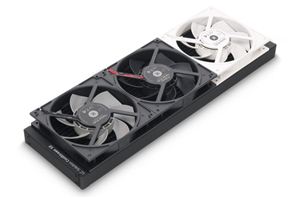 EKWB has completed its 140mm slim radiator lineup releasing two additional SKUs, the EK-Coolstream SE 420 and EK-Coolstream SE 560. These new radiators come on the heels of the...
6
by Joe Shields on 11/10/2017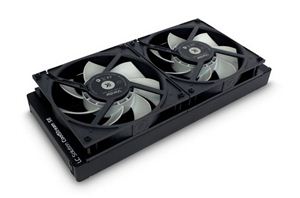 EKWB is adding two new slim radiators to their portfolio, the EK-Coolstream SE 140 and EK Coolstream SE 280. With case manufactures expanding their fan form factors to include...
9
by Joe Shields on 10/11/2017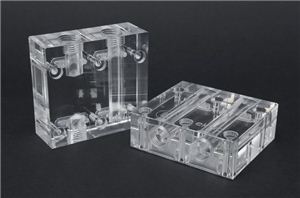 EKWB has announced the release of several new EK-FC terminals for use with multi-GPU setups. The new design, EK says, is more minimalistic than the previous version, with the...
8
by Joe Shields on 10/10/2017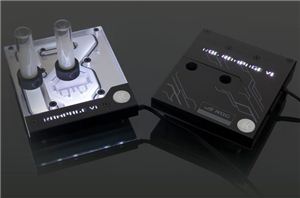 EK has announced a new monoblock made to fit two of ASUS's X299 based motherboards, the ROG Rampage VI Extreme and Apex. The new EK-FB ASUS ROG 6E RGB...
2
by Joe Shields on 9/20/2017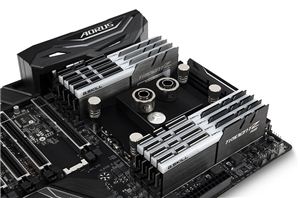 Since Threadripper was first spotted in the wild, enthusiasts interested in the CPU noticed just how big the CPU actually was. For the past several CPU generations, the size...
17
by Joe Shields on 8/14/2017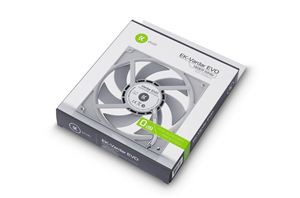 EKWB recently released a new lineup based on its EK-Vardar fans. The Vardar line was established in 2014 and created to be an industrial grade high-static pressure computer cooling...
9
by Joe Shields on 8/9/2017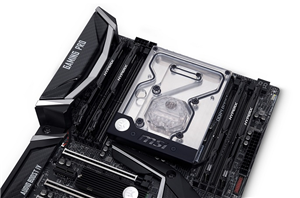 This week, the Slovenian based liquid cooling manufacturer, EKWB (EK Water Blocks) released a new monoblock which is custom made for specific MSI X299 motherboards, and named the EK-FB...
3
by Joe Shields on 7/20/2017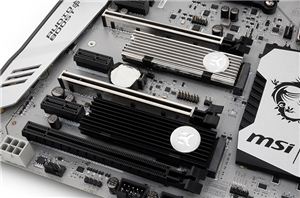 EKWB (EK Water Blocks) on Wednesday introduced a useful but slightly different to their normal routine type of product. The company has started to sell its EK-M.2 NVMe passive...
25
by Anton Shilov on 7/6/2017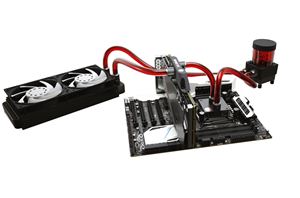 EK Water Blocks revealed the Fluid Gaming series of full loop water cooling kits during Computex. EKWB's new water cooling lineup is designed to further augment their product stack...
13
by Ryan Smith on 6/1/2017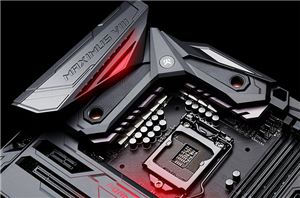 ASUS' ROG website introduced an updated member this week - a new motherboard based on Intel's Z170 which comes with a factory-installed CrossChill EK hybrid cooling block from EKWB...
16
by Anton Shilov on 12/31/2015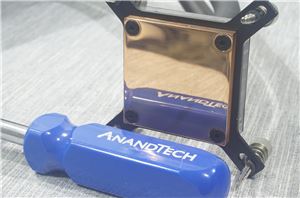 Today we are having a look at the EK-XLC Predator 240, the first AIO liquid cooling solution from EKWB. EKWB is a company that specializes in and is known...
36
by E. Fylladitakis on 12/15/2015