UHD Blu-ray Playback in Action
Prior to testing out HDR UHD Blu-ray playback using the TCL 55P607 and the Denon AVR X3400H, we did a trial run with the LG 43UD79-B monitor. The playback was flawless in SDR mode. Emboldened by these results, we moved the hardware to the home theater setup. At that time, the Windows 10 Fall Creators Update was yet to be released. Intel and CyberLink had adopted their own scheme to activate HDR in full screen mode while playing back HDR-enabled titles. Unfortunately, the TCL 55P607 (on firmware version 7.7.0 at that time) did not really like the mode switch.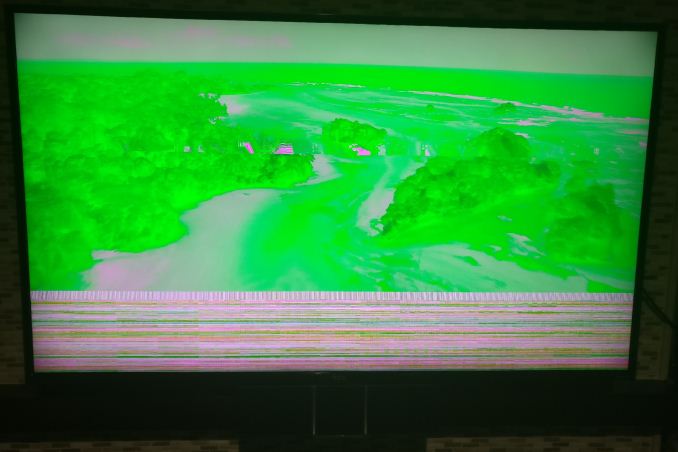 Corrupted HDR Display with TCL 55P607 Firmware v7.7
I reached out to both Intel and TCL with the above results. While the latter simply washed their hands off the issue, Intel was very responsive. They went to the extent of even sourcing the same display to check at their end. Around the same time, TCL released a firmware update (v8.0.0 4127-30) that resolved the problem.
By the time I was able to upgrade my TV, Windows 10 Fall Creators Update had released and Intel's 4877 driver had also become public. My next testing round had interesting results. The 4877 driver had flawless desktop and streaming HDR, but, playing back the Planet Earth II title resulted in a BSOD, or a PowerDVD crash, or a message indicating that PowerDVD was denied access to the graphics hardware. With an older driver version (4771), I was able to play back the Blu-ray with HDR, but, had no desktop or streaming HDR.
On checking with Intel again, it became evident that the issue was specific to the Planet Earth II title. They provided me with early access to a driver slated for release in January 2018. This driver enabled both the Intel NUC7i7BNHX and the ASRock Beebox-S 7200U to successfully play back the Planet Earth II Blu-ray with HDR, while also performing as per specifications in our other tests detailed in the previous sections.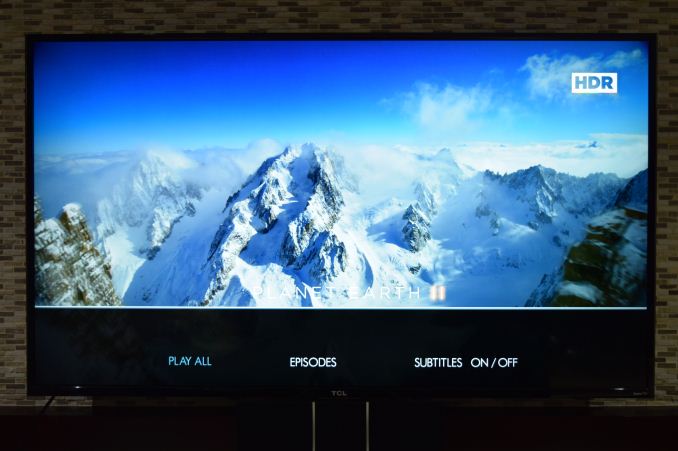 Note that the Pioneer BDR-211UBK comes with an OEM version of PowerDVD 14 that does support 4K UHD Blu-ray playback.
We tracked the power consumption of the set (PC + Blu-ray drive with the SATA-USB bridge) while playing the first chapter of the first disc in the Blu-ray set (after a full menu loop).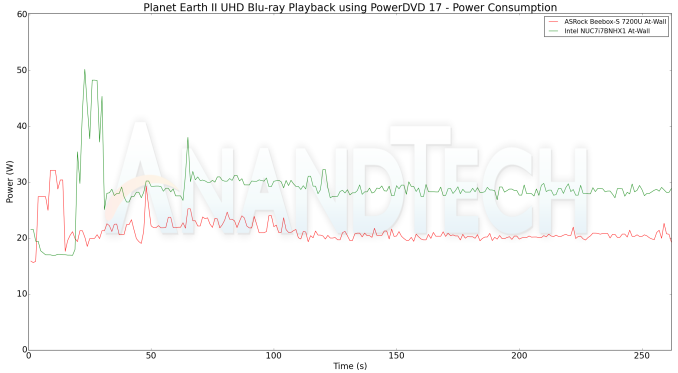 We find that the Beebox-S 7200U is more power efficient for this particular task. The NUC7i7BNHX is much more versatile with its Thunderbolt 3 ports, Optane support, and other bells and whistles. Can those make a difference in a generic HTPC setup? We will address that in our concluding section.