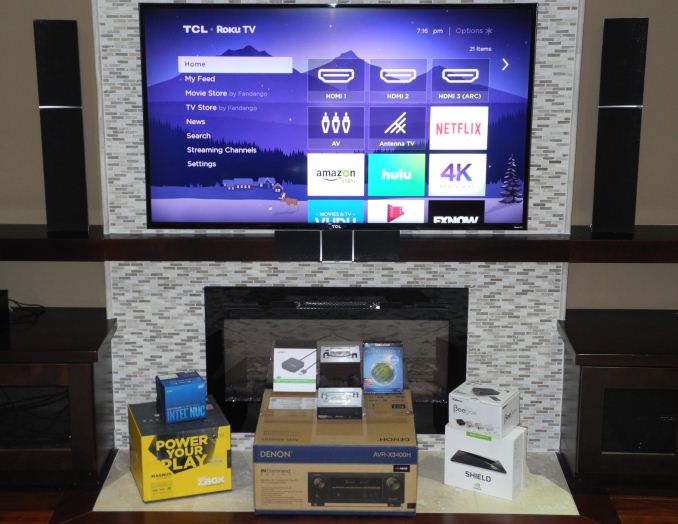 The days of bulky HTPCs with built-in optical drives, massive internal storage arrays, and integrated TV tuners are long gone. The advent of over the top (OTT) online streaming services has moved a lot of functionality to the cloud. As NAS units become more powerful, it has made sense to move local media files to a central repository. All these have enabled the TV-connected PC to become more compact. Unless the consumer has specific requirements (like, say, high quality gaming), even ultra-compact form factor (UCFF) machines such as the Intel NUCs can fit the bill.
Home Theater Components: Keeping up with the Times
The primary functionality of HTPCs has evolved to become one of a powerful and versatile media player. However, recent advances such as 4K and high dynamic range (HDR) videos, as well as stricter DRM requirements such as HDCP 2.2 for premium content have made the perfect HTPC platform difficult to achieve. Before delving deeper into these new advances, it is helpful to have some insight into how the landscape has changed over the last decade or so. The advancements in that timeframe have meant that next attractive home theater feature was always around the corner. In the initial days of 720p televisions and other home theater equipment, it was Full HD (1080p). As 1080p became widespread, it was HD audio bitstreaming. After that, 3D support was sought after. A brief lull ensued before the market started slowly getting ready for 4K.
Over the last year or so, we have seen the appearance of displays and audio/video receivers (AVRs) supporting HDMI 2.0 / HDCP 2.2 along with HDR / Dolby Vision. Despite the announcement of HDMI 2.1, I believe that we have reached a point where it is possible to purchase a relatively inexpensive home theater and HTPC configuration without worrying about it getting obsolete within the the next 3 to 5 years.
On the media side, OTT streaming services have become popular to the extent that Netflix and YouTube moved to offer 4K videos to consumers ahead of Blu-rays. Fortunately, many modern PCs are capable of 4K Netflix playback, though HDR is available only on a subset of those configurations. UHD Blu-ray playback support is available through CyberLink PowerDVD 17. However, the hardware requirements are a lot more specific compared to premium OTT services. UHD Blu-ray playback with HDR requires that the home theater components fulfill additional requirements.
Building a Home Theater on a Budget
I started work on this home theater piece back in June 2017. The aim was to present a setup (TV, AVR, and HTPC) with all the bells and whistles, yet light on the wallet. While the TV (TCL 55P607) and the AVR (Denon AVR X3400H) were easy to narrow down based on the feature requirements and budget, the PC side proved to be more challenging. Our core requirements (compact form factor, 4K Netflix support, and HDR capability) narrowed down the choices to a NVIDIA Pascal GPU-equipped PC or a Kaby Lake PC with HDCP 2.2 capabilities. UHD Blu-ray support further narrowed this down to certain Kaby Lake PCs with a HDMI 2.0 / HDCP 2.2 display output.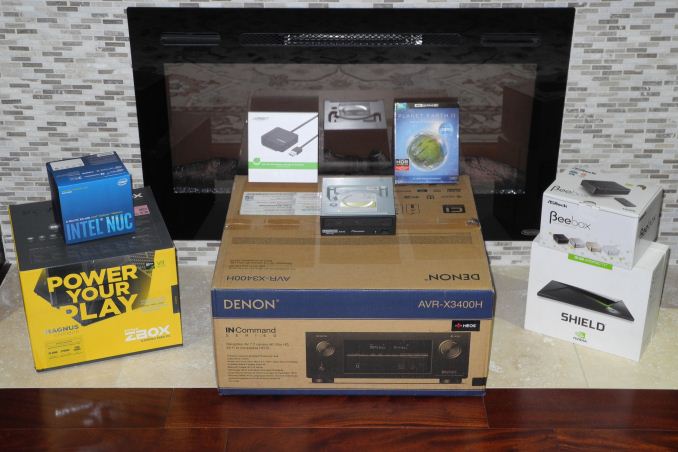 In the course of our evaluation, we found that consumer electronic (CE) equipment almost always received features ahead of HTPC platforms. Keeping this in mind, we ended up evaluating a number of options for the fulfillment of HTPC duties
Roku Smart TV platform in the TCL 55P607
NVIDIA SHIELD Android TV (SATV)
Zotac ZBOX MAGNUS EN1080K
ASRock Beebox-S 7200U
Intel NUC7i7BNHX
Prior to looking at the performance of these options, it will be of interest to readers to delve deeper into our choice for the other home theater components. Earlier this year, I happened to embark on a house remodel, and I took that opportunity to revamp the HTPC test components used in our system reviews. Our choice of components is geared towards a typical family room (15' x 15') home theater.