Configuring a UHD Blu-ray Playback System
The rise in popularity of OTT streaming has coincided with a decline in the popularity of physical media formats such as Blu-rays. Irrespective of the market statistics, it is indisputable that the bitrates possible with the latter simply can't translated to OTT services. Bitrates usually directly correlate with video quality, though, beyond a certain point, it becomes very difficult to distinguish. HD audio formats such as Dolby Atmos, DTS-HD MA, Dolby TrueHD etc. are also yet to be widely adopted by OTT streaming services. On top of all these, Blu-rays are often treated as collectibles by some consumers.
UltraHD (UHD) Blu-rays (with their 4K resolution videos encoded in HEVC) were a bit slow to take off. On the PC front, the number of licensed software Blu-ray player vendors has come down from 3 (ArcSoft, Corel, and CyberLink) to just CyberLink alone. PowerDVD 17, with UHD Blu-ray support, was released in April 2017. The hardware requirements were quite specific, and we decided to pass up on a hands-on review at that time.
While reviewing the Intel NUC7i7BNH, I realized that it came with support for SGX, one of the primary requirements for PowerDVD 17 to play back UHD Blu-rays. I also remembered that the BIOS of the ASRock Beebox-S 7200U had a SGX option. Both of these systems also had a LSPCon on board to support HDMI 2.0 with HDCP 2.2 capability. Pioneer launched the BDR-211UBK in March, but, had specifically indicated that KBL-U was incompatible. However, based on our discussions with both CyberLink and Intel, we decided to give the drive a try by connecting the internal SATA ODD using a compact SATA-USB bridge.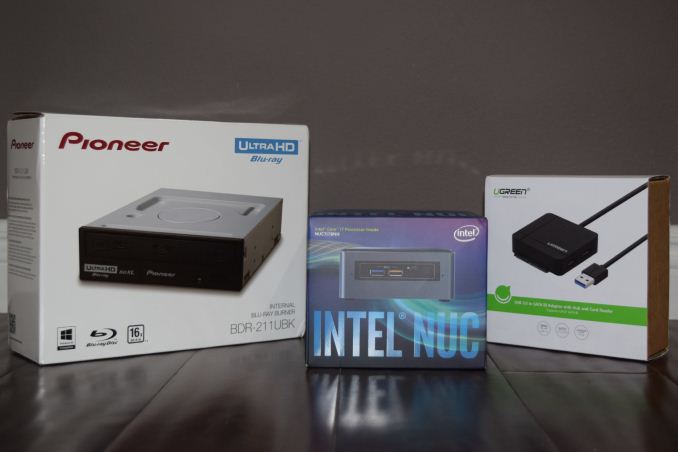 The Pioneer BDR-211UBK and the UGREEN SATA-USB Adapter Combine to Make the Intel NUC7i7BNH a UHD Blu-ray Player
We looked up Amazon for a compact bridge and chanced upon a versatile UGREEN adapter. In addition to supporting the SATA drive, it also had a couple of USB 3.0 Type-A extension ports and a microSD reader. This made sure that the optical drive would not completely take over the USB port in the host system.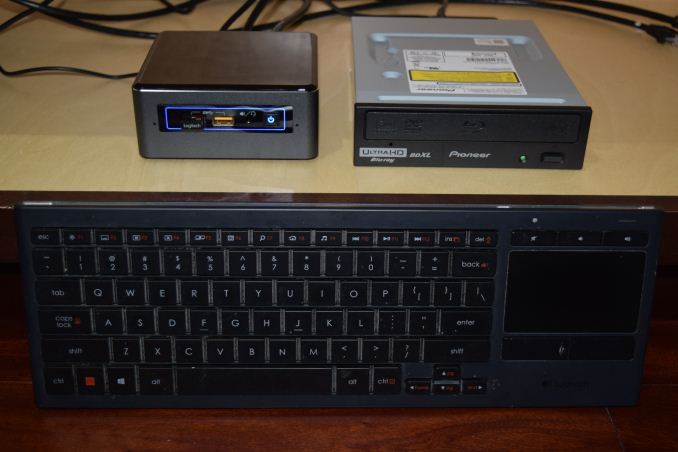 Using an Internal Drive without an Enclosure is not an Issue if the Setup is Tucked Out-of-Sight
After setting up the hardware and configuring the BIOS appropriately in the two systems, we installed the Management Engine components. The next step was to confirm that the system and allied components were correctly set up for UHD Blu-ray playback with HDR. CyerbLink provides the Ultra HD Blu-ray Advisor tool for this purpose. It also helpfully points out missing ME components or mis-configured BIOS options. Even though we were aware that the Zotac ZBOX MAGNUS EN1080K doesn't pass the requirements check (no SGX, iGPU inactive), we did try out the tool on it also.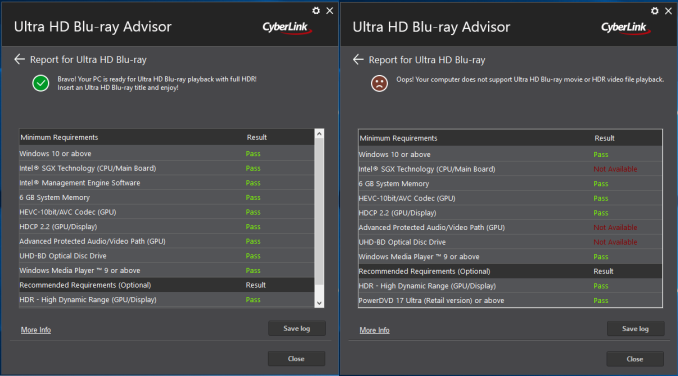 The CyberLink Ultra HD Blu-ray Advisor (L: ASRock Beebox-S 7200U, R: Zotac ZBOX MAGNUS EN1080K)
Even though it is possible that the Zotac EN1080K might enable SGX in a future BIOS release, the use of the Intel GPU is probably disabled at the board level. This means that there is no protected audio/video path for secure decoding of the UHD Blu-ray streams. Given that there is no talk of UHD Blu-ray support from NVIDIA Pascal, consumers shouldn't keep their hopes up regarding the possibility of UHD Blu-rays getting played back on NVIDIA Pascal-equipped systems. Coming back to the results of the UHD BD Advisor tool, we find that the two KBL-U systems pass all the checks. We purchased a retail copy of the Planet Earth II UHD Blu-ray for testing out our setup.