Faster Browsing, but a Quarter Less Battery Life
Our web browsing test is slightly different from what we ran in the iPhone review.  We used a total of 7 web pages, but of much larger sizes than our first test.  The first page was simply a counter page, the second was our review of the Core 2 Duo E6750, followed by our article on AMD's Phenom introduction, an excerpt from our Quad FX article, our entire iPhone review, an article on Intel's Turbo Memory and our entire AMD Radeon 2900 XT review.
Each page was loaded by the browser and was set to forward to the next page (in the above order) after 10 seconds; the screens on the phones were set to remain on constantly, with the Blackjack set to brightness level 3, and the iPhone set to approximately 30%.  All backlight timers were disabled.  Bluetooth was enabled but not paired to any devices.
The web browsing test gives us our first indications of the increase in power draw of 3G over EDGE: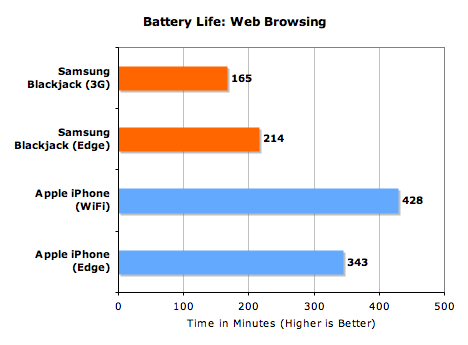 Web pages loaded a lot faster, but the Blackjack's battery was drained at a faster rate as well.  With 3G enabled, the Blackjack lasted 2.75 hours and with it disabled, over 3.5 hours.  Neither time is particularly great, but the impact of enabling 3G was significant: battery life was reduced by almost 23%. 
The situation with Wi-Fi vs. EDGE was completely different, while on Wi-Fi the iPhone lasted longer than on EDGE.  The improvement in battery life was just under 25%, giving us an extra 85 minutes of usage on the iPhone.  Note that all of these tests were with excellent signal strength, and battery life is negatively impacted by hopping between cell towers or working with weak signals; regardless, the results here should apply regardless of the situation. 
At least based on these initial results, it would seem that Apple's Wi-Fi implementation is a no-brainer: you get better performance and better battery life.  It definitely doesn't have the convenience of 3G, but if you find yourself using your phone in areas where Wi-Fi is prevalent then it makes a lot of sense.