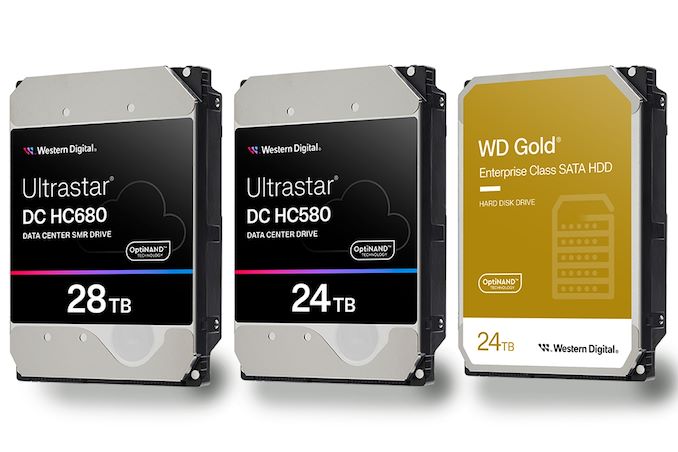 Western Digital is announcing today that it has begun volume shipments of its 24 TB hard drives based on conventional magnetic recording (CMR) to its full customer base. In addition, the company started to ramp up production of its 28 TB HDDs featuring shingled magnetic recording (SMR) that will be used by select customers.
The new lineup of 3.5-inch 7200 RPM hard drives includes Western Digital's Ultrastar DC HC580 24 TB and WD Gold 24 TB HDDs, which are based on the company's energy-assisted perpendicular magnetic recording (ePMR) technology. Both of these drives are further enhanced with OptiNAND to improve performance by storing repeatable runout (RRO) metadata on NAND memory (instead of on disks) and improve reliability.
The company is also preparing their Ultrastar DC HC680 SMR 28 TB hard drive, which relies on shingled ePMR and OptiNAND.
When it comes to performance, the new hard drives are a tad faster than predecessors due to higher areal density. Meanwhile, per-TB power efficiency of Western Digital's 24 TB and 28 TB HDDs is around 10% - 12% higher than that of 22 TB and 26 TB drives, respectively, due to higher capacity and more or less the same power consumption. For CSPs and hyperscalers, the main value advantage of the new 24 TB drives is their higher capacity, which enables up to 612 TB of raw storage per rack using 102-bay 4U chassis.
All three models feature 10 platters and largely re-use the company's current enterprise-grade platform for multi-drive environments, which was introduced over a year ago. The platform traditionally features a top and bottom attached motor as well as RV sensors to ensure consistent performance in vibrating multi-HDD chassis. The latest Ultrastar HDDs are generally being aimed at cloud service providers, hyperscalers, and large enterprises, whereas WD Gold are going primarily to VARs, enterprises, enterprise-grade NAS, and small businesses that need to store loads of data.
Western Digital is shipping WD Gold 24 TB hard drives through their distribution channel, so expect them to hit the market shortly. The Ultrastar DC HC680 and HC580 HDDs are now in the qualification phase with select CSPs, hyperscalers, and OEMs. They are also available for enterprises that deploy these devices internally. It looks like WD is just shipping the SATA versions of these drives initially, as the company is separating noting that that the SAS versions of the Ultrastar DC HC680 and HC580 HDD will be available in the first quarter of 2024.
"With these new offerings, Western Digital is once again proving that hard drives are not just keeping pace, they are forging a path forward, ensuring that data-intensive applications of today and tomorrow have a strong foundation to build on while the industry prepares for HAMR," said Ed Burns, research director of HDD and storage technologies at IDC. "We are seeing strong momentum for Western Digital's SMR HDDs and believe that SMR adoption will continue to grow as their new 28TB SMR HDD offers the next compelling TCO value proposition that cloud customers cannot ignore."
Source: Western Digital