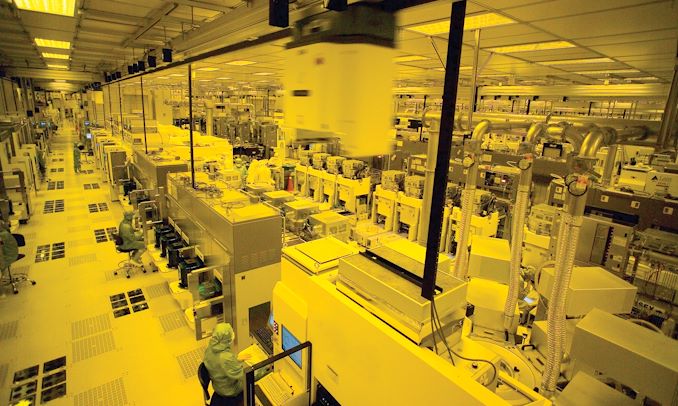 Although Taiwan Semiconductor Manufacturing Co. formally started production of chips using its N3 (3nm-class) process technology back in late 2022, the company did not recognize any meaningful N3 revenue in Q1 and Q2. This week as part of the company's Q3 earnings announcement, the foundry finally recognized its first N3-related revenue, with N3 accounting for 6% of TSMC's Q3 revenue. Meanwhile, advanced nodes now account for 59% of TSMC's earnings.
For their first quarter of significant 3nm revenue, TSMC booked roughly $1.03 billion in income for the new node. To put the number into generational context, TSMC recognized its first N5 revenue in Q3 2020, where back then the technology accounted for $0.97 billion in revenue making 5nm-class chips – or about 8% of TSMC's revenue share.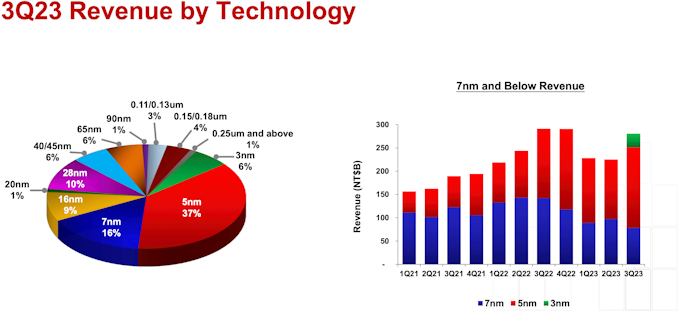 The strong start to N3 revenue was not unexpected, if only due to the ever-rising prices that TSMC is thought to charge for their cutting-edge wafers. Still, even with a billion dollar quarter, TSMC is just getting started; the company previously warned that its 3nm ramp would take some time.
Going forward, TSMC's long-term plans for the 3nm node call for the company to eventually offer several variations on the process. TSMC's baseline N3 (aka N3B) node uses up to 25 EUV layers, some with expensive EUV double-patterning, allowing higher transistor density but at higher costs – and few customers. More clients have opted for the more cost-efficient N3E process technology with up to 19 EUV layers, no EUV double-patterning, offering lower logic density, but better yields and a wider process window. TSMC is set to begin to ramp up N3E in Q4 2024 and with this version its 3nm-class process technology is expected to shine.
"Our business in the third quarter was supported by the strong ramp of our industry-leading 3nm technology and higher demand for 5nm technologies, partially offset by customers' ongoing inventory adjustment," said C.C. Wei, chief executive of TSMC, at the conference call with analysts and investors. "N3 is already involving production with good yield, and we are seeing a strong ramp in the second half of this year, supported by both HPC and smartphone applications. […] N3E has passed qualification and achieved performance and yield targets and will start volume production in fourth quarter of this year. "
TSMC's total revenue Q3 2023 hit $17.28 billion, a 14.6% decrease year-over-year, but a 10.2% increase from the previous quarter. Meanwhile, the company's net income increased 16.1% quarter-over-quarter to $6.521 billion, whereas gross margin for the quarter was 54.3%
Source: TSMC