ASUS TUF Gaming B560M-Plus WIFI & B560M-Plus
Rounding off the ASUS B560 models is a pair of micro-ATX motherboards which are targetted at gamers on a budget. Both theASUS TUF GamingB560M-PlusWIFI and B560M-Plusfollow the quintessential TUF Gaming design with black, grey, and yellow accented PCB and heatsinks. Nearly identical to its larger ATX sibling, both the B560M-Plus and Wi-Fi model is advertised as including an 8+1 phase power delivery, with a single 8-pin 12 V ATX CPU power input delivering power to the processor.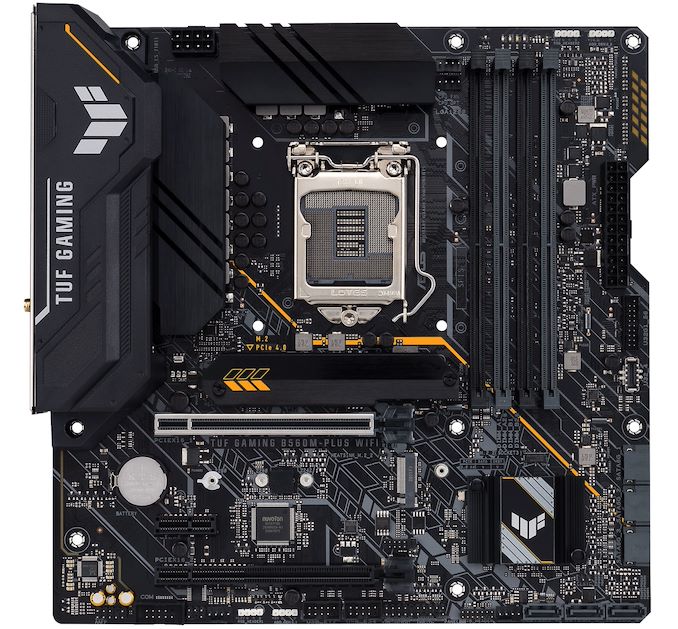 Both boards include one full-length PCIe 4.0 x16 slot, one full-length PCIe 3.0 x4 slot, and a single PCIe 3.0 x1 slot. For storage, there's a pair of M.2 slots, including one PCIe 4.0 x4 and one with support for PCIe 3.0 x4 and SATA drives. In the bottom right-hand corner is six SATA ports, three with straight angled and three with right-angled connectors, with all available ports allowing for RAID 0, 1, 5, and 10 arrays. In the top right-hand corner is four memory slots, with support for DDR4-5000 and 128 GB of capacity.
Although we don't have a clear image of the rear panel, we know both models include a Realtek RTL8125 2.5 GbE port, while the Wi-Fi version comes with an Intel-based Wi-Fi 6 CNVi.There arefive 3.5 mm audio jacks and S/PDIF optical output powered by an unspecified Realtek HD audio codec. In regards to USB, there's one USB 3.2 G2 Type-C port and eight unspecified Type-A ports. ASUS has also included a pair of video outputs including one HDMI and one DisplayPort.