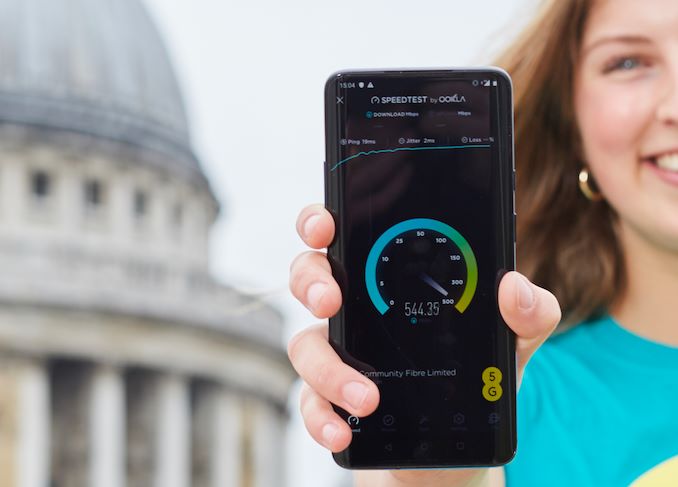 At an event here in London, the carrier Everything Everywhere (EE) said that it would switch on its 5G network in the UK on May 30. The country's first 5G network will initially be available in the busiest parts of six cities and will be expanded to 10 more cities by the end of 2019. Eventually, EE's 5G will be spread to more locations and will gain speed and features.
On May 30, EE's 5G network will be launched in various parts of London, Cardiff, Edinburgh, Belfast, Birmingham and Manchester. From June onwards, EE will be adding 'more than 100 new 5G sites' in a bid to offer 5G in Bristol, Coventry, Leicester, Nottingham, Sheffield, Liverpool, Hull, Leeds, Newcastle, and Glasgow, already in 2019. Firing on all cylinders, EE intends to offer 5G locations in Aberdeen, Cambridge, Derby, Gloucester, Peterborough, Plymouth, Portsmouth, Southampton, Worcester, and Wolverhampton, in 2020.
EE will be rolling out its 5G network in multiple phases. Initially, the new technology will complement 4G in the busiest areas to enhance user experience. Starting from 2022, 5G will become more pervasive, will take advantage of new capabilities, and will offer faster speeds as well as lower latencies. The third phase is set to begin its roll out in 2023 and promises to offer more reliable communications, multi-gigabit speeds, and other features that will enable new applications, such as real-time traffic management of fleets of autonomous vehicles.
EE's 5G Deployment Phases
Phase
Feature
Applications
Phase 1
2019
5G complements 4G
Faster network connection
Phase 2
2022
Full next generation 5G core network,
Enhanced device chipset capabilities,
Increased availability of 5G-ready spectrum,
Higher bandwidth,
Lower latency.
Immersive mobile augmented reality,
Real-time health monitoring,
Mobile cloud gaming
Phase 3 2023
Ultra-Reliable Low Latency Communications (URLLC),
Network Slicing,
Multi-gigabit-per-second speeds.
Real-time traffic management of fleets of autonomous vehicles,
Massive sensor networks with millions of devices measuring air quality across the entire country,
'Tactile internet', where a sense of touch can be added to remote real-time interactions
Note: According to EE's plans as of May 2019, Wording by EE
As usual, EE will offer a range of plans for its 5G network. It will be possible to get a 5G smartphone with a plan, or just upgrade to a 5G SIM and get a 5G handset elsewhere. EE's plans are:
SIM Only Base Package: £32 per month for 20 GB
SIM Only Top Package: £52 per month for 100 GB
Smartphone included Base Package: £54 per month for 10 GB
Smartphone included Top Package: £74 per month for 120GB
Some of these plans come with a choice of boosters, such as sports TV, International Boosters (15GB of the allowance free to use in US/Canada/Mexico/Australia/NZ), Amazon, and others that EE might offer depending on the climate.
Speaking of smartphones, it is necessary to note that so far EE has verified that its network works with smartphones powered by Qualcomm's Snapdragon 855 that are outfitted with the X50 modem, though the company will also ensure that its 5G network works with other platforms too. These phones are, as offered on the EE website:
Oppo Reno 5G
OnePlus 7 Pro 5G
Samsung Galaxy S10 5G
LG V50 ThinQ (5G)
5G Home Wi-Fi Router
In addition to mobile 5G plans, EE also announced 5G broadband plans for those who need broadband Internet in their homes yet do not have fiber. The plans will cost £100 upfront for HTC's 5G Hub (Mi-Fi/Wi-Fi) and will include a 50 GB per month option for £50 a month as well as a 100 GB option for £75 per month.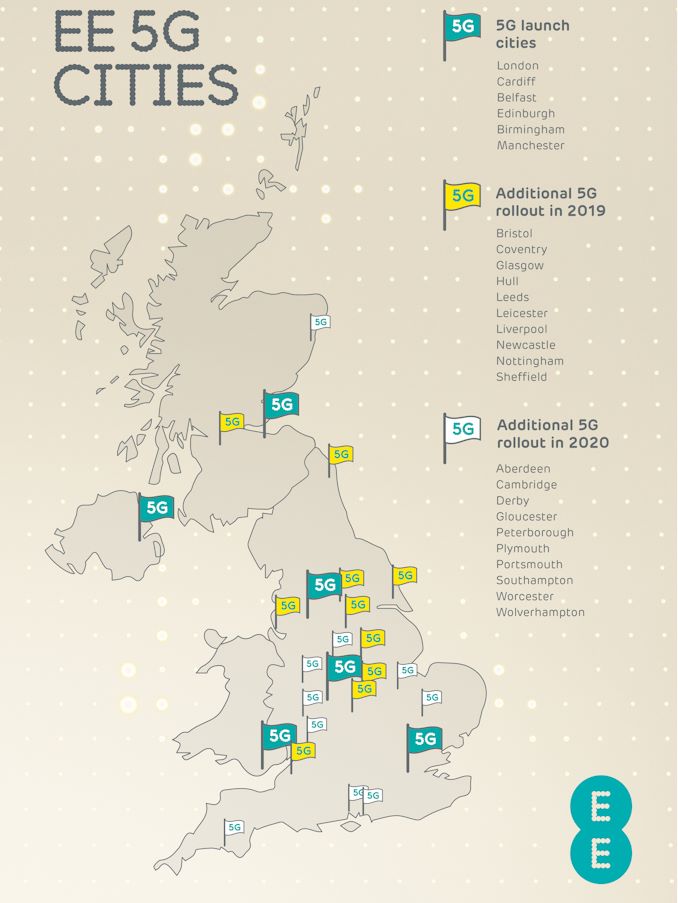 Related Reading:
Sources: EE