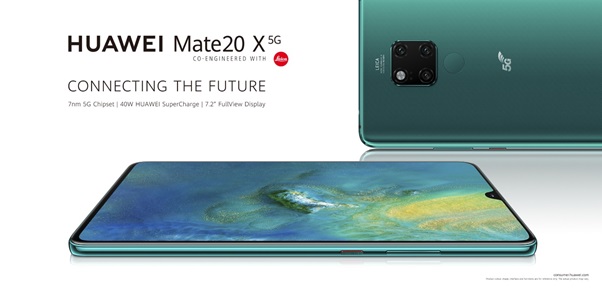 The Mate 20 X 5G had been announced by Huawei some months ago, and we saw the first European launch of the phone on Switzerland's Sunrise two weeks ago. Today, Huawei officially announced the UK launch of the phone on upcoming networks from EE, O², Three and Vodaphone.
The Mate 20 X is a bigger variant of the Mate 20 Pro which we reviewed late last year. The new 5G variant adds Huawei's own HiSilicon Balong 5G modem to the system to enable connectivity to the new standard. The Balong 5000 along with the Exynos Model 5100 are the most future-proof 5G modem currently available by vendors in commercial devices by virtue of supporting today's NSA (Non-standalone) as well as future SA (Standalone) 5G networks. Other differences on the 5G variant is that the battery capacity reduces from 5000mAh down to 4200mAh – possibly due to less internal component space.
The Mate 20 X 5G will be available in the UK in June at a recommended price of £999, which interestingly enough a lot more than the CHF 997 (£755) pricing in Switzerland.
Related Reading