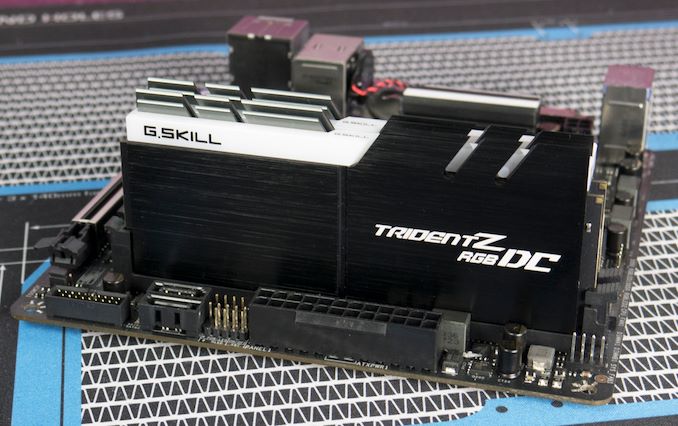 One of the interesting things to come out of the news in recent weeks is the march to double capacity memory. In today's market, memory modules for consumer grade computers have a maximum of 16GB per module. This is unbuffered memory, and the standard for home computers and laptops. However recently there have been two major announcements causing that number to double from 16GB to 32GB: Samsung has developed double capacity ICs to drive up to 32GB per module with the same number of chips, but also a couple of DRAM vendors have found a way to put two times as many ICs on a 16GB module to make it up to 32GB. Both G.Skill and ZADAK fall into that latter category, and now we have both of these kits in the lab for review.
Double Capacity DRAM
With memory modules using double the number of chips, the easiest way to enable this is by having taller PCBs. This is exactly what we get.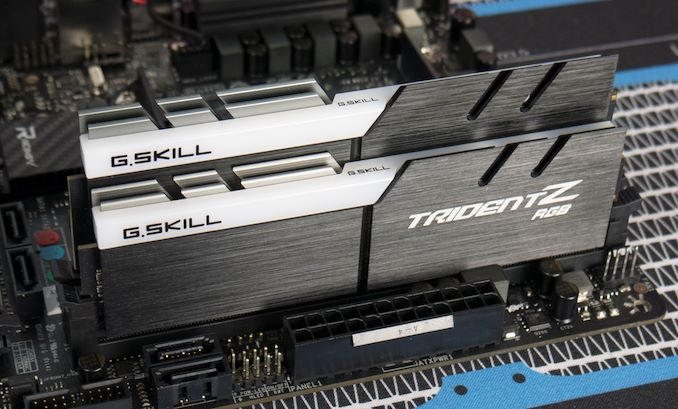 Here we have G.Skill's new TridentZ DC RGB memory and a regular module of TridentZ RGB in a motherboard. G.Skill stated that their memory is essentially two UDIMM modules on one PCB, with double chips, double ePROM, and power management. The technical parts involve the pin definitions, the tracing layout, and fine tuning.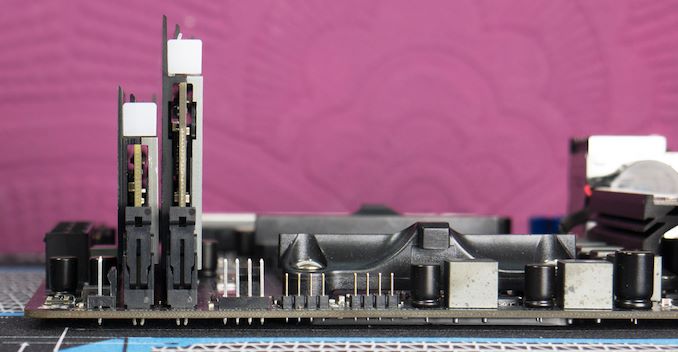 This obviously has implications for coolers, with both companies recommending liquid coolers be used to avoid issues with fans not sitting correctly.
The G.Skill TridentZ DC RGB kit is a 2x32GB design running at DDR4-3200 14-14-14, which is a fairly aggressive timing. Price is expected to be rather high.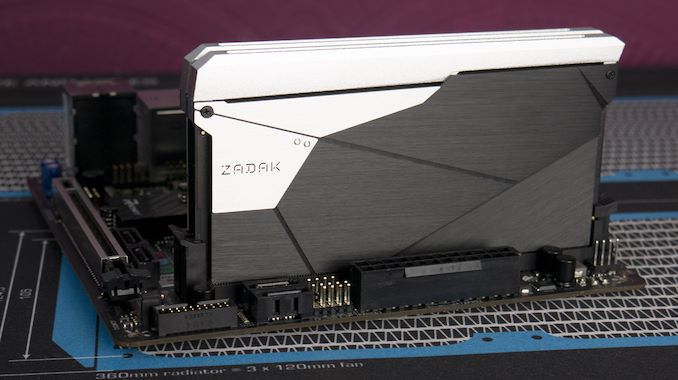 The ZADAK kit, called ZADAK Shield DC DDR4, runs at similar specifications to the G.Skill kit: 2x32GB running at DDR4-3200 14-16-16. We were told that the price of this kit is going to be nearly USD$1000.

At present, only a trio of Z390 ASUS motherboards are qualified with both memory kits. These are the ASUS ROG Maximus XI Apex, the ROG Maximus XI Gene, and the ASUS Strix Z390-I Gaming. We are awaiting one of these to arrive to begin testing.
At the moment we are looking into what benchmarks we can use to not only differentiate between the kits but also compare them to other memory. Just having double capacity is not enough – we intend to look into power and performance as well. Suggestions are more than welcome!
Related Reading