iGPU Gaming Performance
Throughout their history of having fully integrated GPUs, AMD has always favored going for powerful configurations that approach the lower-end of discrete GPU performance. With comparable discrete cards going for $80 or more, a powerful iGPU is a significant value proposition for AMD's APUs. Furthermore as Intel has continued to stick with relatively lightweight iGPUs for most mainstream SKUs – a trend even the newly released "Coffee Lake" 8th Gen Core family continues – AMD has easily trounced Intel's iGPU performance.
In fact the most recent 8th Gen Core CPUs generally fail to catch up to AMD's last-generation 7000/8000 series "Kaveri" APUs, which means that for the launch of AMD's new Ryzen APUs, the manufacturer is just going to be running up the lead even more. The real question we'll be looking at on the iGPU side isn't what's faster – that's obvious – but just how many times faster the 2400G & 2200G APUs are over their Intel equivalents, and how they stack up against an entry level discrete video card, the GeForce GT 1030. With upwards of 11 CUs in an APU, on paper the Ryzen APUs should be able to offer 1080p@30fps gaming at maximum (or near-maximum) image quality.
During our pre-briefing, several sets of benchmarks and configurations were 'suggested', focusing on eSports and a mid-range quality setting, to show what the platform can do. For our testing, we used our CPU Gaming 1080p gaming suite. This suite was developed with mid-range and high-end graphics cards in mind, with mostly high or ultra quality settings, pushing beyond what was suggested. The reason we did this was two fold:
In our data, it shows a sizeable difference between integrated graphics solutions that can offer potential, compared to those that fall at the first hurdle.
Second, it offers a stark reminder that while for the most part websites and enthusiasts like as way lyrical about high-end performance, the data shows both how far integrated graphics has come, and how far it still has to go to qualify for those 'immerse experiences' that Intel, AMD, and NVIDIA all claim are worth reaching for, with higher resolutions and higher fidelity.
Civilization 6
First up in our CPU gaming tests is Civilization 6. Originally penned by Sid Meier and his team, the Civ series of turn-based strategy games are a cult classic, and many an excuse for an all-nighter trying to get Gandhi to declare war on you due to an integer overflow. Truth be told I never actually played the first version, but every edition from the second to the sixth, including the fourth as voiced by the late Leonard Nimoy, it a game that is easy to pick up, but hard to master.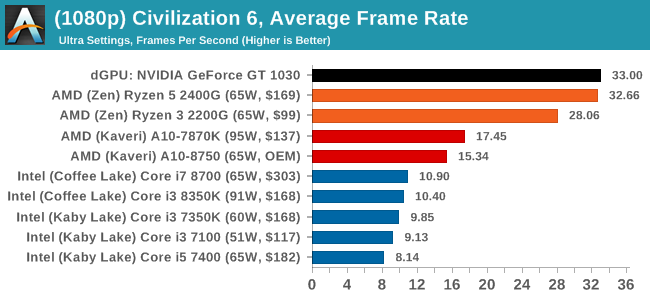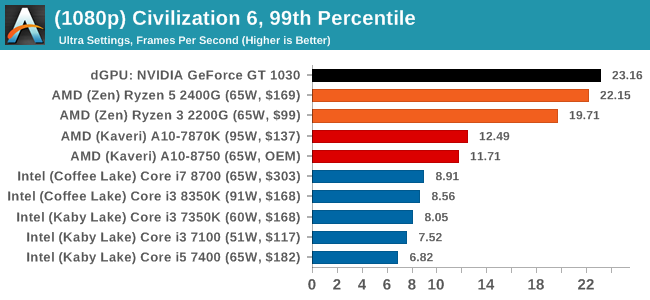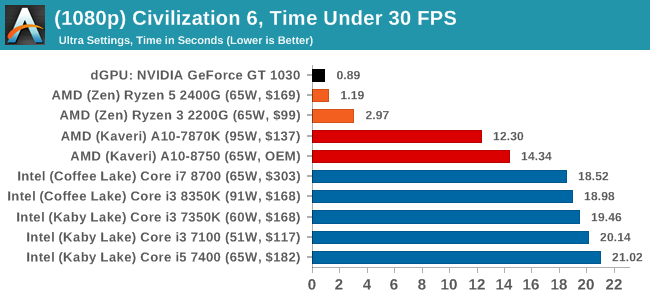 While Civilization is not too limited to frame rates, the APUs straddle the 30FPS average, and the GT 1030 comes out on top just about. Intel's integrated graphics options are only 1/3 of what AMD is providing in this case.
Shadow of Mordor
The next title in our testing is a battle of system performance with the open world action-adventure title, Middle Earth: Shadow of Mordor (SoM for short). Produced by Monolith and using the LithTech Jupiter EX engine and numerous detail add-ons, SoM goes for detail and complexity. The main story itself was written by the same writer as Red Dead Redemption, and it received Zero Punctuation's Game of The Year in 2014.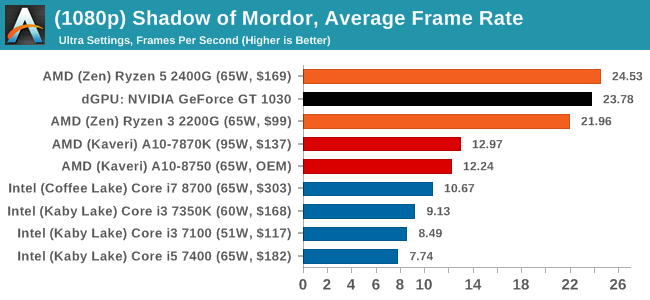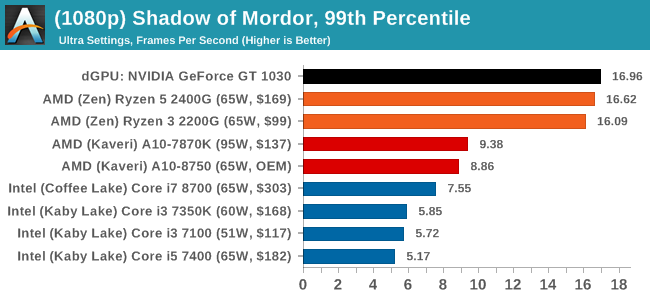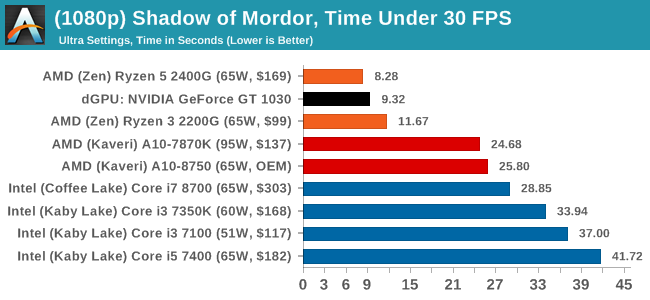 In Shadow of Mordor, the 2400G takes the top spot in average frame rates, but the GT 1030 just wins on percentiles. Over Kaveri, AMD is now offering double the graphics performance, and over Intel, AMD is easily 2-3x in performance per dollar.
Grand Theft Auto V
The highly anticipated iteration of the Grand Theft Auto franchise hit the shelves on April 14th 2015, with both AMD and NVIDIA in tow to help optimize the title. GTA doesn't provide graphical presets, but opens up the options to users and extends the boundaries by pushing even the hardest systems to the limit using Rockstar's Advanced Game Engine under DirectX 11. Whether the user is flying high in the mountains with long draw distances or dealing with assorted trash in the city, when cranked up to maximum it creates stunning visuals but hard work for both the CPU and the GPU.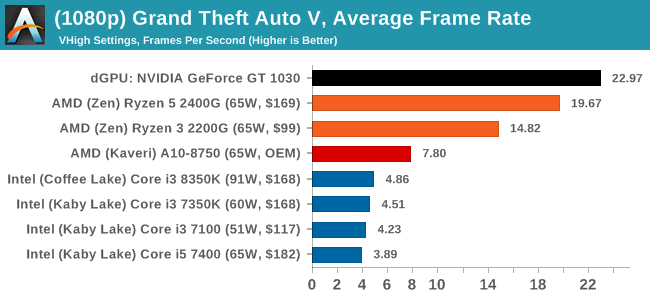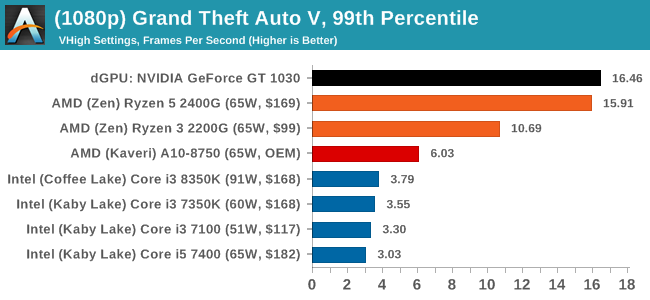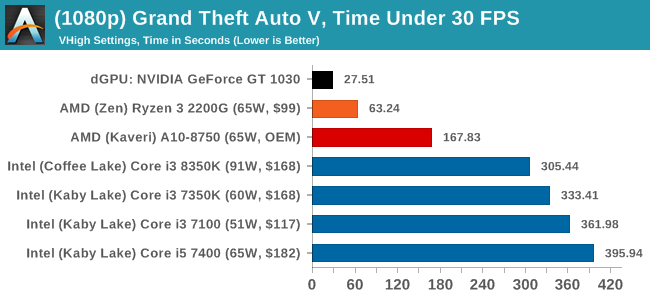 The difference between something playable and a slide show was easily noticable in GTA. The GT 1030 had the legs on this one, although the gap between the two AMD parts was mostly noticable in 99th percentile numbers.