Zen Cores and Vega: Ryzen APUs for AM4
It has always been expected that AMD would launch processors with integrated graphics on the main AM4 desktop platform. With over 120+ AM4 motherboards in the market, most of them with display outputs , the launch of APUs beyond the units based on the last generation CPU microarchitecture would normally have been alongside the original Ryzen launch, however AMD felt that a focus on the silicon for mobile platforms first was part of the corporate strategy. Nonetheless, AMD is aiming their Ryzen APUs at consumers to replace a Core i5 and low end GPU setup.
APUs from $99
Unlike other Ryzen launches, AMD is starting with the low and mid-range processor versions first. This comes in the form of the Ryzen 5 2400G and the Ryzen 3 2200G, where 'G' is using for graphics. If that reminds you of a series of processors that was recently released by Intel, then it is either a case of Intel and AMD working on this naming strategy, or sheer luck that both of them is using the same designation.
AMD Ryzen 2000-Series APUs
Ryzen 5 2400G
with Vega 11
Ryzen 3 2200G
with Vega 8
CPU Cores/Threads
4 / 8
4 / 4
Base CPU Frequency
3.6 GHz
3.5 GHz
Turbo CPU Frequency
3.9 GHz
3.7 GHz
TDP @ Base Frequency
65 W
65 W
Configurable TDP
46-65 W
46-65 W
L2 Cache
512 KB/core
512 KB/core
L3 Cache
4 MB
4 MB
Graphics
Vega 11
Vega 8
Compute Units
11 CUs
8 CUs
Streaming Processors
704 SPs
512 SPs
Base GPU Frequency
1250 MHz
1100 MHz
DRAM Support
DDR4-2933
Dual Channel
DDR4-2933
Dual Channel
OPN PIB
YD2400C4FBBOX
YD2200C5FBBOX
OPN Tray
YD2400C5M4MFB
YD2200C4M4MFB
Price
$169
$99
Bundled Cooler
AMD Wraith Stealth
AMD Wraith Stealth
Despite the Ryzen 5 2400G being classified as a 'Ryzen 5', the specifications of the chip are pretty much the peak specifications that the silicon is expected to offer. AMD has stated that at this time no Ryzen 7 equivalent is planned. The Ryzen 5 2400G has a full complement of four cores with simultaneous multi-threading, and a full set of 11 compute units on the integrated graphics. This is one higher than the Ryzen 7 Mobile processor, which only has 10 compute units. This translates as 704 streaming processors, compared to 640 SPs. Aside from the full set of hardware, the CPU frequency is very high, similar to the standard Ryzen 7 desktop processors: a base frequency of 3.6 GHz and a turbo of 3.9 GHz will leave little room for overclocking. Yes, these chips are overclockable. The integrated graphics frequency will default to 1250 MHz and the total chip TDP is 65W. Maximum supported memory frequency will vary depending on how much memory is used and what type, but AMD lists DDR4-2933 as the support for one single-sided module per channel.
A side bit of news on the Ryzen 5 2400G is that it somewhat replaces the Ryzen 5 1400 at the $169 price point. Both chips will continue to be sold, but at this price point AMD will be promoting the 2400G over the 1400.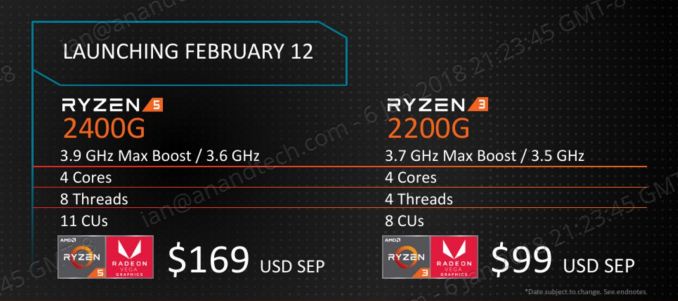 The cheaper $99 processor is the Ryzen 3 2200G. The specifications follow the other Ryzen 3 processors already in the market: four cores, and no simultaneous multi-threading. The rated frequencies, 3.5 GHz for base and 3.7 GHz for turbo, are slightly below that of the Ryzen 5 2400G but are still reasonably high – despite this chip being rated for 65W, the same as the Ryzen 5 2400G, users might expect this processor to turbo for longer within its power window as long as it is within its thermal boundaries. The suggested retail price of $99 means that this is the cheapest Ryzen desktop processor on the market, and it crosses a fantastic line for consumers, with four high-performance x86 cores under the $100 retail line. The integrated graphics provide 512 streaming processors, identical to the $169 processors from previous generations, but this time upgraded with the Vega architecture.
Within the presentations at Tech Day, AMD typically provides plenty of performance data from their own labs. Of course, we prefer to present our own data obtained in our labs, but combing through AMD's numbers provided a poignant point as to just how confident AMD is on even its low end unit: using the 3DMark 11 Performance benchmark, the Ryzen 3 2200G (according to AMD) scored 3366 points, while on the same benchmark Intel's best integrated graphics offering, the Core i7-5775C with embedded DRAM, scored only 3094. If we took this data point as the be-all and end-all, it would come across that AMD has broken Intel's integrated graphics strategy.
One of the other important elements to the Ryzen APU launch is that both processors, including the Ryzen 3 2200G for $99, will be bundled with AMD's revamped Wraith Stealth (non-RGB) 65W cooler. This isn't the high-end AMD cooler, but as far as stock coolers go, it easily introduces a $30 saving to any PC build, reducing the need to buy a hefty standard cooler.
AMD vs. Intel
AMD's main target with these new processors is to offer something Intel cannot: a combined processor and graphics package. Much like a number of AMD's previous generation of products, the focus is two-fold: offering more performance at the same price, or being cheaper at equal performance.
For the first part of that argument, about having more performance at the same price, AMD suggests the following competition for the Ryzen 5 2400G:
$169 Ryzen 5 2400G (4C/8T, 3.6 GHz, 704 SPs)
$182 Core i5-7400 (4C/4T, 3.0 GHz, 24 EUs)
$187 Core i5-8400 (6C/6T, 2.8 GHz, 24 EUs)
AMD cites that in its internal testing, the 2400G scores 20% higher than the i5-8400 on PCMark 10, and can post 1920x1080 gaming results above 49 FPS in titles such as Battlefield One, Overwatch, Rocket League, and Skyrim, having 2x to 3x higher framerates than Intel's integrated graphics.
For the Ryzen 3 2200G, the competing products are less well defined:
$99 Ryzen 3 2200G (4C/4T, 3.5 GHz, 512 SPs)
$117 Core i3-8100 (4C/4T, 3.6 GHz, 23 EUs)
$84 Pentium G4620 (2C/4T, 3.7 GHz, 12 EUs)
Again, through its internal testing, AMD is stating that the 2200G scores 13% higher than the Core i3-8100 in PCMark 10, as well as being within a few frames of the Ryzen 3 2400G in titles such as Rocket League, Skyrim, and Battlefield One.
The other side of the argument is price for the same performance. For this comparison, AMD suggests to test the new APUs against Intel processors paired with NVIDIA graphics, specifically the GT 1030. AMD's data suggests that a Core i5-8400 with a GT1030 scores the same as a Ryzen 5 2400G in the 3DMark TimeSpy benchmark, although costing $290 (vs $169 for the APU) and drawing 30W more power.
Both of these APUs will be introduced to the market on February 12, which is when the review NDA also lifts for the media. We have a number of the required Intel processors to test against, and we also ordered a GT 1030 for additional testing points, however the retailer sent me an LED kit by mistake. Hopefully it can get switched around with enough time for testing.
AMD vs. AMD: Raven Ridge and Bristol Ridge
These two new APUs have the internal codename of 'Raven Ridge' to signify the family of products. AMD also has 'Bristol Ridge' already in the market, using the previous generation of CPU cores and previous generation of integrated graphics. AMD has not actively promoted Bristol Ridge to the public in any serious way, with these parts being hold-overs from the previous platform and designed to be a quick fill within AMD's product line. To that effect, Bristol Ridge processors were only available for OEMs at the beginning for pre-built systems, and AMD only made them available to the public within the last few months. To our knowledge, AMD did not initiate a review sampling program to the press of these processors either.
With the launch of the two new Zen-plus-Vega Raven Ridge APUs, the Bristol Ridge processors will still continue to be sold. AMD's reasoning revolves around offering choice in the market, particularly to its OEM customers, and has stated that the two products offer different features and is thus not competing on price. It is clear to say that for anyone buying a new system, the newest products offer the better value: a much higher per-core performance, improved thermal budgeting, newer integrated graphics, and ultimately the core design is the future of AMD. The only items that Bristol Ridge brings to the table now are the legacy aspect, to replace like-for-like, and the offer of a number of 35W-rated products. Bristol Ridge PRO processors are also on the market, offered alongside the new Ryzen PRO with Vega (more on this later).
Squaring up the competing parts shows that:
Raven Ridge vs. Bristol Ridge
Ryzen 5
2400G
A12-9800
Ryzen 3
2200G
A10-9700
Core uArch
Zen
Excavator
Zen
Excavator
Cores/Threads
4 / 8
2 / 4
4 / 4
2 / 4
Base CPU Frequency
3.6 GHz
3.8 GHz
3.5 GHz
3.5 GHz
Turbo CPU Frequency
3.9 GHz
4.2 GHz
3.7 GHz
3.8 GHz
TDP
65 W
65 W
65 W
65 W
cTDP
46-65 W
45-65W
46-65 W
45-65W
L2 Cache
512 KB/core
1 MB/core
512 KB/core
1 MB/core
L3 Cache
4 MB
-
4 MB
-
Graphics
Vega 11
GCN 3 Gen
Vega 8
GCN 3 Gen
Compute Units
11 CUs
8 CUs
8 CUs
6 CUs
Streaming Processors
704 SPs
512 SPs
512 SPs
384 SPs
Base GPU Frequency
1250 MHz
1108 MHz
1100 MHz
1029 MHz
DRAM Support
DDR4-2933
DDR4-2400
DDR4-2933
DDR4-2400
Price
$169
$99
$99
$79
Given the performance uplift we have seen from previous generation A-series processors to the Ryzen desktop parts already, the new APUs should put the nail in the coffin for older AMD parts.