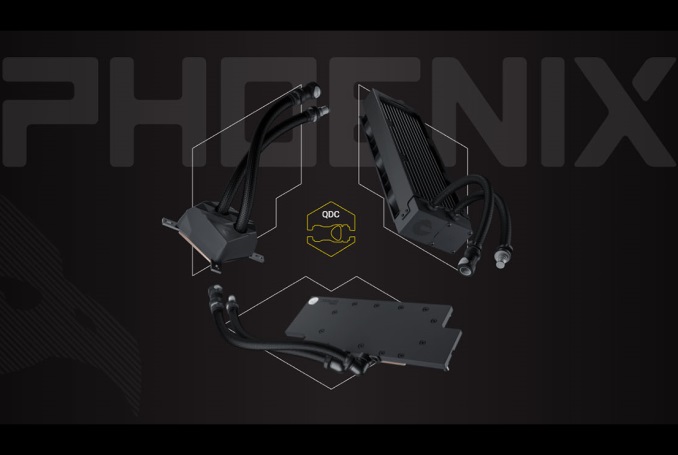 This week EKWB has taken the wraps off of a new lineup of pre-filled products for liquid cooling, which the company is naming the MLC Phoenix family. The Phoenix lineup was created to cater to customers who may be unwilling to assemble a full custom loop, or simply do not have time to maintain a custom loop but still would like a premium cooling solution. Its modular design allows for ease of expansion for using any one of several of its pre-filled water blocks. All of the Phoenix products utilize zero-drop quick disconnect couplings between parts to allow for quick and spill-free changes of the water-cooling loop.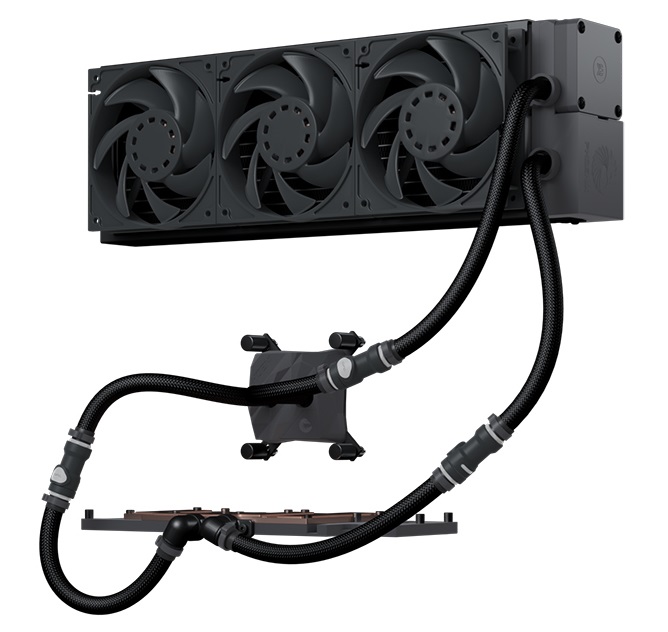 The loop will consist of at least two parts. First is the radiator core module containing the pump and radiator, then your cooling modules of choice, either CPU or Video Card modules, or, both. The radiator core module, a high-fin density EK-CoolStream radiator, comes pre-filled and includes the pump, as well as high-static pressure EK-Varder EVO fans. Unique to this setup, the radiator core modules include an integrated fan splitter hub to help reduce cable clutter. The pump and fans plug into the hub with only one PWM cable need to be plugged into the CPU fan header and one SATA Molex power cable (we are assuming this is SATA power). The radiator core modules have five options: 120mm, 240mm, 360mm, 140mm, and 280mm so there is to fit most cooling and space needs.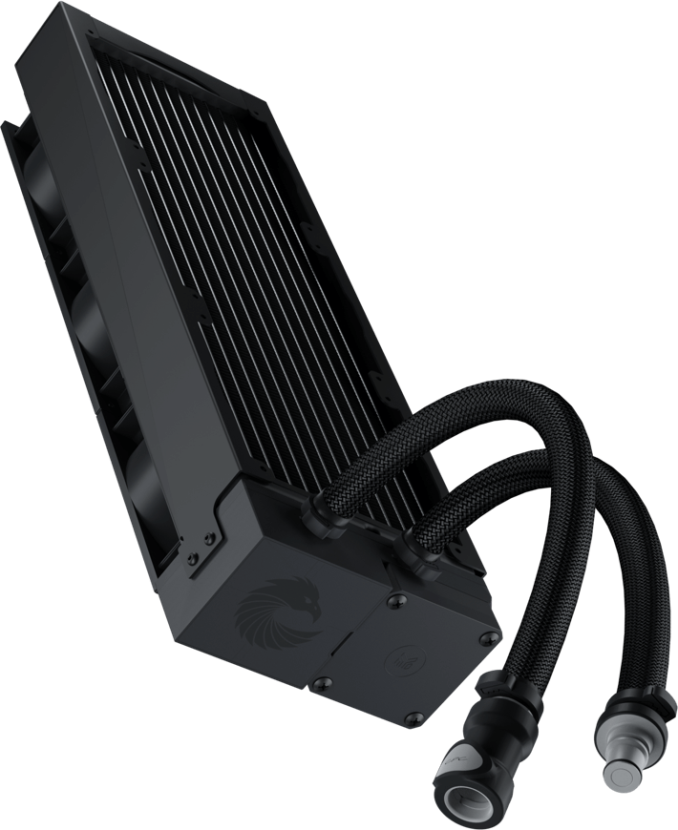 The CPU Cooling modules come in two flavors, one made for Intel and AM4 systems, and another designed specifically for the large AMD Threadripper CPUs. The Intel/AM4 solution supports Intel LGA1150/1151/1155/1156/2011-3/2066 sockets while the sTR4 model is compatible with AMD SocketTR4 (Socket SP3r2) and AMD Socket SP3 based motherboards. EK states the pre-filled CPU cooling module is based on the EK-Supremacy series of water blocks, comes with an error-preventing mounting mechanism for an easier installation, have low hydraulic restriction, and of course mates perfectly with all EK-MLC Phoenix radiator core modules.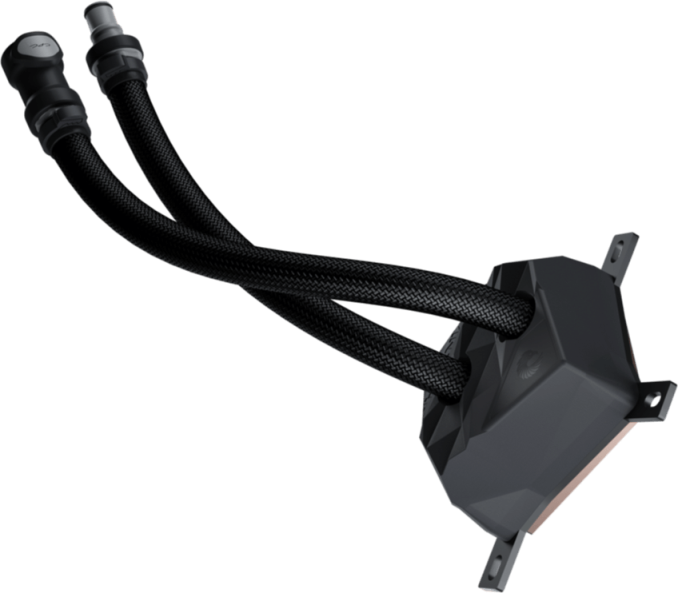 As for the EK-MLC GPU cooling modules, there are 23 to choose from with more being added. These are designed to fit NVIDIA and AMD cards from the Geforce GTX 1070 to the TitanX Pascal on the NVIDIA side, Radeon RX Vega cards on the AMD side. The blocks are made from high-purity copper and directly cool the GPU, RAM (HBM2), and well as the VRM. It has a central inlet split-flow cooling engine designed for good hydraulic performance for use with its other MLC Phoenix parts. All blocks are equipped with a rotary terminal allowing the integrated tubing to rotate on their mount point for more flexibility when routing the loop. Most all EK-MLC GPU cooling module full cover blocks are available in Nickel Plexi and Nickel Acetal versions with the base of the blocks made of nickel plated electrolytic copper. The plexi variants also have two pre-drilled slots for 3mm LED diodes. All EK-MLC parts will come with a two-year warranty.

All EK-MLC products are currently available for pre-order through the EK-MLC configurator with shipping to start Monday, December 4th.
EKWB Phoenix MLC AIO Family
CPU Cooling Modules
MSRP (incl. VAT) / USD
EK-MLC Phoenix CPU Module - Intel/AM4
66.90€ / $79.99
EK-CoolStream SE 560
59.90€ / $69.90
Radiator Core Modules
EK-MLC Phoenix 120 Radiator Core Module
139.90

€ / $149.90

EK-MLC Phoenix 240 Radiator Core Module

169.90

€ / $179.99

EK-MLC Phoenix 360 Radiator Core Module

189.90

€ / $194.99

EK-MLC Phoenix 140 Radiator Core Module

159.90

€ / $169.99

EK-MLC Phoenix 280 Radiator Core Module

189.90

€ / $189.99

GPU Cooling Modules
EK-MLC GPU Module FC Titan X Pascal - Nickel

134.90

€ / $144.99

EK-MLC GPU Module FC 1080 GTX Ti - Nickel

134.90

€ / $144.99

EK-MLC GPU Module FC 1080 GTX Ti Strix - Nickel

145.90

€ / $155.99

EK-MLC GPU Module FC Geforce GTX FE - Nickel

124.90

€ / $135.99

EK-MLC GPU Module FC Radeon Vega - Nickel

134.90

€ / $144.99

EK-MLC GPU Module FC 1080 GTX Ti FTW3 - Nickel

134.90

€ / $144.99

EK-MLC GPU Module FC 1080 GTX Ti Aorus - Nickel

129.90

€ / $139.99

EK-MLC GPU Module FC 1080 GTX Strix - Nickel

145.90

€ / $155.99

EK-MLC GPU Module FC 1080 GTX TF6 - Nickel

134.90

€ / $144.99

EK-MLC GPU Module FC 1080 GTX - Nickel

124.90

€ / $135.99

EK-MLC GPU Module FC 1080 GTX G1 - Nickel

129.90

€ / $139.99

EK-MLC GPU Module FC 1080 GTX FTW2 - Nickel

134.90

€ / $144.99

EK-MLC GPU Module FC 1070 GTX - Nickel

124.90

€ / $135.99

EK-MLC GPU Module FC 1080 GTX Ti TF6 - Acetal + Nickel

135.90

€ / $145.99

EK-MLC GPU Module - FC 1080 GTX Ti - Acetal + Nickel

124.90

€ / $135.99

EK-MLC GPU Module FC 1080 GTX Ti Strix - Acetal + Nickel

145.90

€ / $155.99

EK-MLC GPU Module FC Radeon Vega - Acetal + Nickel

134.90

€ / $144.99

EK-MLC GPU Module FC Geforce GTX FE - Acetal + Nickel

124.90

€ / $135.99

EK-MLC GPU Module FC 1080 GTX Ti FTW3 - Acetal + Nickel

134.90

€ / $144.99

EK-MLC GPU Module FC 1080 GTX Ti Aorus - Acetal + Nickel

129.90

€ / $139.99

EK-MLC GPU Module FC Titan X Pascal - Acetal + Nickel

134.90

€ / $144.99

EK-MLC GPU Module FC 1080 GTX TF6 - Acetal + Nickel

134.90

€ / $144.99

EK-MLC GPU Module FC 1080 GTX G1 - Acetal + Nickel

129.90

€ / $139.99
Related Reading:
Source: EKWB