ReLive New Features (1)
For the users of the regular driver package used for gaming and general purpose home use, while the developer tools might not be much of interest there is certainly a lot going on with the interface worth mentioning. This all comes under the header of new features, and we'll spend a few pages going over what will be new with Crimson ReLive.
Clean Installs
For anyone updating drivers, or moving between graphics card generations particularly on older systems, the only way to ensure 100% compatibility has been to have a fresh operating system devoid of any other programs. Ultimately the real-world is different, and for people using 3-5 year old systems who want to put in a new graphics card it can be a bit of an ordeal with driver conflicts or older files getting in the way. Over the last two years, the green team has had a 'clean install' option that promises to remove any trace of older software/software components and give a fresh install based on the installer package. Now this functionality comes to the red team as well.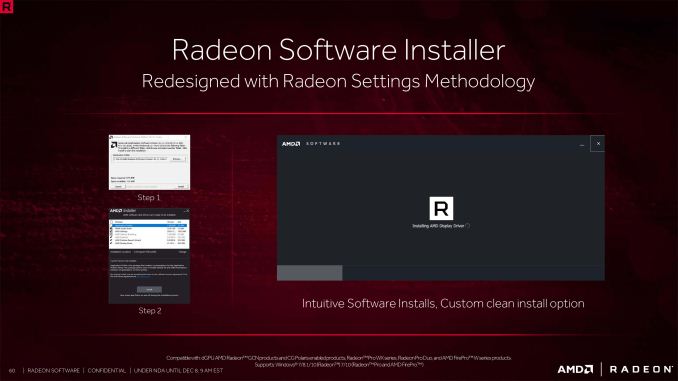 Personally I've had driver conflicts come up mostly on older, much-used systems, or when changing a test-bed between multi-GPU configurations. Sometimes a reinstall of the same drivers over the top doesn't do anything, leading to the loss of hair and four-letter expletives. Thankfully, this is designed to alleviate such a frustration. Clean Install is also offered with Radeon Pro and Radeon FirePro drivers.
User Feedback and Feature Requests
One of the problems with user feedback on PC related software is that it can be difficult to obtain. Typically users are self-selecting: they have issues and rate software badly, or have something to gain from a positive reply. There are focus groups that aim to be balanced, but they don't always hit at detailed positive or negative aspects. There is no right way to do it (even the mobile stores have games that offer rewards for positive feedback), but AMD is attempting to do something to at least get 'live' data from Crimson ReLive.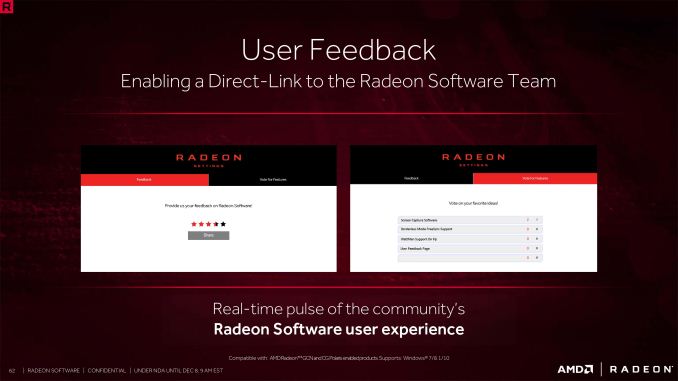 ReLive will have a tab where users can offer their feedback, up to five stars (I'm unsure if the lower limit is 0 or 1 at this point), and I believe there will be an opportunity for users to give more detailed feedback in due course.
The other side of the coin is for feature requests. Most software manufacturers rely on forums and interpretation for user requests, or ideas come internally. AMD now has a tab where users can submit and vote on their favored features for upcoming software. This could be a game fix, back-porting software support for an older range of GPUs, increasing Freesync support or whatever submissions are taken. At some level I would assume AMD will keep an online list of submissions, and ones that are impossible (Freesync over VGA is something that can never happen) but end up rated high can be explained as to why it won't happen. It will be an interesting development to see what comes through.
Upgrade Advisor
The fact that almost all games provide a 'minimum' and 'recommended' specification list allows a user to ensure a system is set up to provide a suitable experience. Through Crimson ReLive AMD will detect the current system and compare it to the requirements for detected games allowing the user to see if they meet the requirements or if the user needs to upgrade.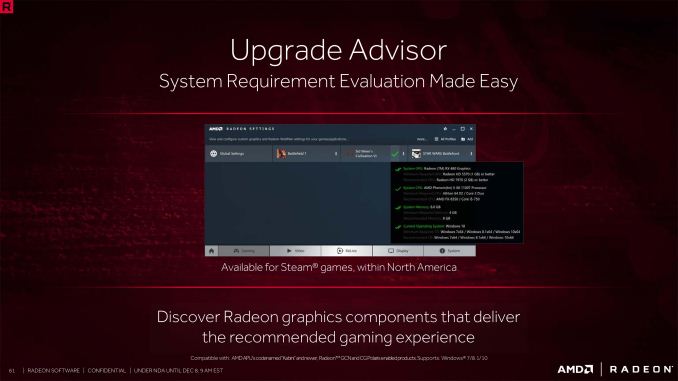 The system will give a tick when above the minimum requirements and a double tick when hitting the recommended. There is a caveat in all of this such that the recommendations will only occur on Steam Games for now, and for users in North America (I assume it detects this via the IP address).
At present the system does not offer recommendations as to what to buy (or where), or where to read reviews on potential upgrades. I highly recommend a site I know called AnandTech. I'm sure you've heard of it?