A Design Out of Time
Toshiba's Qosmio F755 chassis occupies a strange halfway point between last generation's 18-inch behemoth and the sleeker, modern 17-inch X775. While the F755 is smaller than either, its style is like a slightly muted version of its predecessor yet missing some of the aspects of the X775 that make it more appealing than previous Qosmio notebooks.
The F755 continues Toshiba's ancient commitment to glossy plastic everywhere, but the patterned style used on the lid and palm rest at least helps to shore up some of the major problems of the material. I found the Qomsio F755 to be a lot better about not picking up fingerprints than many of the other glossy notebooks I've tested. The red lid and reddish trim around the body of the notebook is actually fairly attractive, and I like the style of the hinge and the gentle slope upward, allowing Toshiba's engineers to use the back of the notebook for a couple of ports.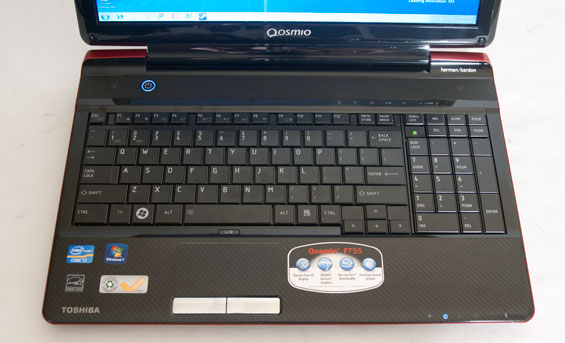 What I'm really not a fan of is Toshiba's glossy tile keyboard. While the one used on the F755 is actually reasonably comfortable to use, it's still a major step back from the chiclet keys used in the X775 and most of Toshiba's modern notebooks. The action in the individual keys is good, though, and Toshiba seems to be one of the only manufacturers that's putting real, intelligent thought into keyboard layouts on 15.6" notebooks. Every time I see a notebook at 13.3" or bigger that doesn't have dedicated document navigation keys, I die a little inside, so Toshiba's commitment at a time when other manufacturers' keyboards are getting slimmer and slimmer is much appreciated. I can't seriously be the only person in the world who uses those keys with regularity.
The touchpad is a part of the palm rest (which always looks chintzy to me), but the texture is different and I found it easy enough to use that I never connected an external mouse while I was testing the F755 (except when gaming). The glossy silver plastic used for the buttons picks up fingerprints horribly, though.
Truth be told I like the overall aesthetic of the F755 a bit more than many of Toshiba's other notebooks, particularly the use of white LEDs as a tertiary color, and I'm a fan of the style of hinge Toshiba uses here. Yet the overreliance on glossy plastic still bothers me, and the tile keyboard was a horrendous idea that never should've seen the mileage it did. It's not as bad as Acer's old floating island keyboard (you can't imagine how happy I am to see they're migrating away from that disasterpiece), but it was never a good idea and the notion that glossy keys are "premium" is insane. Premium keys are supposed to work better than regular ones, not worse.