Introducing the Toshiba Qosmio F755-3D290
Way back in the dark ages of CES 2011, we were able to lay hands on and play with some interesting new technology from Toshiba. They had a prototype notebook on hand that was capable of glasses-free 3D similar to the Nintendo 3DS, but with a bigger screen and the ability to track head movement and adjust viewing angles accordingly. Yet the release of this 3D notebook has been an unusually quiet one. Is the 15-inch Qosmio F755 a sound design, or is there a reason why it's been unceremoniously dropped into the marketplace?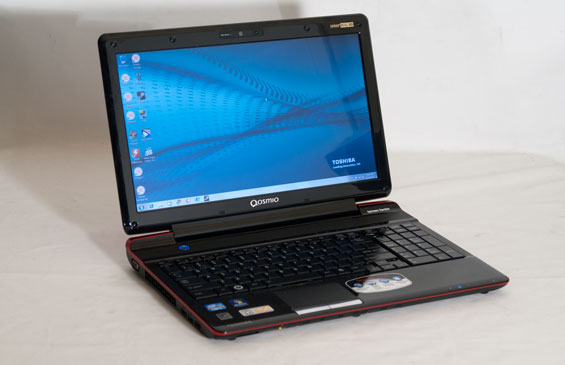 The kind of glasses-free 3D that Toshiba employs in the Qosmio F755-3D290 has thus far been mostly confined to handhelds, like the odd 3D smartphone or the aforementioned Nintendo 3DS. Toshiba even includes a reasonably impressive piece of head-tracking technology that will shift the 3D viewing angle as long as the webcam can see you, at least once you've configured it. So why did Toshiba more or less sneak this one onto the market?
Toshiba Qosmio F755-3D290 Specifications
Processor
Intel Core i7-2630QM
(4x2GHz + HTT, Turbo to 2.9GHz, 32nm, 6MB L3, 45W)
Chipset
Intel HM65
Memory
1x2GB Samsung DDR3-1333 and 1x4GB Samsung DDR3-1333 (Max 2x4GB)
Graphics
NVIDIA GeForce GT 540M 1GB DDR3
(96 CUDA cores, 672MHz/1344MHz/1.8GHz core/shader/memory clocks)
Display
15.6" LED Glossy 16:9 1080p, capable of 720p glasses-free 3D
TOS508F
Hard Drive(s)
750GB Hitachi Travelstar 5K750 5400-RPM SATA-II HDD
Optical Drive
Matshita BD-RE (UJ240ES)
Networking
Realtek PCIe Gigabit Ethernet
Atheros AR9002WB-1NG 802.11b/g/n
Bluetooth 3.0
Audio
Realtek ALC272 HD Audio
Stereo speakers
Mic and headphone jacks
Battery
6-Cell, 11.1V, 48Wh
Front Side
SD/MS/xD card reader
Right Side
Mic and headphone jacks
2x USB 2.0
Optical drive
Left Side
VGA
Exhaust vent
USB 2.0
USB 3.0
HDMI
Back Side
Kensington lock
Ethernet jack
AC adaptor
Operating System
Windows 7 Home Premium 64-bit SP1
Dimensions
15.3" x 10.5" x 1.5" (WxDxH)
Weight
7.5 lbs.
Extras
1.3MP webcam
Keyboard with 10-key
SD card reader
USB 3.0
Glasses-free 3D
Warranty
1-year standard warranty
Pricing
Starting at $1,299
Our model: $1,699
You'll forgive me for my unprofessionalism, but the best word I can think of for the Toshiba Qosmio F755's configuration is "wonky." When I reviewed Toshiba's all-in-one, the DX735, I praised Toshiba for being able to produce a balanced system configuration that was well-suited to its intended purpose, but the F755 in any of its three shipping configurations is the polar opposite.
The bright spot of the F755 is the Intel Core i7-2630QM. The i7-2630QM and its successor the i7-2670QM are, in my opinion, the price/performance/power sweet spot of the mobile market right now. The F755-3D290 configuration employs the i7-2630QM, which is a fast quad-core processor with Hyper-Threading, able to turbo up and provide plenty of juice on two cores, but also capable of being fairly frugal with power consumption. Best of all, the i7-2630QM is reasonably inexpensive and shows up in notebooks across the board. OEMs like it, and I certainly wouldn't ever be unhappy with it.
Unfortunately things wind up being pretty screwy everywhere else. Why just 6GB of DDR3 instead of an even 8GB, especially with prices where they are? Why the dismally slow 5400-RPM hard drive, borderline unforgivable in a $1,700 laptop? Why Atheros's slow wireless solution instead of one of Intel's more capable ones--or at least give us something with support for two spatial streams and 5GHz radios? All this, and then a Blu-ray rewriteable drive? A Blu-ray reader would've sufficed.
Users planning on enjoying 3D Vision with the Qosmio F755 are going to be disappointed on two fronts. The first is the anemic NVIDIA GeForce GT 540M. The 540M is fine for gaming at 1366x768 without 3D, but 3D Vision is very demanding on graphics hardware and the 540M just isn't going to cut it. Fortunately that doesn't matter, because while Toshiba advertises 3D Vision support for the F755, it just plain doesn't work. I actually checked other reviews and they all ran into the same problem; when you click "Enable 3D Vision" on the laptop, it does nothing. I've read that NVIDIA and Toshiba are working together on a 3D Vision driver for the F755, but it hasn't materialized yet...three months after the laptop's release.
Finally, to add insult to injury, the F755 is not Optimus enabled. No intelligent switching between the Sandy Bridge IGP and the GeForce GT 540M, and battery life suffers tremendously as a result. Small wonder the notebook arrived with little fanfare.