Cellular Connectivity
So the elephant in the room is cellular connectivity on the Droid 3. To many people's chagrin, the Droid 3 lacks 4G LTE connectivity, instead including dual-mode CDMA2000 1x/EVDO Rev.A and GSM/WCDMA compatibility with a Qualcomm MDM6600. We've seen Motorola using the MDM6600 in a host of smartphones lately, and the baseband offers a native dual-mode (world phone) solution that's essentially fully realized in the Droid 3. To that extent, the Droid 3 does build and improve upon the connectivity of the Droid 2, but still doesn't offer 4G LTE connectivity which would require an additional baseband and possibly larger package.
Motorola Droid 3 - Network Support
CDMA2000 1xRTT/EVDO Rev.A
800 / 1900 MHz
GSM/EDGE
850 / 900 / 1800 / 1900 MHz
WCDMA/UMTS
850 / 1900 / 2100
HSPA Speed
HSDPA 10.2/14.4 (UE Cat. 9/10), HSUPA 5.76
Baseband
Qualcomm MDM6600
We've already tested Verizon Wireless's EVDO Rev.A considerably, but I ran 243 more tests on the Droid 3 and made a histogram again to show how things fare. Again we test using the speedtest.net application in real world environments at all signal levels and times of day to get a good picture for what real-world speeds look like. MDM6600 remains a competent CDMA2000 baseband.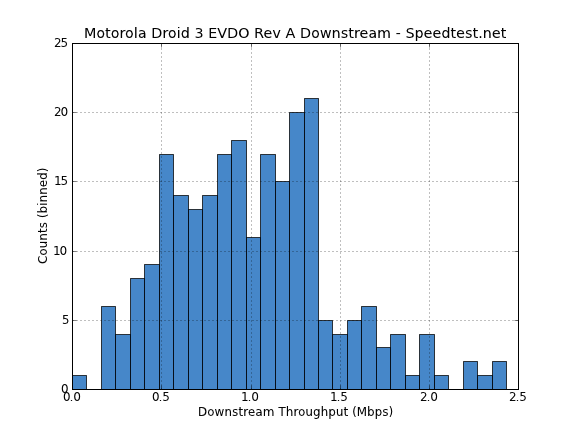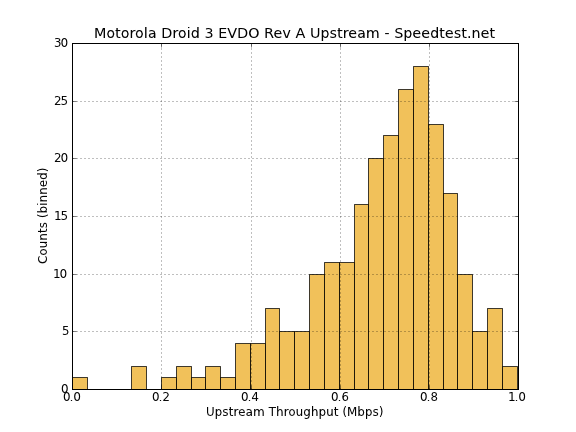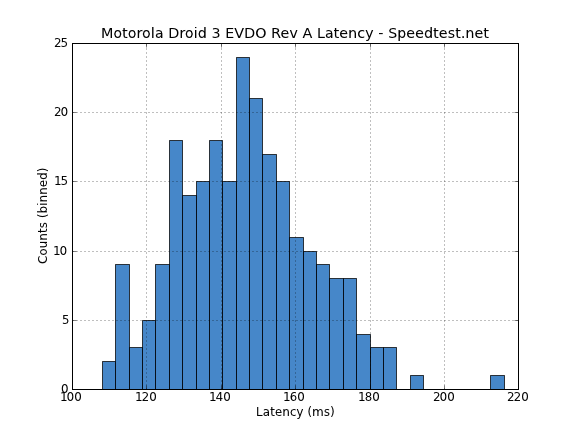 The obvious next part of the story is that WCDMA HSPA+ 14.4 Mbps connectivity. Unfortunately, Verizon has locked the retail Droid 3 out of seeing USA-based GSM/WCDMA networks with an MCC (Mobile Country Code) lock, so you're out of luck if you want to use a retail Droid 3 on AT&T 3G (which it has the band support for) or T-Mobile 2G. Calling up Verizon and getting an unlock code doesn't disable the MCC lock, but you can use the Droid 3 abroad that way. There's another similar Droid 3 for sale outside normal retail channels that purports to have the MCC lock removed, but as we didn't have one, I was unable to test any of the GSM/WCDMA connectivity on the Droid 3. It is there however, as evidenced by toggles in the wireless connectivity pages inside settings.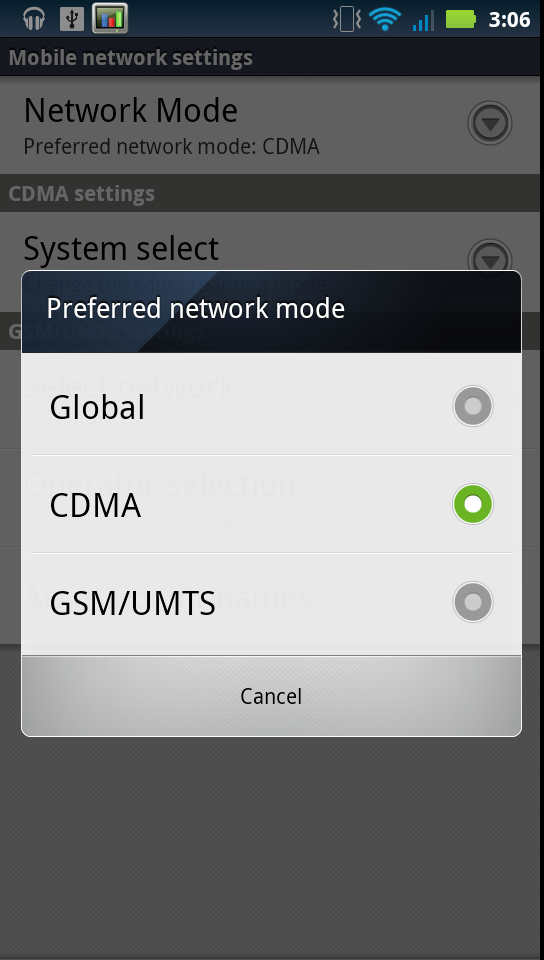 Next up is attenuation, which again we test for by holding the phone in a variety of positions and watching received signal strength move around. The Droid 3 (like all of its earlier CDMA2000 brethren) has Rx diversity, which you can additionally verify from inside the programming menu. I saw signal drop by 16 dB with the phone cupped at the top and bottom completely, which is about where we have seen other phones sit.
Signal Attenuation Comparison in dB - Lower is Better
Cupping Tightly
Holding Naturally
Holding in Case
On an Open Palm
Droid 3
16.0
11.3
-
5.0
HTC Sensation
15.0
10.0
8.0
0.0
Samsung Droid Charge
10.0
10.0
5.0
0.0
HTC Thunderbolt - LTE
5.3
2.5
-
4.4
HTC THunderbolt - EVDO
6.5
0.8
-
7.2
Verizon iPhone 4
16.5
15.5
9.0
7.9
LG Optimus 2X
13.7
9.3
-
5.9
Nexus S
13.3
6.1
-
4.3
Droid 2
11.5
5.1
-
4.5
BlackBerry Torch
15.9
7.1
-
3.7
Dell Streak
14.0
8.7
-
4.0
Droid X
15.0
5.1
-
4.5
AT&T iPhone 4
24.6
19.8
7.2
9.2
iPhone 3GS
14.3
1.9
3.2
0.2
HTC Nexus One
17.7
10.7
7.7
6.7
One more thing to note is that the Droid 3 actually reports its signal strength bar visualization based on SNR instead of just receive power. I've read a few reports where people were confused by the lack of bars with the Droid 3 next to another Verizon Wireless device, and this is the reason. Remember that great signal strength and great SNR (which actually matters) are not necessarily mutually inclusive.
WLAN and Bluetooth
Next up is WiFi and Bluetooth, both of which are handled by the Droid 3's onboard TI Wilink7 series TI1281 combo BT, FM, WLAN, GPS single chip solution. Note that the official Verizon specifications list TI1285 (which doesn't exist yet on the TI website) but the actual Droid 3 ROM contains the necessary WLAN firmware for TI1281 client and AP mode in no uncertain terms. Either way, we at least know it's a Wilink 7 series stack. TI1281 supports 802.11a/b/g/n single spatial stream, however the Droid 3 doesn't incorporate the appropriate 5 GHz front end for 802.11a/n, rather just 2.4 GHz 802.11b/g/n is supported. Likewise included is Bluetooth 3.0 and Low Energy (4.0) support, and GPS which the Droid 3 uses.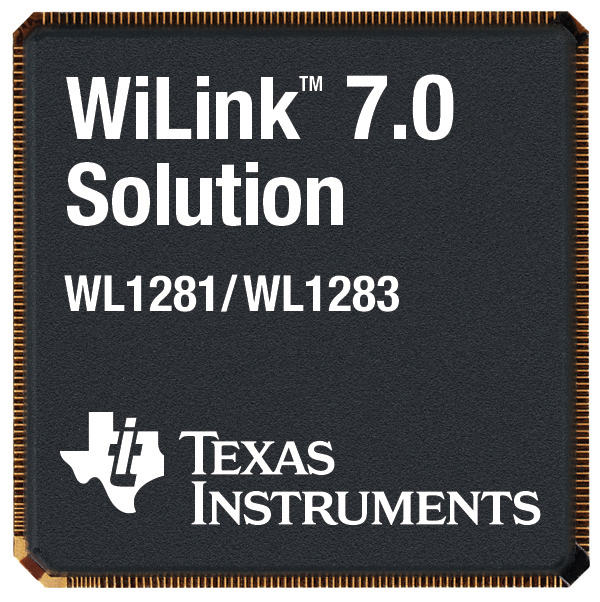 WLAN range on the Droid 3 is very good, with it being possible to use the Droid 3 in a few environments that the Droid 2 and X aren't entirely stable in. I took a photo of the Droid 3 alongside the X I have borrowed from a friend with the Droid 3 showing -84 dBm of signal compared to the X's -92 dBm.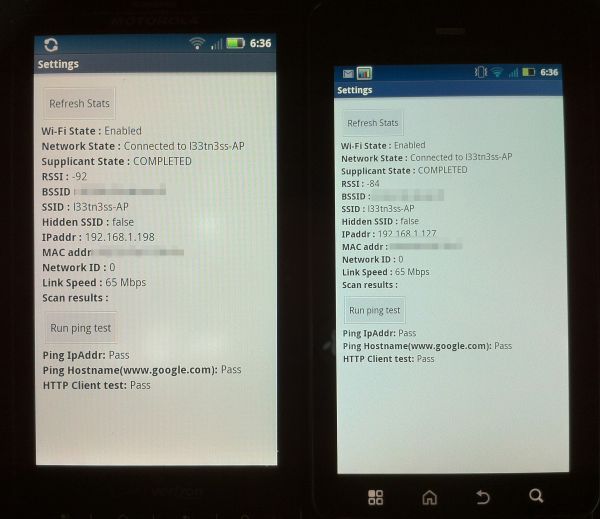 I'm not entirely convinced that either are showing the proper link rate (65 Mbps seems odd considering the low signal), however I've been able to maintain connectivity throughout my test location. I've seen bursts of above 30 Mbps on the Droid 3 when doing our local PDF transfer test, however the average settled down to around 27 Mbps as shown in the graph below.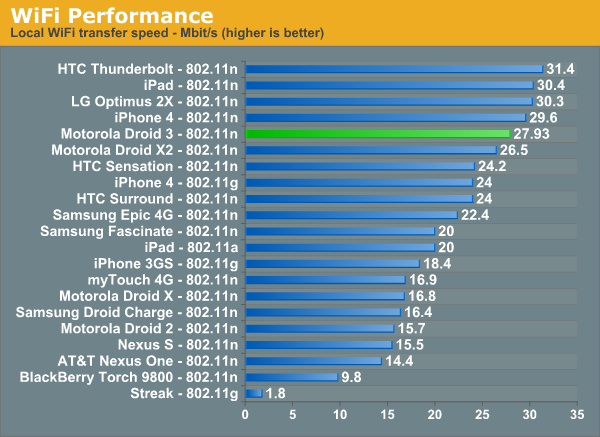 I guess that brings me to GPS on the Droid 3, which as I mentioned before is using the stack on the TI1281 instead of the stack on MDM6600. It acquires a 3D fix insanely fast, almost instantaneously. I timed under a second outside with no WiFi assist, down to 9.1 feet of accuracy almost immediately. I'm very impressed with GPS performance on the Droid 3. The only caveat is that it seems the TI1281 isn't passing on NMEA GPS data which includes per-satellite SNR and position to the Android API. Instead, you just get a location and degree of precision measure, which makes it hard to know whether there's some trickery going on or the GPS is really just that good.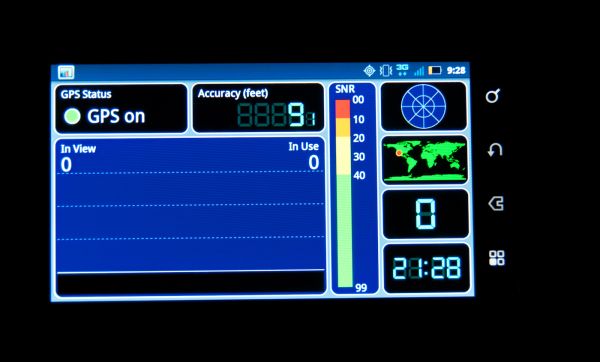 The other interesting curiosity is that the Droid 3 is one of the first I've seen to list sGPS as a supported feature. The s in sGPS of course stands for simultaneous, which means that during E911 calls the GPS and voice data aren't just slotted in a time multiplexed scheme but truly simultaneous.