Camera - Stills and Video
The Droid 3 includes a nicely improved rear-facing 8 MP camera. Without doing much more than looking at the back of the device, you can see that gone is the dual-LED flash system, and in its place is a single LED solution which seems to be equivalently bright. For comparison, recall that the Droid 2 had a 5 MP rear facing camera and no front facing camera.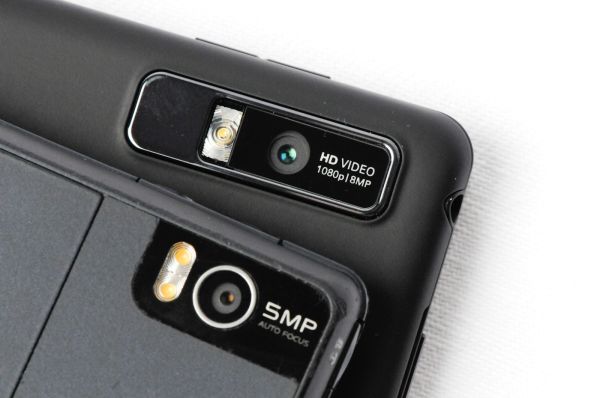 I did some poking around and discovered that the Droid 3 uses an OmniVision OV8820 for its rear facing 8 MP camera, and an OmniVision OV7739 for its front-facing VGA camera. OV8820 is relatively par for smartphone 8 MP sensors, at 1/3.2" size and capable of delivering both 1080p30 and 720p60. Pixels on the OV8820 are 1.4 microns square and backside illuminated (thinned using OV's back-grinding process) just like their other comparable sensors.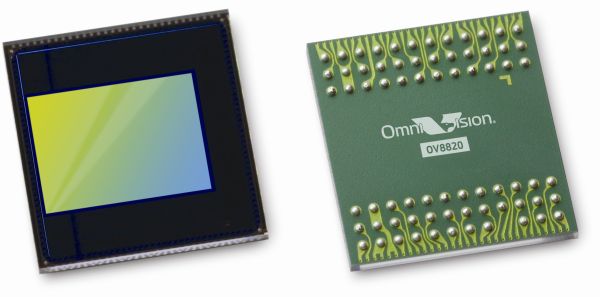 The front-facing OV7739 is again VGA, and designed with package thickness (just 3 mm) in mind. It can capture VGA at 30fps and QVGA at 60fps. Of course, the VGA sensor is correspondingly smaller at just 1/7.5" with 3 micron square pixels.
We did the usual thing and took photos with the Motorola Droid 3 at our test locations (which continue to be in a state of flux, with a few spots totally inaccessible - only 3, 4, 6 and 7 are left), in our lighbox with and without the LED flash for comparison, and some general everyday photos around town. Stills taken on the Droid 3 are much improved over the Droid 2. By comparison, the Droid 2's lightbox photo looks noisy and lacks much dynamic range in the dark camera barrel. Note that I maintain the distance from camera to subject, and the difference in apparent size comes from a change in focal length from 4 mm on the Droid 2 to 4.6 mm on the Droid 3.
With the lights on, the Droid 3 is a definite improvement over the Droid 2 and other 8 MP smartphone cameras. However, with the lights off, it's often a crapshoot. The software doesn't pre-illuminate the scene for autofocus, instead only flashing a quick autoexpose test flash and then the photo. As a result, it took many, many attempts to get an even questionably focused shot in the dark.
Stills on the Droid 3 are captured at 3264 x 2448 size when the 4:3 aspect ratio is selected, which I guess brings me to the next set of things that are changed - the camera application. With the camera shutter button gone, the Droid 3 camera UI now features a shutter button center on the right side of the UI instead of top right. There's a button for toggling the front and rear facing camera, and down below between still and video.
Hit menu, and you can see what else is different. The menus have been consolidated into a single strip which goes along the bottom of the camera UI. The same core camera functionality remains - camera effects (filters), a few shooting modes (scenes), panorama, brightness, and flash modes. What's changed is that the shooting resolutions and modes are now super simplified - what remains are a widescreen (6 MP) and non-widescreen (8 MP) capture mode, and nothing more.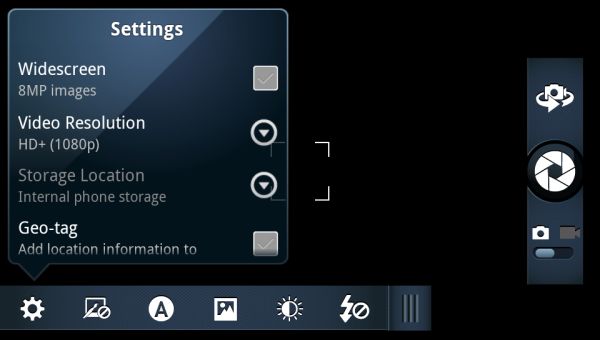 It's a very Apple-like approach (whose iOS camera has no resolution options), and I think it makes sense, since most of the time there really isn't a reason to capture in anything but the highest resolution. Maybe a 2x2 binned-mode resolution for more light sensitivity would make sense, but nothing outside those two sets seems requisite considering it's all just a software decimation at that point anyhow.
The Droid 3 allows for above average capture speed. I was able to mash the capture button on numerous occasions and capture as fast as the button appeared after the extremely short preview and shutter animation finished. The Droid 3 certainly seems faster than the Android paradigm of capture, preview (and covertly write out the buffer), then allow for another frame to be captured, which often takes 5 or more seconds. I show the Droid 3 shooting video pretty quickly in our video review overview.
Regardless, the Droid 3's improved camera now is up to par and slightly better than the competition 8 MP cameras based on Samsung sensors in some of HTC's phones in the right conditions. One thing is certain though, things have improved considerably since last year's 5 MP and 8 MP cameras took stage.
The next subject is of course how video capture fares on the Droid 3. The two most interesting Droid 3 video shooting modes are 720p30 and 1080p30, which record at bitrates of 10 and 15 Mbps, respectively, with 128 Kbps, 44.1 KHz AAC stereo audio.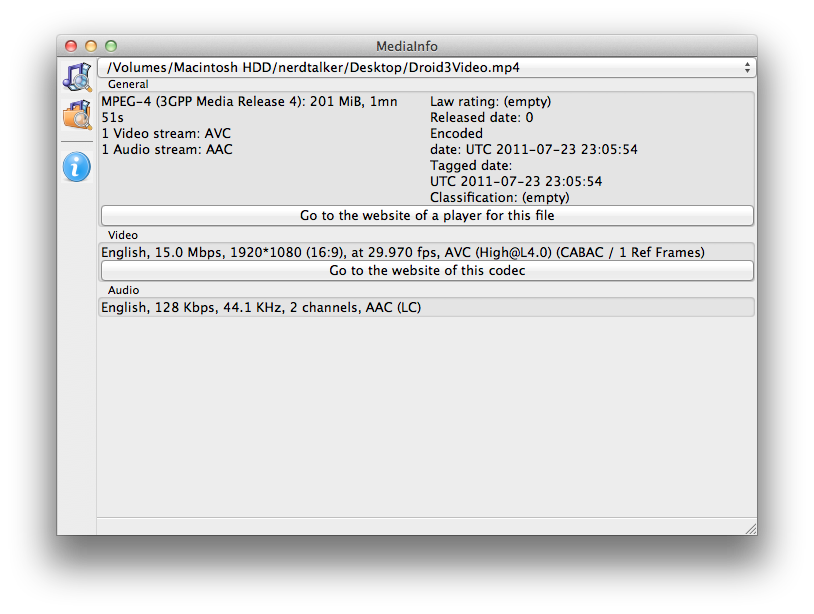 What's impressive about the Droid 3's OMAP4430 SoC is that it can encode high profile H.264 video. Though there's still only 1 reference frame and no B-frames, that's still much better coding than what Tegra 2 or Snapdragon have to offer with their baseline encoders. In addition, the OMAP4 video encoder implements 8x8 size macroblock partitions (8x8DCT), which enables considerably better quality and better encoding than the default 16x16 that other baseline encoders are using. According to further OMAP 4 documentation, it's possible for the IVA-HD encoder in OMAP4430 to work at up to 20 Mbps 1080p30.
Samsung's Exynos is the only other SoC I know of that does high profile H.264 encoding (17 Mbps, CABAC, 1 reference frame), every other SoC we've seen to date just does baseline. At this point, it looks like OMAP4's video encoder is definitively better than both Tegra 2's and Snapdragon's.
I again did the usual thing and shot some videos with the Droid 3 at our test location, and zipped them up for your perusal, but per our media streamer and video guru Ganesh's suggestion, decided to tweak things around for an even better comparison. In addition to the normal test location video, Ganesh suggested shooting video on the device-under-test alongside a reference camera for comparison. I grabbed a dual bracket camera mount, smartphone mount, and monopod and headed out to shoot some side by side video with the Droid 3 alongside a Canon Vixia HF11 I use.
Droid 3 Video
Vixia HF11 Video:
Originally I thought the Vixia HF11 I use was shooting 1080p30, however it turns out that even in 30p mode it actually is capturing 60i. Originally Ganesh and I were concerned that the Droid 3's video looks juddery, it turns out that this shudder/jitter is just because of the difference in 30p (Droid 3) and 60i (Vixia). The Droid 3 is again impressive, easily capturing the top quality crown in our opinion for smartphone video quality. Well deserved kudos to Motorola and TI with the OMAP 4430 encoder. You can download the zip of the HF11 and Droid 3 videos shot on the same bracket and play them back on your own as well.