WiFi Hotspot
Like most all other Android phones, the Droid 3 supports creation of a mobile WiFi hotspot, and does so through some custom Motorola software rather than the stock android host AP tool. The Droid 3 allows a maximum of 5 simultaneous users on its WiFi hotspot, and unlike the X2, I was able to test this out and run our hotspot battery life test and also stress test a bit. The configuration tool thankfully allows specification of which channel to use (something most others don't) alongside the typical WPA2 PSK/open configuration and of course SSID. The software also gives control over individual connected devices, showing a list and also providing a notification when devices attach and detach.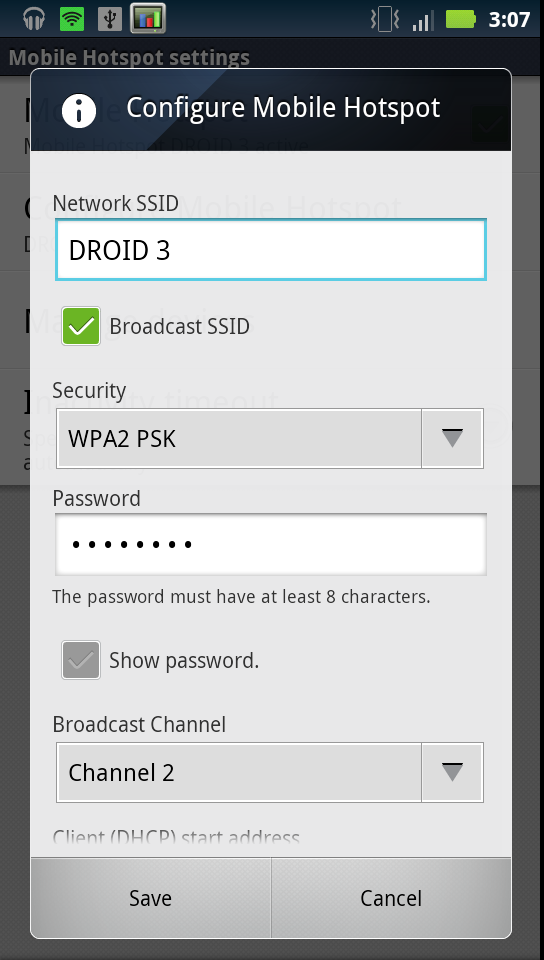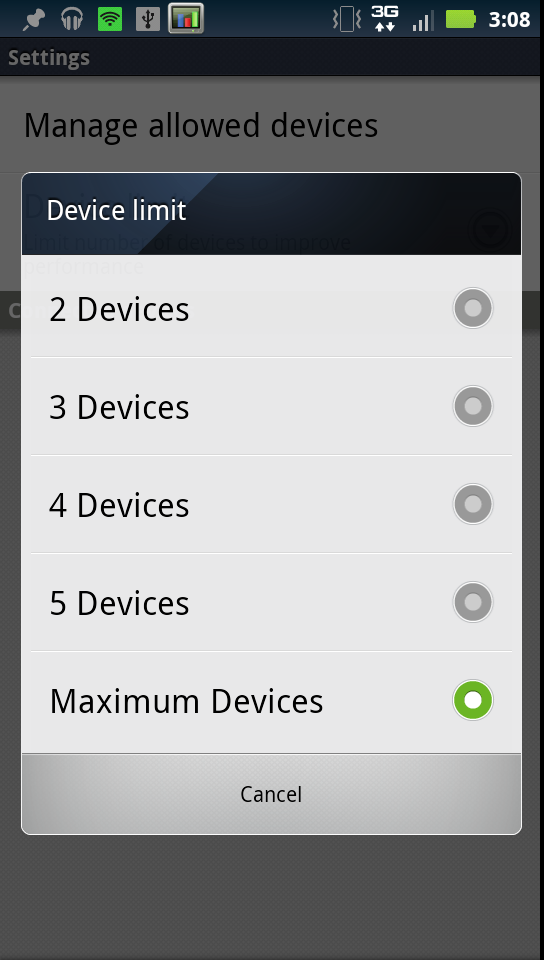 I encountered no bugginess at all with the Droid 3's mobile AP when using it at cafes or when out and about. It's effectively the same software used across the entire Motorola Droid lineup with the latest respective updates.
Speakerphone Quality
Next up is speakerphone, which is important of course not only for voice calling but also playing back music and using Google navigation. I talked about the car dock already, and the real assumption is that you use the car dock in conjunction with either A2DP to a bluetooth head unit, or use a supplied 3.5mm audio cable that jacks into your car's aux jack, if you're lucky enough to have one. Sadly, my car lacks both bluetooth and an aux jack, and has no tape deck or easy other means of getting audio in, so having a loud speakerphone for route guidance is very important.
The Droid 3's speakerphone is on the back and changed considerably from the previous generation Droid and Droid 2 which previously stuck it under a grille next to the battery. Instead, the Droid 3 has a small, long port with a raised top lip to prevent the port from laying completely coplanar with a table and directing no audio out. Next to it, centered, is a microphone which aids in noise cancellation and also stereo audio capture.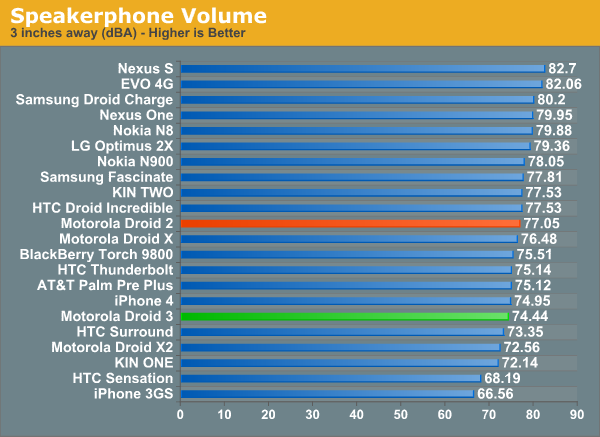 We measure speakerphone volume by placing a call to the test ASOS locally and using a digital decibel meter placed 6" above the device with its display face-up and on maximum volume. By the charts, the Droid 3 honestly isn't as loud as its predecessors. Subjectively, I agree with the results - it isn't as loud as I wish it could be while using Google navigation, but there's no distortion on the speaker at least.
Call Quality and Noise Rejection
Last but not least in this section is actual call quality, which we've done a bit more analysis on with the Droid 3 than normal. I think we're starting to settle on a call testing suite that's representative, though some non-subjective tests are still being derived.
The first thing we've done is place calls to the local ASOS number and record them with the Droid 3 on three different voice coders. By default, virtually all CDMA2000 1x voice devices use EVRC, however there's another EVRC-B voice coder which adds a quarter rate, and the highest quality 13k voice coder which is sort of a legacy standard that sounds better but uses more bandwidth. I've tested the same number with all three and tossed them up on soundcloud. This is of course a recording taken by running line-out from the Droid 3 to line-in and recording.
Motorola Droid 3 - EVRC Verizon Wireless by AnandTech
Motorola Droid 3 EVRC-B Verizon Wireless by AnandTech
Motorola Droid 3 - 13k Verizon Wireless by AnandTech
The Droid 3 subjectively sounds excellent in call tests, definitely better than the average CDMA2000 phone. In addition, I decided to test another thing - ambient noise cancellation on the Droid 3 when in a noisy environment. I noted earlier that the device has three microphones, one at the very top, one on the back, and one on the front at the lip of the device.
To test this, I called a couple of parties in a loud environment playing back music and increased volume, asking them if they could hear the background noise. Only at the highest settings did they report hearing any background noise at all. I went on to then test by recording the call and likewise playing back loud music. I compared to the iPhone 4 and made two recordings where background music (which included vocalizations in addition to instrumentals). Only at the highest (almost painful) volume levels is background noise audible to the receiving party, as illustrated in the recordings I've uploaded and provided below. The Droid 3 arguably performs better than the iPhone 4 at noise rejection which is quite a landmark considering its longstanding reputation as having excellent noise rejection.
Motorola Droid 3 to AT&T iPhone 4 by AnandTech
AT&T iPhone 4 to Motorola Droid 3 by AnandTech
The Droid 3 has excellent ambient noise cancellation during calls, again thanks to the two extra microphones which are no doubt used for processing. I'm not sure what IP is beyond the Droid 3's noise rejection hardware, but clearly it does a good job.