Gaming Tests: Final Fantasy XV
Upon arriving to PC, Final Fantasy XV: Windows Edition was given a graphical overhaul as it was ported over from console. As a fantasy RPG with a long history, the fruits of Square-Enix's successful partnership with NVIDIA are on display. The game uses the internal Luminous Engine, and as with other Final Fantasy games, pushes the imagination of what we can do with the hardware underneath us. To that end, FFXV was one of the first games to promote the use of 'video game landscape photography', due in part to the extensive detail even at long range but also with the integration of NVIDIA's Ansel software, that allowed for super-resolution imagery and post-processing effects to be applied.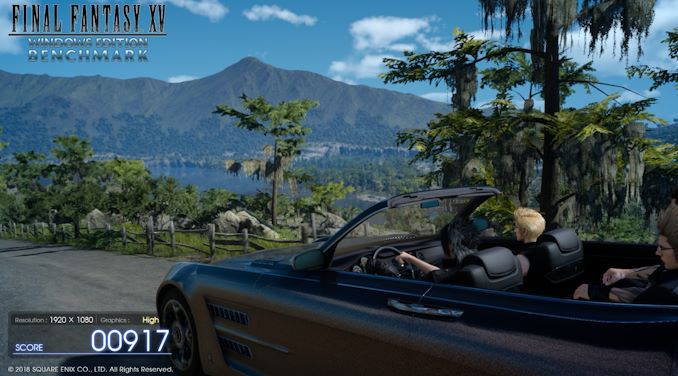 In preparation for the launch of the game, Square Enix opted to release a standalone benchmark. Using the Final Fantasy XV standalone benchmark gives us a lengthy standardized sequence to record, although it should be noted that its heavy use of NVIDIA technology means that the Maximum setting has problems - it renders items off screen. To get around this, we use the standard preset which does not have these issues. We use the following settings:
720p Standard, 1080p Standard, 4K Standard, 8K Standard
For automation, the title accepts command line inputs for both resolution and settings, and then auto-quits when finished. As with the other benchmarks, we do as many runs until 10 minutes per resolution/setting combination has passed, and then take averages. Realistically, because of the length of this test, this equates to two runs per setting.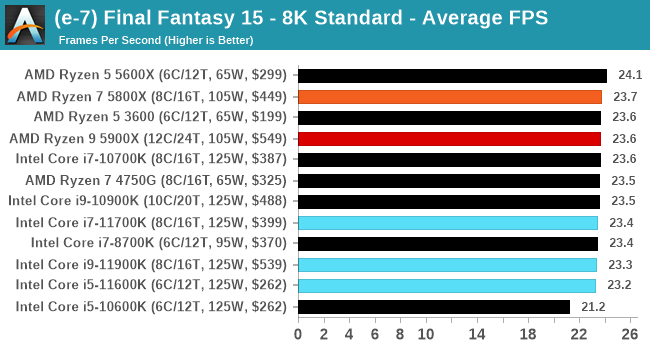 AnandTech
Low Resolution
Low Quality
Medium Resolution
Low Quality
High Resolution
Low Quality
Medium Resolution
Max Quality
Average FPS
95th Percentile
All of our benchmark results can also be found in our benchmark engine, Bench.