Mac Pro
Other World Computing (OWC) has launched a new line of NVMe SSD upgrades for several Mac models that used Apple's custom not-quite-M.2 form factor. The new Aura Pro X2 is OWC's third generation aftermarket storage upgrade for Apple's custom SSD form factor. Apple was an early adopter of PCIe SSDs in the consumer space, introducing them to several models in 2013. In recent years they have phased out the use of replaceable SSDs in favor of using their own SSD controller built in to the T2 security chip, but there is still a large install base of pre-TouchBar MacBook Pros and non-Retina MacBook Airs that can accept storage upgrades. Aftermarket upgrade options for these machines were initially very limited until macOS 10.13 added NVMe support...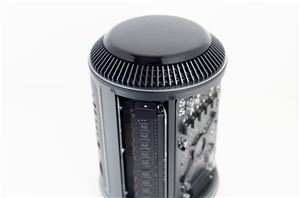 In what's turning out to be an oddly GPU-centric week for Apple, this morning the company has revealed that they will finally be giving the long-neglected Mac Pro a...
84
by Ryan Smith on 4/4/2017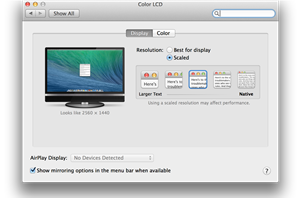 In my Mac Pro review I lamented the state of 4K display support under OS X 10.9.0. In my conclusion I wrote: "4K display compatibility under OS X is...
32
by Anand Lal Shimpi on 3/7/2014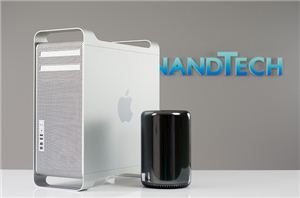 Until this month Apple's Mac Pro used a chassis derived from the old PowerMac G5, prior to the famous switch to x86 back in 2005/2006. Read on for our...
266
by Anand Lal Shimpi on 12/31/2013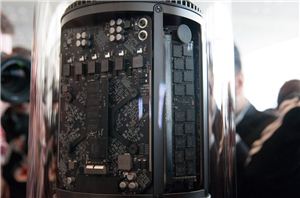 In its keynote this morning, Apple teased its next-generation Mac Pro, due out later this year. Based on Ivy Bridge E, the new system will ship with two AMD...
137
by Anand Lal Shimpi on 6/10/2013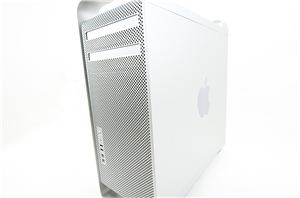 Yesterday an email, purportedly from Apple's CEO Tim Cook made the rounds in response to a reader query about the lack of any significant updates to the Mac Pro...
20
by Anand Lal Shimpi on 6/12/2012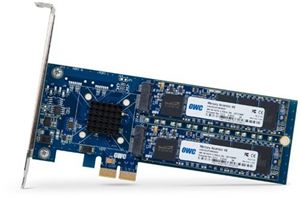 OWC has released their first PCIe SSD, the Mercury Accelsior. OWC has used SandForce controllers throughout its history in the SSD world and the Accelsior is no exception. It...
33
by Kristian Vättö on 4/18/2012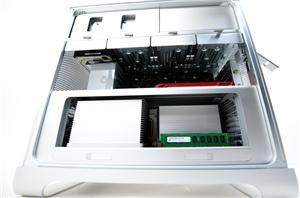 It's the fastest Mac you can buy and it's a desktop. These days, the Mac Pro is basically the un-Mac. But it's fast and nothing beats the flexibility of...
84
by Anand Lal Shimpi on 10/6/2010