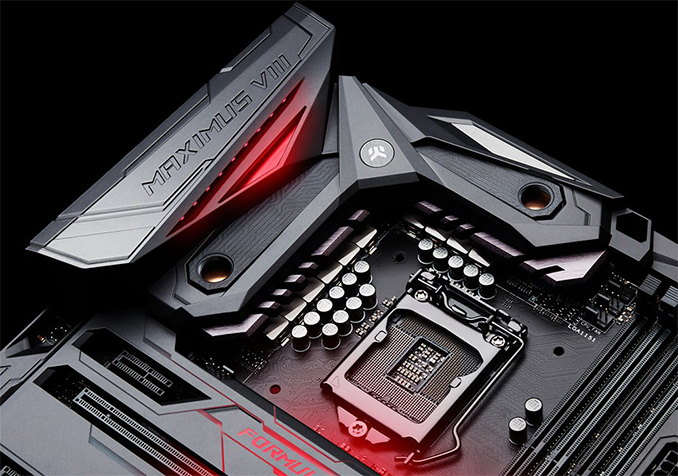 ASUS' ROG website introduced an updated member this week - a new motherboard based on Intel's Z170 which comes with a factory-installed CrossChill EK hybrid cooling block from EKWB for the power delivery. The Maximus VIII Formula platform belongs to the Republic of Gamers (ROG) family and is intended for enthusiasts with custom-built liquid cooling systems as well as for demanding gamers. This sounds similar to previous motherboard designs with combination air/water cooling, except previous versions by motherboard manufacturers are typically done in-house. For this model, ASUS and known water-cooling firm EKWB has teamed up to combine resources and product into one to satisfy customers who typically employ high-end multi-stage water cooling.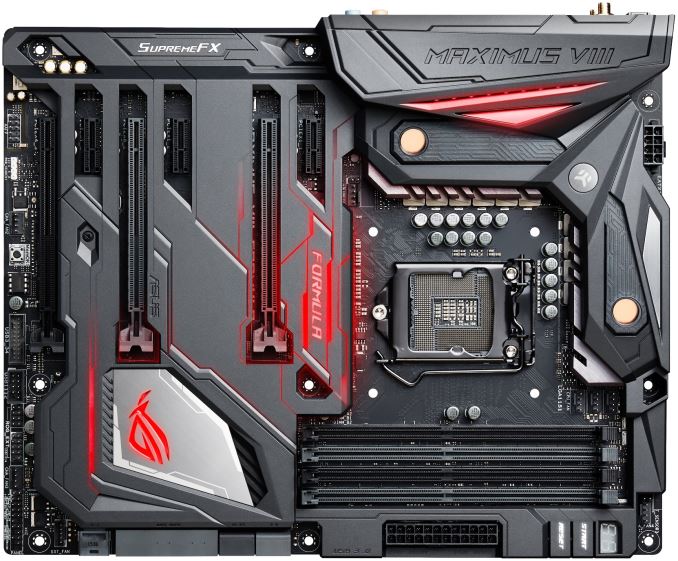 The factory-installed CrossChill EK hybrid-cooling block from EKWB has standard G1/4-in threading and covers the VRM as well as some other parts of the motherboard. This means 10-phase power delivery, a custom power controller, solid-state inductors, MOSFETs with extended durability and the power delivery also comes with solid-state 10K hour titanium capacitors. According to the marketing materials, the CrossChill EK can reduce MOSFET temperatures by up to 23˚C when in a cooling loop. This has potential benefits for overclockers or users who like cool and quiet systems.
Since the Maximus VIII Formula is intended for high-end gaming machines, it has a multitude of storage connectors, including one U.2 port for SSDs next to the SATA ports, similar to the Maximus VIII Extreme, Z170-WS and the Impact (we reviewed the Impact this week), which operates at PCIe 3.0 x4 supporting Intel's SSD 750 drives with NVMe. Aside from U.2, there is one PCIe 3.0 x4 M.2 connector for SSDs (2242 to 22110 are supported), two SATA Express connectors and eight SATA 6Gbps ports for storage devices (two of these use an ASMedia ASM1061 controller).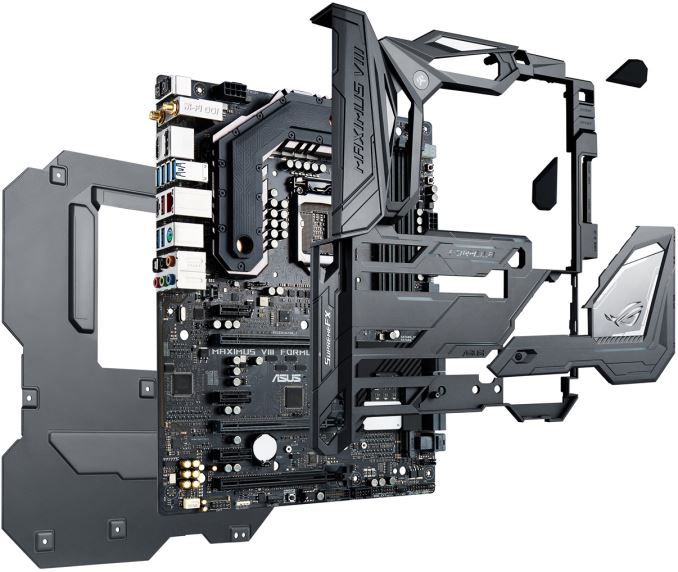 The motherboard is equipped with Intel's Alpine Ridge USB 3.1 controller that enables one USB 3.1 type-A and one USB 3.1 type-C connector on the rear panel. In addition, the mainboard supports ten USB 3.0 ports (six rear, two headers) and four USB 2.0 ports (two headers). Even though ASUS uses Intel's Alpine Ridge chip, it does not declare full support for the Thunderbolt 3 technology at this time. (Both the Impact and Extreme use Alpine Ridge as well, and ASUS has formally declared that the Extreme does Thunderbolt 3, but the Impact will not, due to signaling.)
The Maximus VIII Formula also features a Intel's I219-V gigabit Ethernet chip with ROG software for network traffic prioritization; a 2x2 Wi-Fi 802.11 a/b/g/n/ac controller with MU-MIMO (most likely the same Qualcomm Atheros QCA61x4A we saw on the Impact); 8-channel audio powered by Realtek's ALC1150 codec in SupremeFX dressing (PCB separation of analog/digital signals, ESS ES9023P digital-to-analog converter (DAC), shielded audio circuits and a 2VRMS headphone amplifier capable of driving headphones from 32 to 600 ohms). The board features a standard complement of four DDR4 slots (up to DDR4-3733 modules are officially supported), two PCIe 3.0 slots for graphics (x16 or x8/x8), a PCIe 3.0 x4 slot from the PCH (AMD GPUs can be used for Crossfire) and three PCIe x1 slots for add-in-cards, two of which are open ended.
Like other ASUS Republic of Gamers generations, the Maximus VIII Formula sits between the Extreme and the Impact/Gene, designed primarily for gamers due to some hardware choices (SupremeFX) and the software package, but also for overclockers and system builders. The motherboard also comes with a backside plate for reinforcement (it turns out that the Sabertooth line that uses these is well received) as well as with RGB lights to allow users to pursue other color schemes than just black and red. ASUS isn't the first to do LED lighting, but it seems that as their primarily gaming focused board, the Impact has to have them as it is competing against high end gaming models from MSI and GIGABYTE.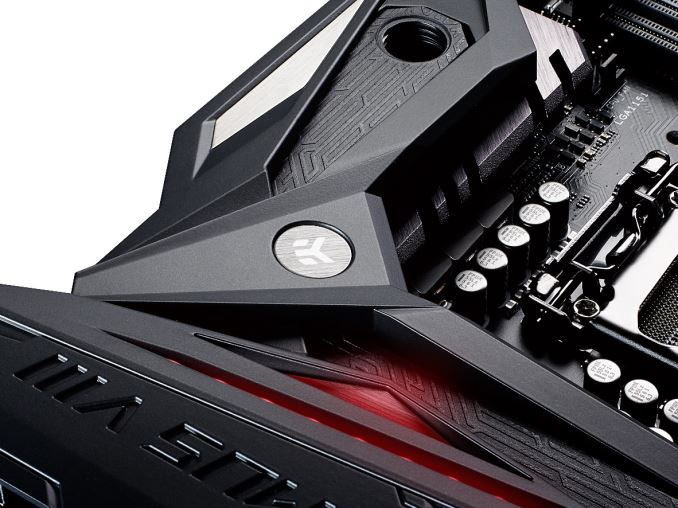 Although the ASUS ROG Maximus VIII Formula is one of the most feature-rich Intel Z170-based motherboards available, it is not officially the company's top-of-the-range offering. Back in October the manufacturer introduced its Maximus VIII Extreme, which is more focused for overclocking with more PCIe slots for graphics cards (x8/x4/x4 with another x4 for quad-CrossFire) and an external overclocking console included in the bundle. While the Maximus VIII Formula is not going to cost the same as the Extreme at $500, it is expected fit in that $400-$500 bracket. If it gets full TB3 validation, it would be another plus point to note. We expect full US launch details during CES, as well as a look at the board in action.
Source: ASUS