Software UX
For those that are unfamiliar with our other articles, we reviewed iOS 9 at its release back in September. If you aren't familiar with what has changed in the move from iOS 8 to iOS 9 I highly recommend reading it as for the most part I have nothing new to say in the context of what was covered in that review. Instead of treading old ground, it's worth discussing the specific aspects of the user experience that are unique to the iPad Pro.
The first, and perhaps most obvious change is the display size and resolution. While the aspect ratio is the same as the iPad Air, the significantly increased display size and resolution also affects applications. For the most part I haven't noticed any issues here. However, in some cases there are still applications that haven't been properly redesigned for the larger display, so they end up simply being purely upscaled versions of applications designed to fit 7.9 and 9.7 inch displays. This tends to look fairly ugly in my opinion but it does work without issue when dealing with backwards compatibility.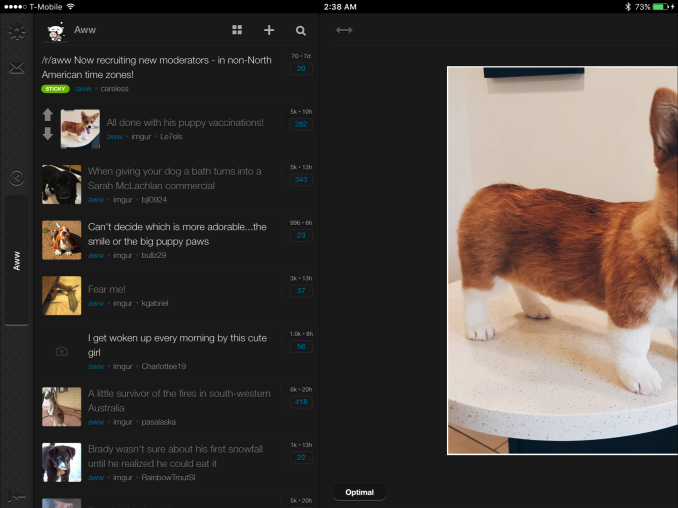 In cases where applications are updated to fit the iPad Pro, designs are generally well-executed and take advantage of the additional screen real estate. It's probably not a surprise to know that most applications fall under this category, but it's worth mentioning at any rate.
The larger display size also greatly enhances the utility of split-screen multitasking on the iPad Pro, as it's generally quite useful to be able to run two almost iPad Air-sized apps simultaneously on the iPad Pro. As discussed in the Apple Pencil section of this review, being able to read a PDF and take notes/do problem sets based upon a document opened in Safari is incredibly useful and helps with productivity. There are other applications here to be sure, but I think an education setting was where I found the most value. However, it's worth mentioning that the multitasking UI feels like it isn't really designed for a future where hundreds of applications will occupy the slide-out multitasking menu.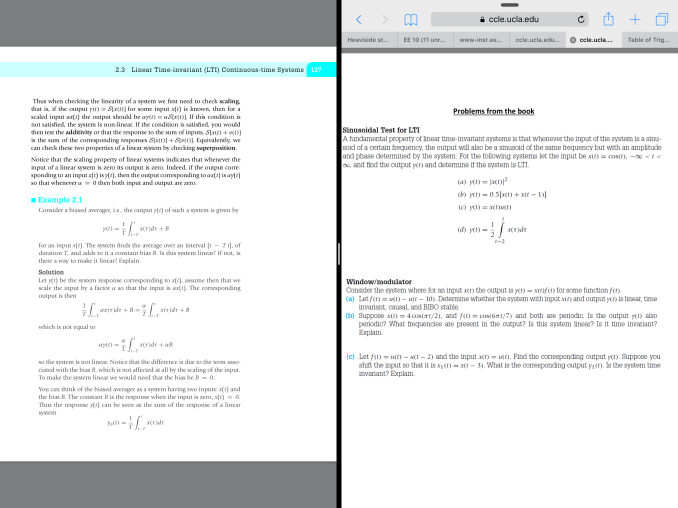 For the most part, iOS is smooth and performant on the iPad Pro. However, there are a few notable cases where I did notice frame drops. For whatever reason, this seems to be basically limited to the Notes application. It seems that as time has gone on it has become increasingly difficult for anyone shipping a mobile OS to make everything smooth all the time, likely a product of their increasing complexity and larger code base.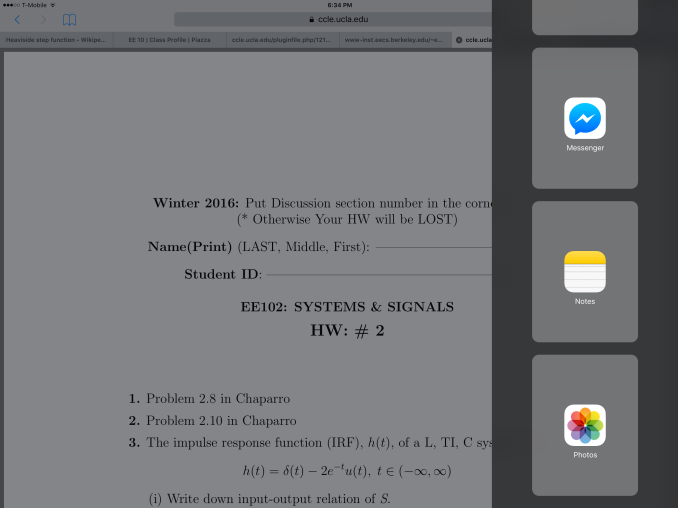 Overall, I don't have as much to say here. When the only two competing tablet operating systems worth discussing in comparison to iOS are either neglected (Android) or heavily reliant upon legacy applications that really need a mouse and keyboard to be used properly (Windows), iOS stands alone as basically the only touchscreen OS worth using. I don't think the solution to the problem of the keyboard with the iPad Pro means that it needs a touchpad, nor should using both keyboard and touch simultaneously in the deployed mode be the dominant method of interaction. Trying to do the former is basically just emulating a really terrible laptop, while the latter makes for poor ergonomics almost universally.
While it may be appealing to make a tablet that is also a laptop due to the nature of legacy Windows applications, trying to make such a convergence device is a great way to make either a compromised laptop or a compromised tablet. The other half of the functionality is almost never going to be used in practice if my experiences with Surface Pro are anything to go by. Android showed arguably even more promise than iOS as a tablet OS due to its more traditional computer than appliance OS structure, for whatever reason the promise that came with the structure of Android didn't pan out in execution.
As a result, the iPad line stands alone in software, for better or for worse.