Overclocking
Finally, no review of a GTX Titan card would be complete without a look at overclocking performance.
From a design standpoint, GTX Titan X already ships close to its power limits. NVIDIA's 250W TDP can only be raised another 10% – to 275W – meaning that in TDP limited scenarios there's not much headroom to play with. On the other hand with the stock voltage being so low, in clockspeed limited scenarios there's a lot of room for pushing the performance envelope through overvolting. And neither of these options addresses the most potent aspect of overclocking, which is pushing the entirely clockspeed curve higher at the same voltages by increasing the clockspeed offsets.
GTX 980 ended up being a very capable overclocker, and as we'll see it's much the same story for the GTX Titan X.
GeForce GTX Titan X Overclocking
Stock
Overclocked
Core Clock
1002MHz
1202MHz
Boost Clock
1076Mhz
1276MHz
Max Boost Clock
1215MHz
1452MHz
Memory Clock
7GHz
7.8GHz
Max Voltage
1.162v
1.218v
Even when packing 8B transistors into a 601mm2, the GM200 GPU backing the GTX Titan X continues to offer the same kind of excellent overclocking headroom that we've come to see from the other Maxwell GPUs. Overall we have been able to increase our GPU clockspeed by 200MHz (20%) and the memory clockspeed by 800MHz (11%). At its peak this leads to the GTX Titan X pushing a maximum boost clock of 1.45GHz, and while TDP restrictions mean it can't sustain this under most workloads, it's still an impressive outcome for overclocking such a large GPU.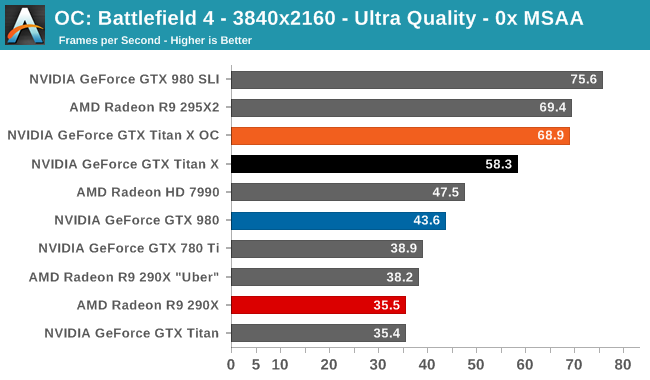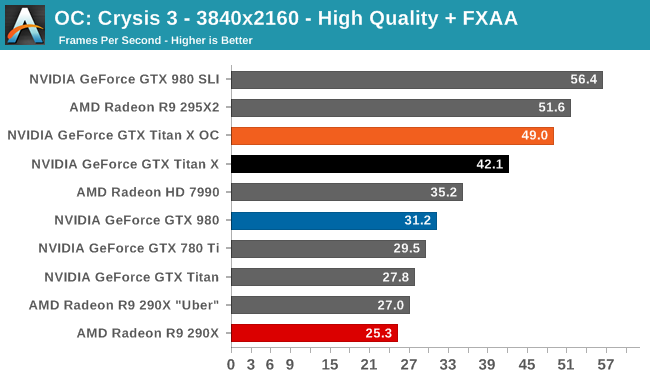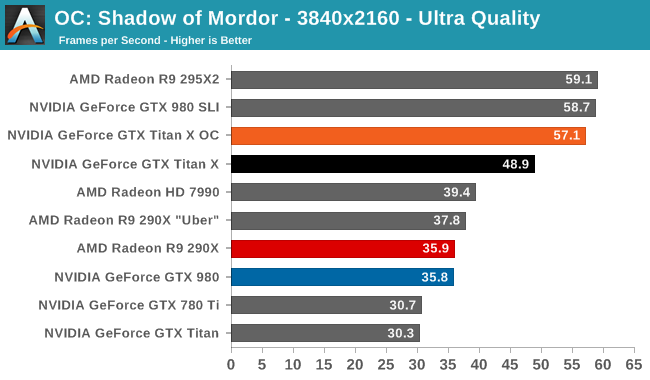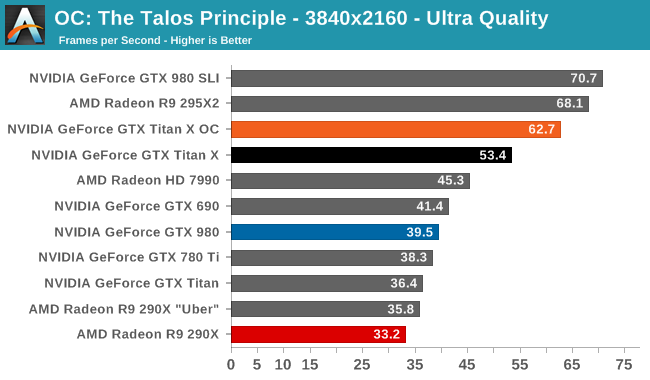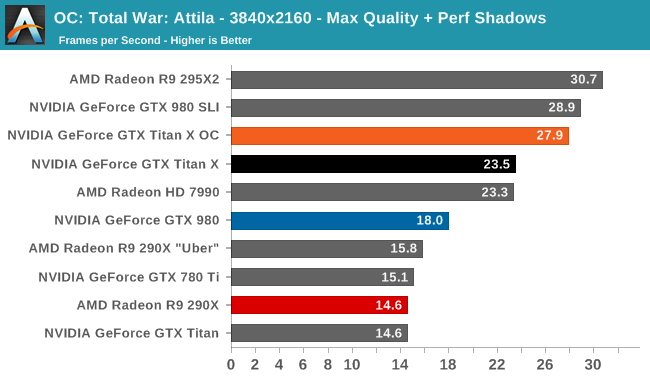 The performance gains from this overclock are a very consistent 16-19% across all 5 of our sample games at 4K, indicating that we're almost entirely GPU-bound as opposed to memory-bound. Though not quite enough to push the GTX Titan X above 60fps in Shadow of Mordor or Crysis 3, this puts it even closer than the GTX Titan X was at stock. Meanwhile we do crack 60fps on Battlefield 4 and The Talos Principle.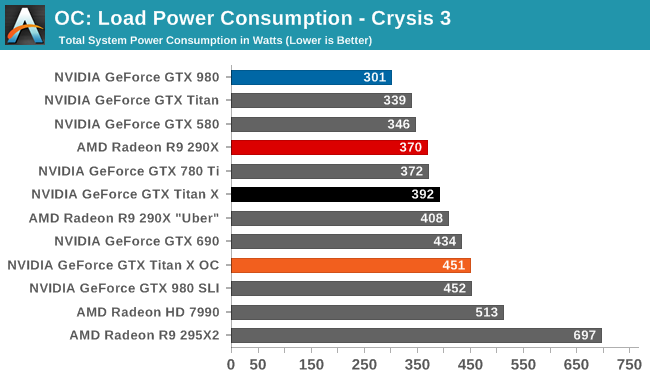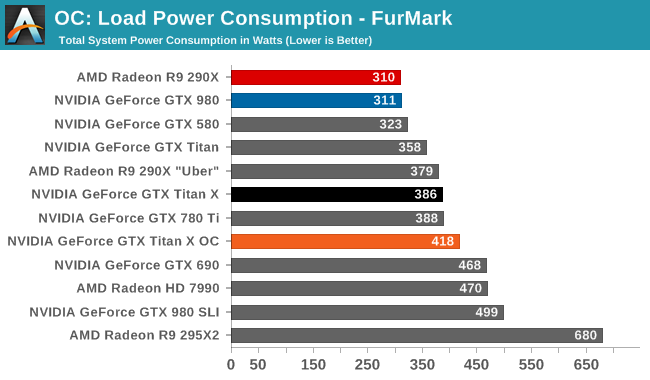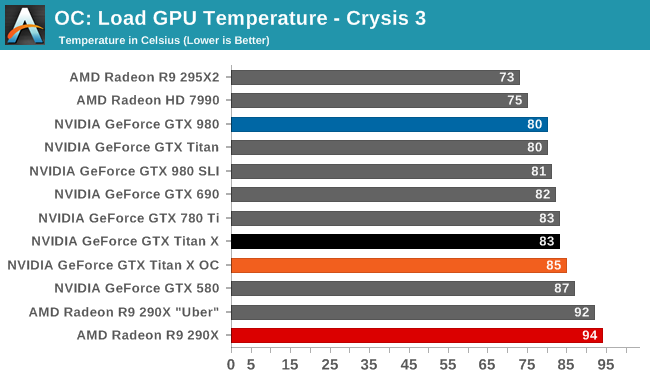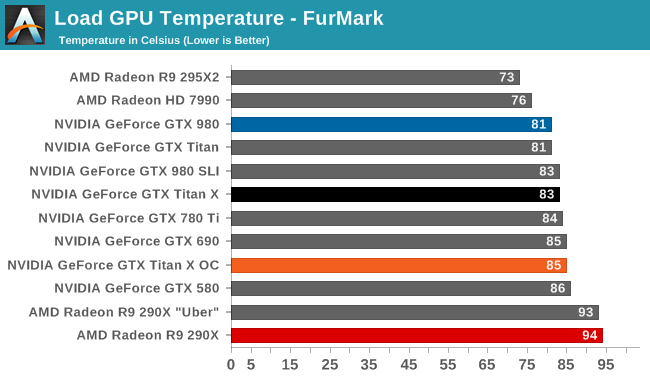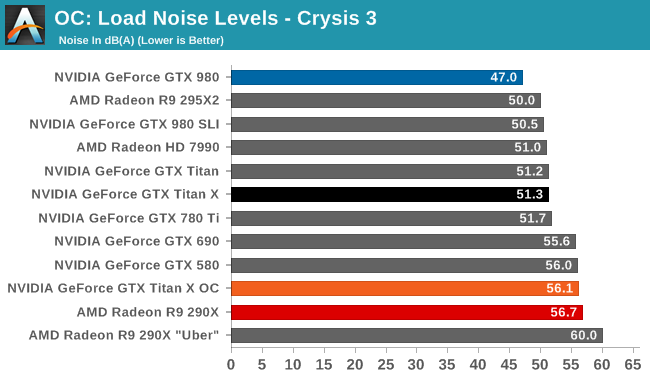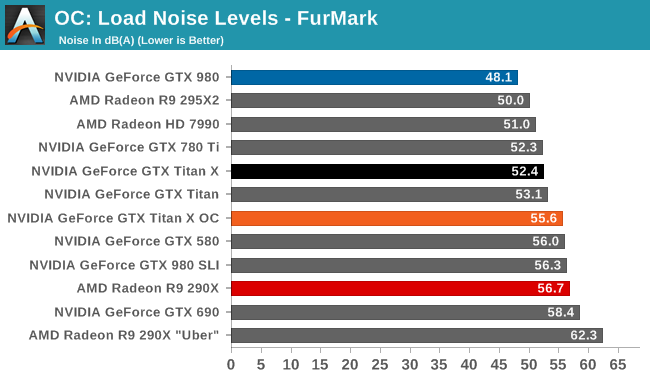 The tradeoff for this overclock is of course power and noise, both of which see significant increases. In fact the jump in power consumption with Crysis is a bit unexpected – further research shows that the GTX Titan X shifts from being temperature limited to TDP limited as a result of our overclocking efforts – while FurMark is in-line with the 25W increase in TDP. The 55dB noise levels that result, though not extreme, also mean that GTX Titan X is drifting farther away from being a quiet card. Ultimately it's a pretty straightforward tradeoff for a further 16%+ increase in performance, but a tradeoff nonetheless.