HTPC Credentials - Network Streaming and Local Playback
Given the ECS LIVA's fanless nature and the presence of Intel HD Graphics, we expect most purchasers to use it as a media playback machine / HTPC. Given the specifications, it is quite clear that we are not looking at a madVR capable machine, but one targeted at the entry-level / average HTPC user or someone looking for a HTPC to put in a second or third room (non-primary HTPC). There are two HTPC aspects that we will explore in this section, one related to network streaming (OTT services), and the other related to local file playback. Prior to that, we have a small sub-section dealing with refresh rate accuracy.
Custom Refresh Rates
We found last year that Haswell provided excellent display refresh rate accuracy, but never tested out Bay Trail systems on that aspect. Fortunately, our experience with the ECS LIVA put any lingering doubts to rest.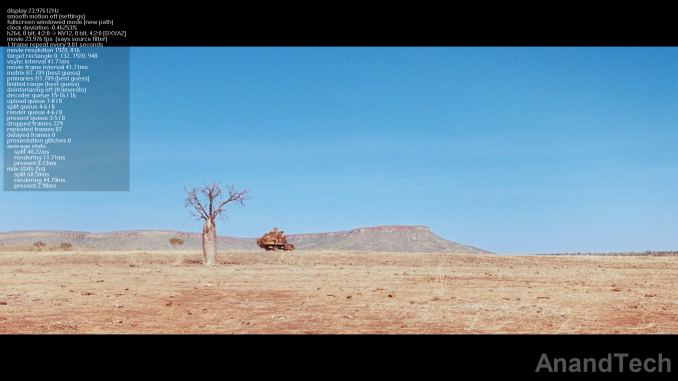 The gallery below presents some of the other refresh rates that we tested out. The first statistic in madVR's OSD indicates the display refresh rate. madVR itself drops plenty of frames to keep up with the playback requirements (which is expected given the system specifications), but those are not related to the refresh rate of the display.
Network Streaming Efficiency
Evaluation of OTT playback efficiency was done by playing back our standard YouTube test stream and five minutes from our standard Netflix test title. Using HTML5, the YouTube stream plays back a 720p encoding, while Adobe Flash delivers a 1080p stream. The power consumption at the wall as well as the GPU usage while playing them on Mozilla Firefox are provided in the graphs below.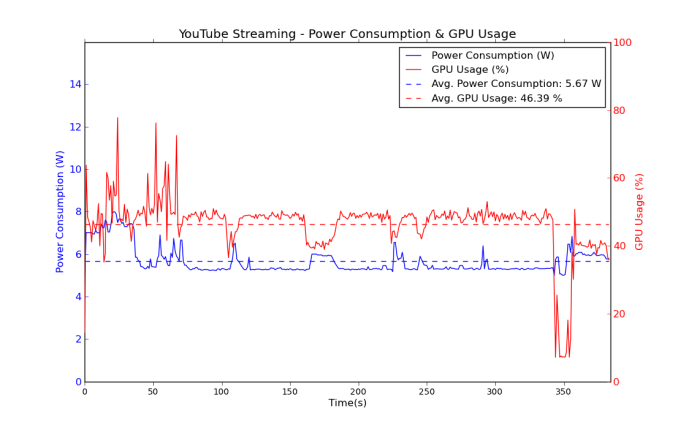 YouTube Streaming - HTML5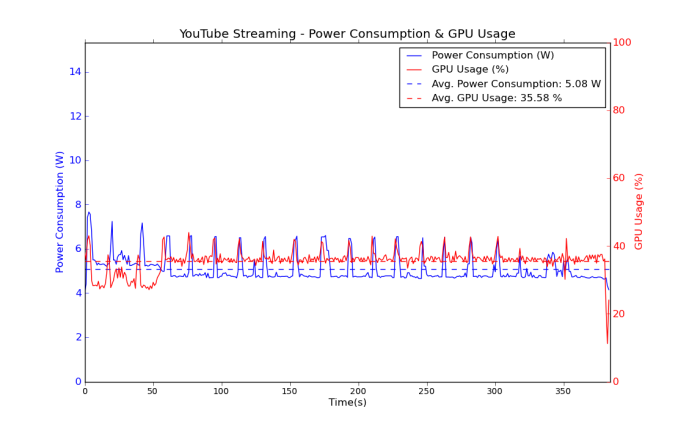 YouTube Streaming - Adobe Flash
Netflix streaming evaluation was done using the Windows 8.1 Netflix app. Manual stream selection is available (Ctrl-Alt-Shift-S) and debug information / statistics can also be viewed (Ctrl-Alt-Shift-D). Statistics collected for the YouTube streaming experiment were also collected here.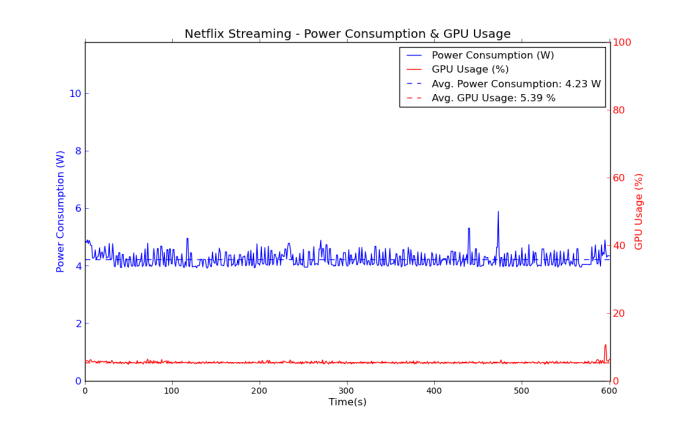 Playback using Adobe Flash is leaner on the resources compared HTML5 streaming. This is likely due to the fact that the HTML5 stream delivers a 720p version which needs scaling in addition to decoding for display on a 1080p screen. In any case, the power numbers for YouTube and Netflix streaming are the lowest that we have seen on a desktop machine so far.
Decoding and Rendering Benchmarks
In order to evaluate local file playback, we concentrate on XBMC's native decoding / rendering (used by the average HTPC user) and the combination of native DXVA decoding with EVR and EVR-CP (using MPC-HC v1.7.3). The following table summarizes the GPU usage and power consumption at the wall in various cases. Numbers in bold indicate visible dropped frames.
ECS LIVA - Decoding & Rendering Performance
Stream
EVR
EVR-CP
XBMC
GPU Load (%)
Power (W)
GPU Load (%)
Power (W)
GPU Load (%)
Power (W)
480i60 MPEG2
75.44
6.22
69.64
6.14
80.62
7.19
576i50 H264
72.94
5.81
68.85
5.81
42.16
4.91
720p60 H264
74.46
6.87
79.47
7.55
86.32
6.86
1080i60 MPEG2
92.78
8.17
98.44
8.40
87.73
7.82
1080i60 H264
98.78
8.51
95.71
8.44
91.65
8.07
1080i60 VC1
98.03
8.49
97.88
8.52
88.95
7.98
1080p60 H264
80.63
7.39
98.37
8.63
88.63
8.06
1080p24 H264
36.80
5.30
45.89
5.70
43.23
5.20
4Kp30 H264
67.39
6.47
99.13
8.58
70.36
6.59
The ECS LIVA is more than sufficient for XBMC playback of common media files (DVD - 480i60, Blu-ray - 1080p24 etc.). It is only when it comes to high resolution / high frame-rate interlaced videos that problems start creeping in. That said, I do believe that the average / entry-level HTPC user's playback requirements probably don't include such video streams.
HD audio bitstreaming works if one downloads the audio drivers directly off Intel's website. However, with the Netflix Windows 8.1 app in our setup (ECS LIVA + Pioneer Elite VSX-32 + Sony KDL46EX720), attempts to bitstream Dolby Digital Plus resulted in the video completely freezing. This is the same bug that I talked about in the Intel NUC review at the beginning of the year, and it continues to be unresolved to this date. In fact, this problem is not restricted to the Netflix app, but even XBMC, if it attempts to bitstream Dolby Digital Plus in non-WASAPI mode. As a non-primary HTPC, users are probably not going to use the ECS LIVA to bitstream HD audio. Intel should still look into it for using their iGPU in a primary HTPC. The problem is quite clearly in the Intel HD Audio driver, and a fix for that is long overdue.