Networking and Audio
One of the highlights of the ASUS press event at the beginning of Computex was the announcement of a six stream 802.11ac router called the AC3200. As 802.11ac is starting to penetrate the wireless market beyond the early adopter stage, and it offers higher speeds than Ethernet, it is important that the implementation is done as best as possible and hopefully hits a price point that every is satisfied with. This is even more poignant now that any mobile device with a WiFi solution that comes with less than a dual stream, dual band 802.11ac solution is seen as more of a cost saving exercise. At this point, routers are still relatively expensive by comparison, so hopefully by driving the enthusiast end with better products, the entry level models might be cheaper – at least in this author's opinion.
The six-stream AC3200 actually is a little confusing, given that it is advertised as a tri-band six-stream device. To start, it is actually two three-stream devices in a single shell that share the same firmware/topology that it can be managed by a single entity. When ASUS advertise it as 3.2 Gbps possible, this is more like 1.6 Gbps possible for two devices at the same time, one on each of the receivers.
As mentioned in the comments when we first posted news about the AC3200, WiFi certification is only possible on a maximum of four streams, hence any device with >4 streams is either not certified or using more than one chipset underneath the packaging. Certification is a big deal in order to drive a product into a more professional environment. To that extent, the AC3200 should be coming with all the modern features, bells and whistles, as well as OpenWRT support.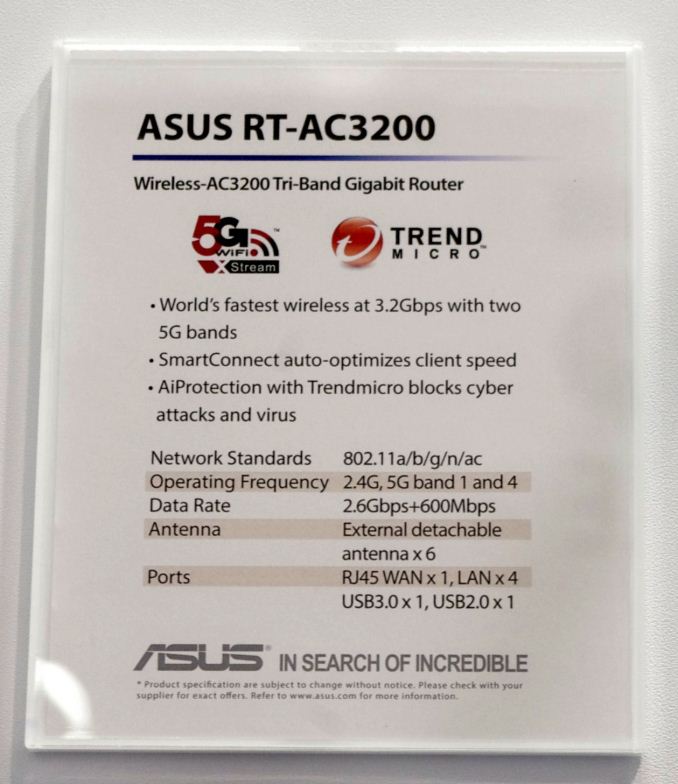 To answer some confusion about 'which bands are being used' when ASUS calls the AC3200 a tri-band device, well the answer is here: 2.4 GHz and 5 GHz band 1/4 make up the three bands. Thus in order to maximize the speed of the device, the receiver should be able to negotiate both the 5 GHz bands.
In previous years at Computex, ASUS has pushed its audio product selection quite vehemently by using sound rooms to showcase audio clarity. This year it was a lot more subdued, and focused on a few key items. The main one was the Mosaic Streaming DAC, for converting digital signals to analog or acting like a passthrough for other digital signals.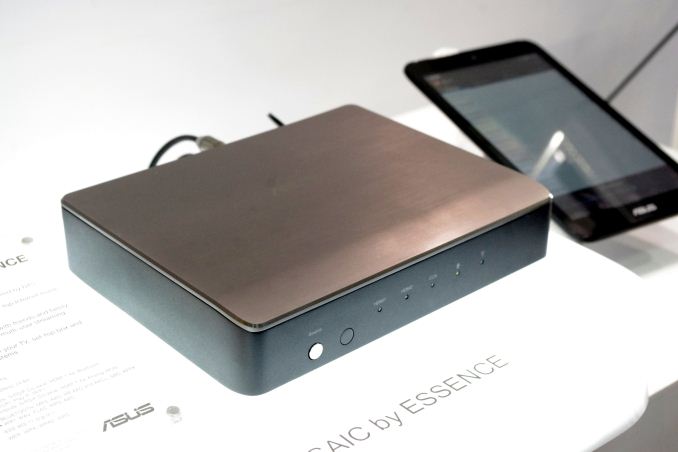 The device accepts music over Bluetooth or WiFi up to 192 kHz/24-bit, including FLAC/AAC over WiFi. Users can also add in a USB device to play music from, and the system also supports Spotify and other services.