MSI GT70 LCD Quality
I noted earlier that the GT70 display is merely "okay", and here's where you'll see why I have such a mediocre opinion of the panel. It actually delivers good colors overall once you calibrate it, but out of the box the colors are horribly skewed towards the "cool" end of the spectrum, with highly oversaturated blues. I used our tablet display testing workflow to gather this image, showing a relative representation of what the colors on the GT70 look like out of the box compared to what they should look like (the "desired color" is on the bottom). Most devices you'll see minor differences, but the tinting of the various colors is extremely noticeable on the GT70:
I'm not quite sure why so many displays have such inaccurate colors, but my best guess is that in order to hit higher maximum brightness values (e.g. 350 cd/m2 – or "nits" if you prefer), the LCD panel makers are just pushing the LED backlights as hard as they can. Most seem to end up with very blue tints, and rather than correct that via the LUTs and end up with a lower maximum brightness value, we get poor colors.
It's not just the colors that are disappointing on the GT70 display, though. With tablets helping to pave the way, people are becoming more knowledgeable about display quality, and the poor viewing angles of TN panels are finally earning the scorn of consumers they deserve. Most Ultrabooks are now using IPS (or similar technology) panels, and while I don't necessarily feel every laptop needs a high quality display, it's pretty sad when $400-$500 tablets have substantially better displays than $2000 notebooks. Given the woes of Windows DPI scaling and the continuing lack of broad application support for High DPI displays, we may not need or want QHD or QHD+ panels on a 15.6" or 17.3" notebook, but a slightly higher quality 1080p display would certainly be nice.
Below are the galleries and charts for uncalibrated and calibrated colors on the GT70. We've switched our LCD testing to use CalMAN 5.3 with an i1 Display Pro spectrometer, which gives far better results than our previous testing using ColorEyes Display Pro with an i1 Display 2, so we can't really compare older scores directly with the new results. However, the brightness, contrast, and gamut should all be within a few percent regardless of which testing method was used. What we see is that the MSI GT70 is at least a better display than the budget TN panels, but it's definitely not one of the top displays these days. That's not too surprising considering the actual panel appears to be the same as in previous GT70 notebooks, which means it's now at least a few years old in terms of the core technology.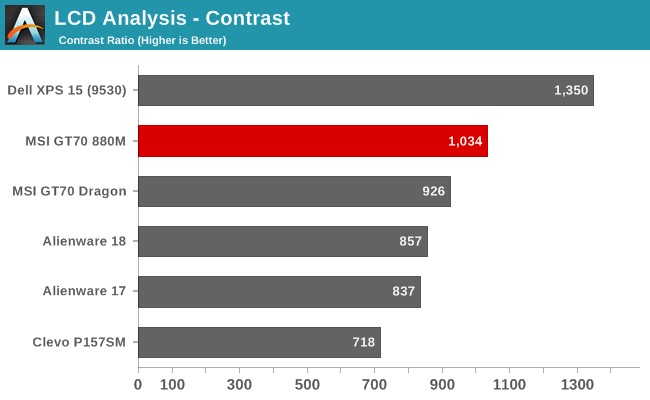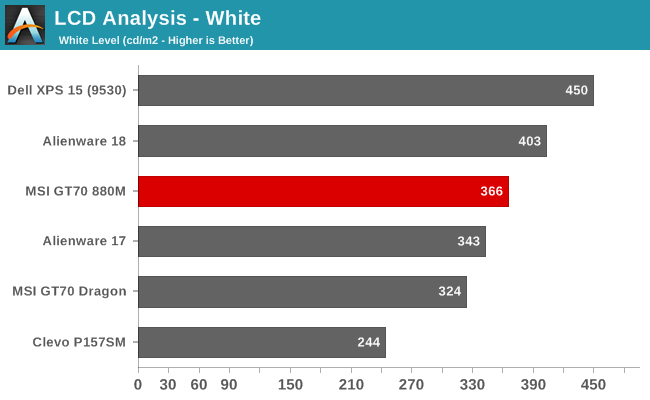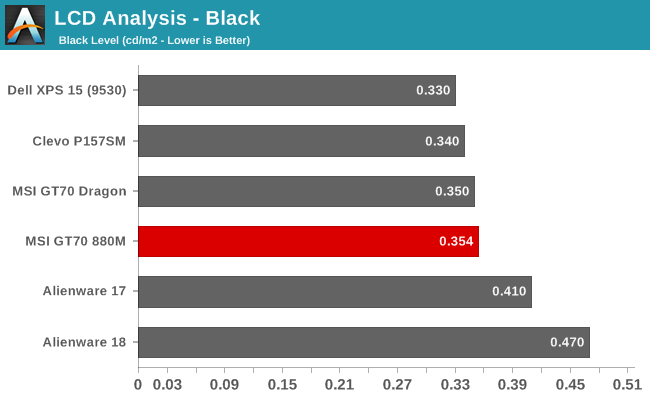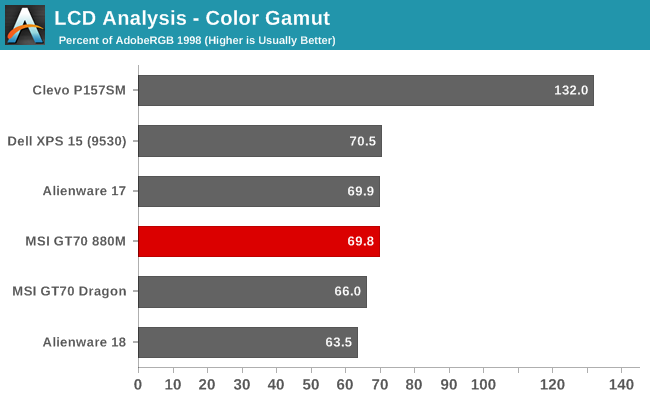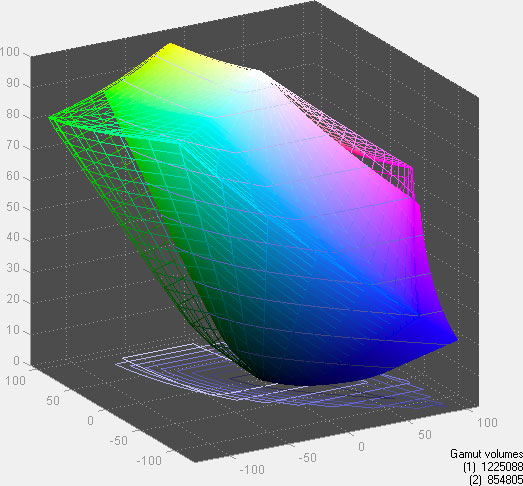 Overall, the display in MSI's GT70 is certainly better than what you'll find in budget notebooks and it will work well for gaming, but if you prefer higher quality displays you might just need to wait for the next round of updates and hopefully well see some IPS/AHVA/PLS or some other similar technology start showing up in the gaming notebooks. The colors can be calibrated to the point where they're quite good, but out of the box the display doesn't look very good at all.