Battery Life
We've already covered the gaming aspect of battery life and Battery Boost, but we still haven't properly addressed "normal" battery life. We ran our two standard tests for battery life; the Light workload simulates constant web surfing by loading four pages every minute until the battery is drained, while the Heavy workload loads the same four pages every 10 seconds while downloading (via Filezilla from a local PC) a constant 8Mbps stream of data and playing back a 1080p MP4 H.264 movie. We have switched to using the Video app on Windows 8, so our updated Heavy workload tends to get better battery life than our previous setup, but the results are at least moderately comparable.
For all of our battery life tests, we optimize the power profile and software to deliver what should be a best-case result. This includes disabling/uninstalling any firewall or anti-virus software, turning off other extraneous utilities that are not needed (e.g. Live Updates), and we use the Power Saver profile. We find a brightness setting as close as possible to 200 nits (cd/m2), set the minimum CPU performance to 0% and the maximum to 100%, disable screen dimming or powering off, and disable sleep/hibernate modes. The HDD/SSD is set to power off after 1 minute of inactivity, and the WiFi is set to maximum power savings. Here are our results.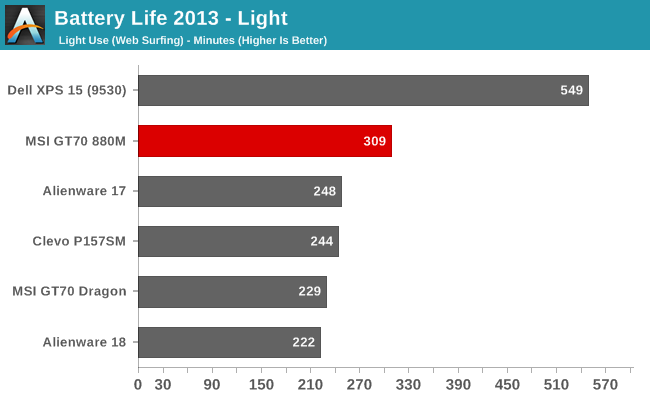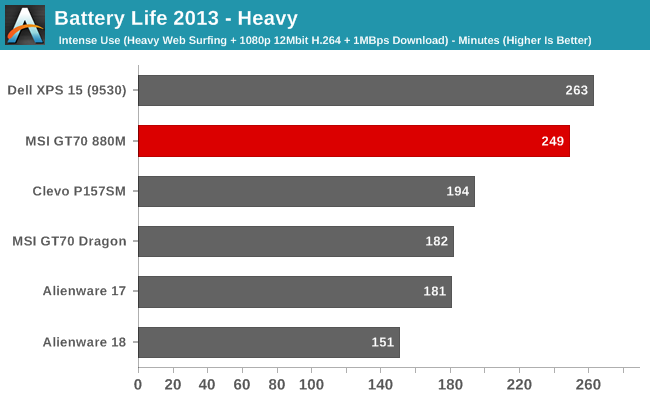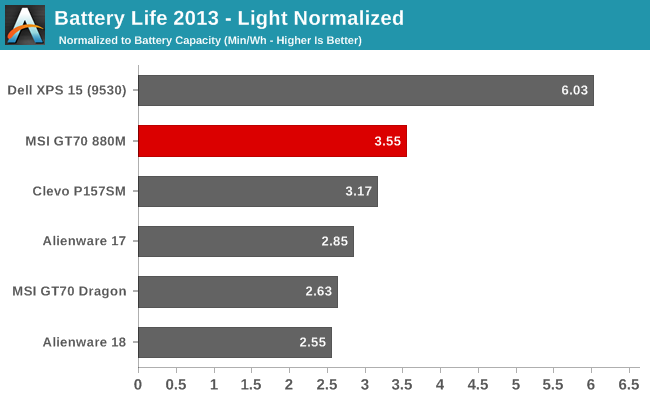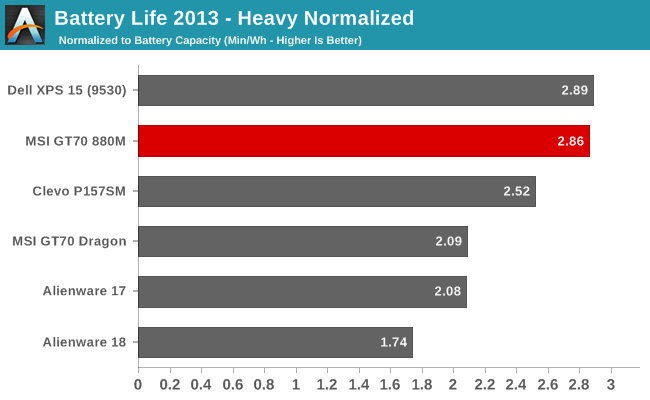 The updated GT70 shows a nice improvement in battery life compared to the previous model, though it should be noted that BIOS updates to the earlier GT70 Dragon did help as well. Perhaps even more impressive is the result in our Heavy workload, though at least some of the difference is due to the change in video playback software and the movie we use for testing. The Dell XPS 15 is the only other notebook in our charts to use the same file/player, and interestingly it's only slightly ahead of the MSI GT70 (compared to easily surpassing it in the Light test). It looks like the GT70 is better optimized for performance over battery life in lighter loads, and while five hours of useful battery life won't make it through an entire day for most people, it's at least enough that you won't need to pull out an AC adapter during a typical domestic flight. Unless you're gaming, in which case you can expect closer to 1-1.5 hours, even with Battery Boost enabled; that's the price of a high performance gaming notebook.
Temperatures and Noise
Running a "worst-case" 100% CPU+GPU workload, the GT70 does get quite toasty, but we've seen worse. Typical gaming temperatures (i.e. without loading all the CPU cores as well) run about 10C lower on the CPU and a 5-10C cooler on the GPU, and pure CPU loads are not really a concern at all. I'd be a hesitant to try running a fully loaded GT70 24/7, but for normal use where you'd only hit the system hard for a few minutes at a time, MSI's GT70 should suffice. Even in our full stress-test workload, the CPU cores never dropped below 3.1GHz. The GPU dropped a bit lower – 875MHz – but this is really an atypical workload on both the CPU and GPU. If we turn off our GPU load and replace it with a game, the clocks don't drop below 950MHz (at least, not that we've seen).
As for noise levels, not much has changed since our last look. At maximum load the GT70 fan generates 51.5dB from 18", which is very loud – in fact, I'm pretty sure it has the dubious distinction of being the loudest notebook we've ever tested. This is really the major complaint we have with the single fan cooling arrangement. Games do tend to be a bit quieter (45dB), but if you're in a warmer environment you'll likely hear the full speed fan kick in.
The temperatures may or may not be "too high", depending on whom you ask, but when other gaming notebooks never get above 45dB – and notebooks like the ASUS G750JH stay under 40dB – the GT70 makes a statement in a way that's likely to turn heads with people wondering, "who turned on the blow dryer!?" Other notebook manufacturers have shown that it's possible to put two largish fans into a 17" gaming chassis, so it's not a matter of it being too difficult; instead, it appears MSI is simply content to stick with their several years old design, and perhaps pass along some of the cost savings to the users.