Measuring Bandwidth
Stream measures "sustainable memory bandwidth" and is thus a good indication of how a CPU will handle data intensive applications. Dr. John McCalpin is the developer and maintainer of the STREAM benchmark.
We compiled with gcc 4.7 on all platforms and used the -O3 -fopen -static settings. It is important to remark that this version of gcc has been optimized by the Linaro group, a non-profit software engineering effort. Linaro's objective is to optimize the kernel and typical tools for the ARM-Cortex A-series CPUs.
On the Intel CPUs we force the threads to make use of Hyper-Threading with taskset. So for example, the four threads measurement is done on two physical cores with four threads. This gives an idea of how a quad-core ARM server node compares to a virtual machine that gets a few physical and few logical cores from the hypervisor. It also allows us to evaluate how two threads on top of an Atom core compare to two ARM cores. When you compare CPUs with similar power consumption, you typically get two ARM cores for each Hyper-Threaded Atom core.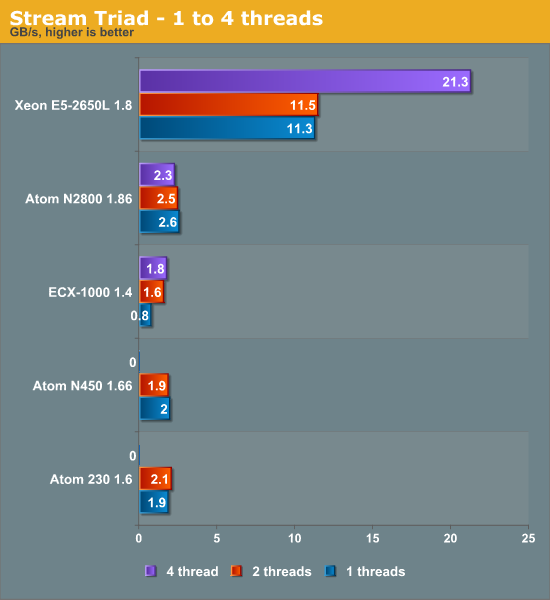 The ARM based server is a pretty bad choice right now for memory intensive workloads. Even with four cores and DDR3-1333, the useable bandwidth is less than one sixth of what one Xeon core can sustain.
In a similar vein, the ECX-1000 is not capable of providing more bandwidth than an Atom system equipped with DDR2-667. However, both the Atom and ARM cores are pretty bad when it comes to bandwidth. Although the specs claim that the CPUs can drive one channel of DDR3-1066, the measured bandwidth comes nowhere near the theoretical 8.5GB/s that such a DIMM can deliver.