Technologies such as ZigBee came up in part due to the unsuitability of Wi-Fi, Bluetooth and other such technologies to provide networking with low power consumption, low cost, simplicity and the ability to remain in a suspended state for extended periods of time. Most of the HA technologies were developed when Wi-Fi was unable to satisfy all of these criteria. However, over the last few years, Wi-Fi has slowly, but surely, gained a significant foothold in the home automation industry.
The rise of Wi-Fi's role in home automation has primarily come about due to two factors
Networked nature of today's electronics: Commonly used electronic devices such as televisions and AV receivers have started becoming part of the home IP network. Even though the networking aspects were added to bring in support for online streaming services or network playback, it became an easy value-add for the manufacturers to expose control of the device functionality over the network.
Rise of mobile computing devices: The increasing rate of adoption of smartphones and tablets was an added boon. These devices ensure that consumers have access to a portable 'controller' for the electronics connected to the network.
Before proceeding further, I will take a small detour to talk about my personal experience with home automation. Like any other long-time renter, I had no interest in investing money towards fancy home automation solutions. However, as a reviewer of HTPCs and media streamers, I had often used the streamers' Android remotes / XBMC web & Android remote for playback control using my smartphone. I had also installed Sony's remote for my KDL46EX720 TV on my Android smartphone, but rarely got the chance to use it. I realized the full benefit of the Android remote when I found that I could switch on / mute or reduce the volume on the TV without being in the same room.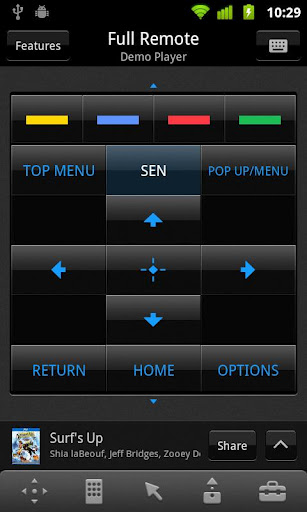 Sony's Android Remote: Whetting the Appetite for Home Automation
In scenarios such as those outlined above, consumers don't realize that they are actually using some form of HA. The Wi-Fi network already fulfills the basic requirements of a HA system without any extra expenditure on the part of the consumer. For any technology to succeed amongst consumers, price is key. Wi-Fi practically turns out to be free for HA purposes. Hence, it will not be a surprise if home automation with Wi-Fi finally manages to catch the attention of consumers in a way that current technologies haven't been able to.
Addressing Wi-Fi's Naysayers
We have been through multiple generations of Wi-Fi since the first 802.11-based consumer products appeared in 1999. With maturing technology, the cost of Wi-Fi radios has gone down. They have also become simpler to integrate into systems. At the beginning of this section, we had outlined the reasons as to why ZigBee was developed as an alternative to Wi-Fi for HA purposes. We see that some of these issues have already been addressed. Power consumption and reliable range, however, remain a problem. Towards this, the 802.11 group is working on a new standard, 802.11ah. Expected to be ratified around May 2015, its main purpose is the creation of a sub-1 GHz sensor network. Smart metering is one of the intended applications, but home automation should not be far behind. 802.11ah should help address any shortcomings of current generation Wi-Fi for HA purposes.
Silicon Vendors Target Fast-Growing Market

The primary requirements for the wireless communication modules in these HA devices are:
Low power MCU integrated in the module along with networking stack
802.11 b/g support (802.11n is not strictly necessary)
Small form factor and full industrial temperature range (-40C to 85C)
Small host footprint in terms of Flash and RAM requirements
We have a number of Wi-Fi radio makers targeting this embedded Wi-Fi market. TI has the CC3000, launched in January 2012, which is part of LSR's TiWi-SL self-contained Wi-Fi module. Marvell also launched the 88MC200 microcontroller in January 2012. It is tied along with the Marvell Avastar 88W878x Wi-Fi radio SoCs for smart energy platforms.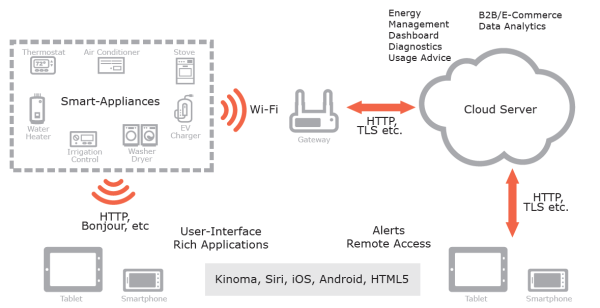 Marvell's Pitch to Customers Integrating Wi-Fi in Smart Appliances (The concept remains the same with Wi-Fi modules from other vendors too)
Qualcomm Atheros launched the AR4100P Wi-Fi System-in-Package for the home automation market in March 2012. The AR4100P is a 802.11n single stream Wi-Fi system-in-package with an integrated IPv4/IPv6 TCP/IP stack. Board vendors such as RTX deliver pre-built cards based on the AR4100P along with software support.
If WiFi has to replace specialized HA protocols in simple switch type devices, it has to offer a significant cost advantage at installation. Obviously, support for more than 256 nodes has to also be provided seamlessly in a user friendly manner. Current HA controllers already integrate a hybrid of technologies using different standards where it makes sense (W-iFi + Z-Wave, Insteon or Zigbee). This will be a continuing trend till 802.11ah gains consumer acceptance and everyone realizes that specialized protocols serve no purpose. However, this is quite some time off and it is a concern only for people who have already invested in a HA standard. People starting to explore home automation options simply can't go wrong by choosing a pure Wi-Fi based one.
In this section, we saw control of the media center as one of the HA examples using Wi-Fi. Conventional HA systems include control of power switching, lighting, HVACs and home security systems. In the next few sections, we will take a look at some of the interesting Wi-Fi based HA devices.