Home automation (hereafter referred to as HA) refers to the mechanization and automatic control of various residential activities. It typically provides for centralized control of electrical appliances (such as air conditioners, lighting and security systems and even the home theater). In addition to the comfort and convenience factor, energy efficiency also receives a boost.
The integration of various electrical devices in the household has been a challenge because of the absence of a cheap, open and standardized communication protocol between them. Due to this reason, HA systems have typically come with a hefty price tag and the need for a professional CI (custom installer / integrator) to set up. Consumers on a strict budget are slowly getting access to cheap home automation controllers for self installation, but considerable investment is still needed in terms of time and resources.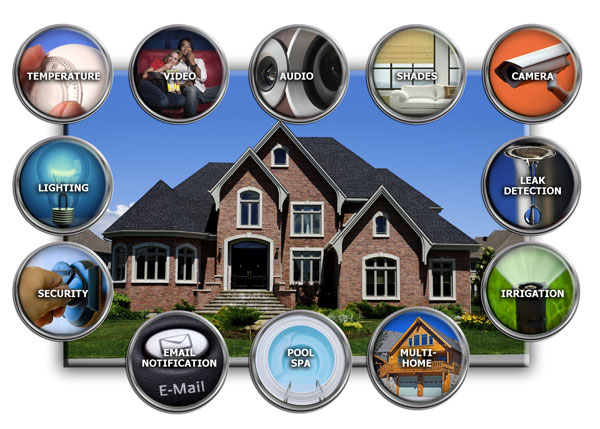 Image Credit: Home Automation Montreal
In this age of mobile computing, a wireless router exists in practically every home. Smartphones and tablets are natural devices to enable control of electrical devices. In such a situation, Wi-Fi becomes an easy avenue for self-installation of HA systems. We are in the midst of a sudden spurt in interest over home automation using Wi-Fi. Till recently, usage of Wi-Fi for HA purposes was considered to be akin to using a sledgehammer to drive a nail. While it could get the job done, it wasn't efficient in terms of power consumption or cost. However, as more and more electrical devices began to get connected to the local household IP network (Smart TVs are a prime example), control over the IP network (Ethernet / Wi-Fi) has garnered renewed interest.
The 'Internet of Things' has been a buzzword for an increasingly networked world where everything from the refrigerator to the lamp in the household would end up with an IP address. While this hasn't become a reality yet, we are slowly, but surely, moving towards this vision. In this piece, we will first briefly explore the history of home automation technologies, followed by why we believe Wi-Fi is placed well towards becoming the next HA standard. A couple of sections will deal with some of the interesting products in the Wi-Fi home automation space.