A CentOS 6.2 virtual machine was used to evaluate NFS and CIFS performance of the Netgear NV+ v2 and 2big NAS when accessed from a Linux client. In order to standardize the testing across multiple NAS units, the following parameters were used to mount the NFS and Samba shares:
mount -t nfs NAS_IP:/PATH_TO_NFS_SHARE /PATH_TO_LOCAL_MOUNT_FOLDER -o async,hard,proto=tcp,noac
mount -t cifs //NAS_IP/PATH_TO_SMB_SHARE /PATH_TO_LOCAL_MOUNT_FOLDER -o directio
Note that we have not tried to optimize NFS performance for the NAS. In order to keep things as uniform as possible, we will just look at comparative performance on the basis of the default mounting options combined with the above (which are set to avoid caching effects on the client side). In this section, we benchmarked both the NAS units using IOMeter using the scripts available here. The graphs below presents the various results.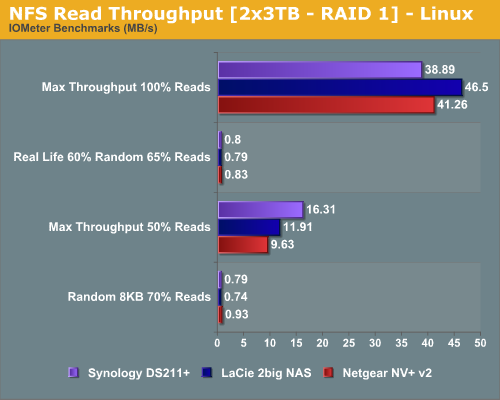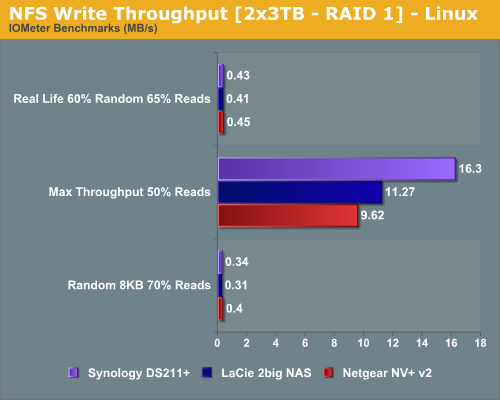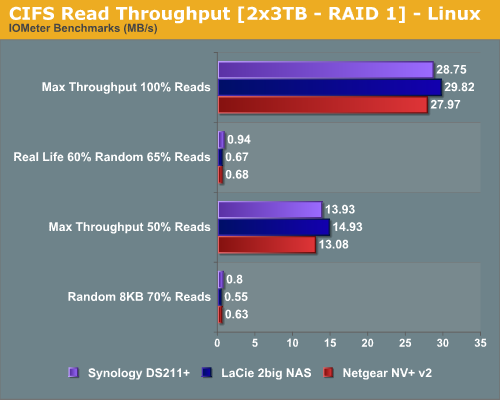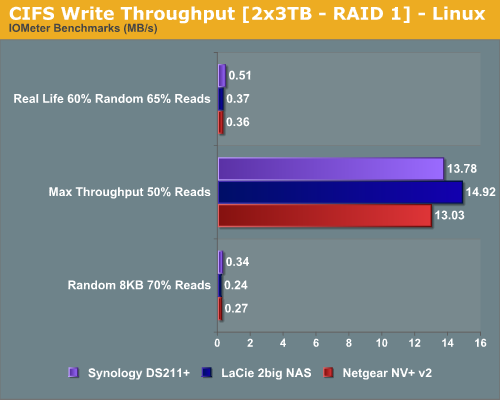 The LaCie unit appears to perform favorably in sequential accesses, while the DS211+ has a slight edge in the random transactions. The performance of the NV+ v2 is passable, though it doesn't have a top score in any of the tested configurations. RAIDiator 5.3.5 (ARM) seems to have left the door open for future performance enhancements.