Netgear launched the Marvell-based NV+ v2 (4-bay) and Duo v2 (2-bay) NAS units last November. We reviewed the Netgear NV+ v2 and came away quite satisfied with the price to performance ratio. However, we had some reservations about the absence of NFS and iSCSI (which happen to be staple features in offerings from other vendors in this particular segment of the market). The maturity of the platform was also a concern (since this was Netgear's first attempt at introducing a NAS based on an ARM chipset).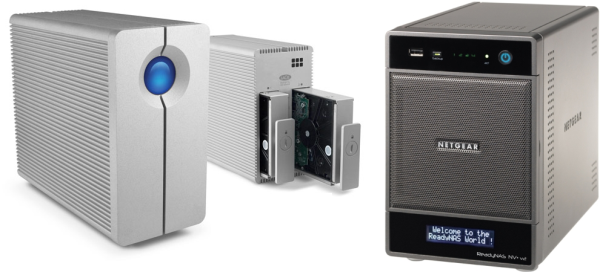 Netgear recently updated the firmware for the NV+ v2 and Duo v2 units. RAIDiator 5.3.5 added support for a number of new share management protocols including NFS. It also brought along a number of fixes. In the meanwhile, LaCie also contacted us about a firmware update improving RAID-1 performance in the 2big NAS that we reveiewd a couple of months back. Keeping these updates in mind, it is time to take another look at the 2-bay NAS units in our labs.
The testbed setup remains the same as what we used for the LaCie 2big NAS reivew. All the NAS units were populated with two empty 3TB Seagate Barracuda 7200rpm [ ST3000DM001 ] drives prior to benchmarking.
NAS Benchmarking Testbed Setup [ Q2 2012 ]
Processor
Intel i7-3770K CPU - 4C/8T - 3.50GHz, 8MB Cache
Motherboard
Asus P8H77-M Pro
OS Hard Drive
Seagate Barracuda XT 2 TB
Secondary Drive
Kingston SSDNow 128GB (Offline in Host OS)
Memory
G.SKILL ECO Series 4GB (2 x 2GB) SDRAM DDR3 1333 (PC3 10666) F3-10666CL7D-4GBECO CAS 7-7-7-21
PCI-E Slot
Quad-Port GbE Intel ESA-I340
Case
Antec VERIS Fusion Remote Max
Power Supply
Antec TruePower New TP-550 550W
Host Operating System
Windows Server 2008 R2 Enterprise
.
Two virtual machines were set up using Hyper-V with the following configuration
Windows 7 Ultimate x64 : Guest OS
Processor
Single Physical Core of Intel i7-3770K
OS Hard Drive
VHD File on Seagate Barracuda XT 2 TB
Secondary Hard Drive
Kingston SSDNow 128GB
Memory
1 GB
CentOS 6.2 x86_64 : Guest OS
Processor
Single Physical Core of Intel i7-3770K
OS Hard Drive
VHD File on Seagate Barracuda XT 2 TB
Secondary Hard Drive
Kingston SSDNow 128GB
Memory
1 GB
The usage of VMs as NAS clients allows us to test Samba and NFS performance from a single host machine. While Intel NASPT can run on Windows (and has to be restricted to 2 GB of RAM in order to avoid caching effects), IOMeter / Dynamo can be used to measure performance in Linux.
The Kingston SSDNow 128 GB SSD we used in the earlier testbed has been reused here. In the host OS, this disk is set to offline, and is made available to the Hyper-V VMs as a physical drive. Note that we don't do any teaming in the Intel ESA-I340 in this testbed. Each VM gets its own physical Ethernet port in the ESA-I340, and the host OS uses the motherboard's built-in GbE port. All the Ethernet ports are connected to a ZyXel GS2200-24 switch.
For measurement of performance in Linux, dynamo was run on the Linux VM and connected to an IOMeter instance run on the host OS. Four tests were run to determine the characteristics of the NAS as a storage system for the client. In order to completely rule out caching effects, a special build of IOMeter with O_DIRECT access mode for NFS shares was used.
The robocopy / rsync benchmarks (transferring a 10.7 GB folder structure backup of the HQV 2.0 Benchmark Blu-ray to and from the NAS to the internal SSD) were also run in both the VMs.
In the rest of the review, we briefly cover the updates in the latest firmware for the NV+ v2. We also test out one of the unique add-ons in the NV+ v2, ReadyNAS Replicate. In the last two sections, we will present the refreshed benchmark results.