ECS Z77H2-AX—Visual Inspection
If all you ever wanted in life was something colored gold, I think ECS have you covered. As part of their Golden Board branding, the ECS Z77H2-AX has been plated with a layer of gold paint. Well, their heatsinks, heatpipes, socket, capacitors, VRMs and IO panel have all had a layer of gold paint added in order to improve aesthetics. When I first took this board out of the wrapper, I was figuratively blinded by just how much of the gold color was in my face.
Initially ECS will be releasing two high-end Z77 boards, with this one being the most expensive we have in for review, at an MSRP of $319. As such, I would expect it to perform near the top in almost every aspect—features, extras, performance and usability. As more than twice the price of the ASRock Z77 Extreme4, it had better be at least twice the board.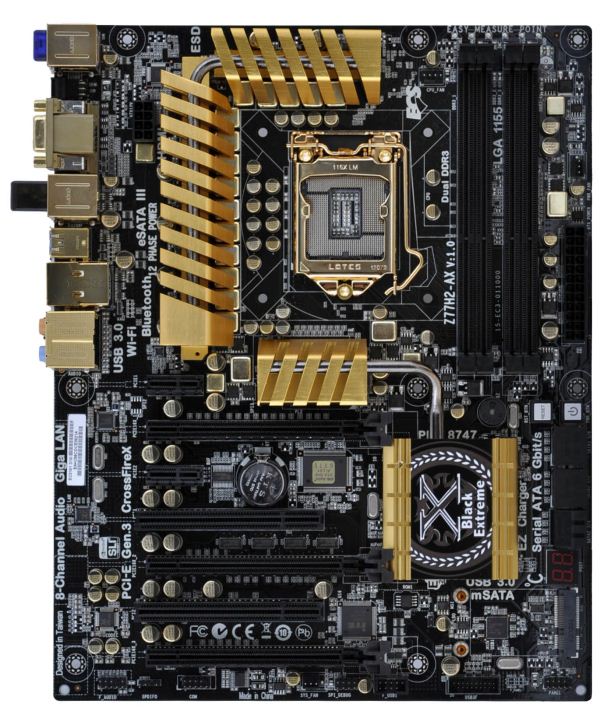 For a start, we can see that the socket is closed in, with the heatsinks and the memory slots being right up against Intel's minimum required socket spacing. This means big air coolers may not get a chance to fit, and only stock or water-cooling need apply. If that is the case, then I hope ECS have a robust overclock system in place.
One thing to feel disappointed by the ECS board though is the lack of fan headers. Around the socket you are lucky to have two—one 4-pin between the top VRM heatsink and the memory slots, and a 3-pin just above the 24-pin ATX power connector. A solitary third is on the bottom of the board. In the past ECS fan OS controls have had some of the better software support; however, it does not make sense to have only three headers on this.
Down the right hand side of the board, below the ATX power connector, are a pair of power/reset buttons, the standard six SATA ports from the PCH, and a two-digit debug display. Note we do not have any other SATA controllers for internal ports on the board. Below the two-digit debug display is an mSATA connector, which doubles up as a mini-PCIe if a user want to use a WiFi module (note, there is one on board already) or a TV Tuner.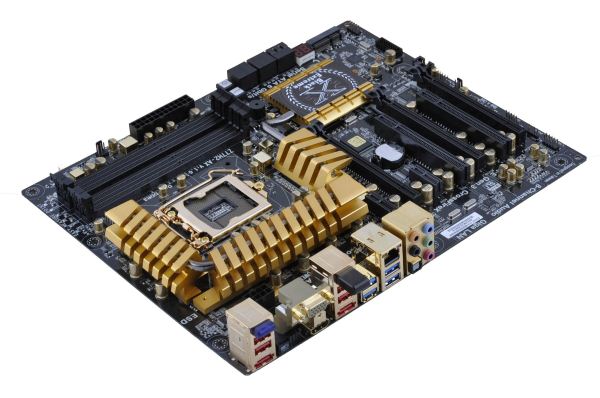 On the south side of the board we are not given a vast amount of headers to say it is cramped—aside from standard front panel headers, there is a USB 3.0 header, a COM header, and a solitary USB 2.0 header.
This big selling point of this board over the other boards in this preview however is its multi-GPU capabilities. ECS have decided to invest in a PLX PXE 8747 chip, which is akin to the NF200 chips we saw on X58. This chip will expand the 16 PCIe 3.0 lanes on the board to 32, meaning that on the PCIe slots, we can have x16/x16 in dual card mode, or x16/x8/x8 in tri-card mode.
Thus in order we have an x1, an x16, x1, PCI, x16/x8, PCI, x8. So if all three full length PCIe slots are filled, there is still access to an x1 and a PCI, but we lose a lot of the functionality on the south part of the board.

The back panel has a mix and match of capabilities and functionality. From the left, we have a Bluetooth dongle, two USB 2.0 (red), an eSATA, a clear CMOS button, D-Sub, HDMI, a WiFi dongle, two USB 2.0, an eSATA, two USB 3.0, gigabit Ethernet, two USB 3.0, optical SPDIF and audio jacks. The big selling point for me is the WiFi, which ECS have cunningly added to their top range boards for a few chipsets now.
Board Features
ECS Z77H2-AX
Size
ATX
CPU Interface
LGA-1155
Chipset
Intel Z77
Power Delivery
12 + 2
Memory Slots
Four DDR3 DIMM slots supporting up to 32 GB
Up to Dual Channel, 1066-2800 MHz
Video Outputs
HDMI, D-Sub
Onboard LAN
Realtek 8111E
Onboard Audio
Realtek ALC892
Expansion Slots
2 x PCIe x16 Gen3 (x16, x8/8)
1 x PCIe x16 Gen2 (x4)
2 x PCIe x1 Gen2
2 x PCI
Onboard SATA/RAID
2 x SATA 6 Gbps (PCH), Support for RAID 0, 1, 5, 10
4 x SATA 3 Gbps (PCH), Support for RAID 0, 1, 5, 10 2 x eSATA 3 Gbps
USB
6 USB 3.0 ports (4 back panel, 2 from headers)
6 USB 2.0 ports (4 back panel, 2 from headers)
Onboard
2 x SATA 6 Gbps
4 x SATA 3 Gbps
1 x USB 3.0 Header
1 x USB 2.0 Header
3 x Fan Headers
1 x COM Header
1 x SPDIF Output Header
1 x Front Panel Audio Header
Power/Reset Buttons
Debug LED
1 x mSATA
Power Connectors
1 x 24-pin ATX connector
1 x 8-pin 12V connector
Fan Headers
1 x CPU Fan Header (4-pin)
1 x SYS Fan Header (3-pin)
1 x PWR Fan Header (3-pin)
IO Panel
4 x USB 3.0 Ports
4 x USB 2.0 Ports
1 x HDMI
1 x D-Sub
1 x Gigabit Ethernet
1 x Optical SPDIF Output
1 x Clear CMOS Button
1 x Wifi Connector
1 x Bluetooth
2 x eSATA 3 Gbps
Audio Ports
Warranty Period
3 Years from date of Purchase (3yr parts, 2yr labor)
Product Page
Link
Despite having WiFi, mSATA and extended PCIe 3.0 lanes, the ECS board is down on audio (Realtek ALC892 rather than ALC898 of others), lacking fan headers and also lacking video outputs, with a lot of people requiring DVI to D-Sub or DVI to HDMI connectors.