Biostar TZ77XE4—Visual Inspection
With memories of Biostar fresh in my mind from the 990FX roundup, I have another chance to tackle a motherboard from them. This one comes in at more of a premium than the other—at an MSRP of $169 it is not the cheapest board this time. However, it does seem to have learned some lessons with the PCIe layout at least, but in terms of features we are perhaps a bit lacking.
Biostar have characteristically been black and orange, and we see it here again on their top Z77 model, the TZ77XE4. Power delivery is essentially a 10+2 (CPU/iGPU) system with large brightly colored heatsinks to remove heat, both connected via a heatpipe. These heatsinks are set a little away from the Intel designated socket area, though the memory banks are right up against the boundary—with only two sticks of memory in the board there will be enough room for most of the beefiest air coolers.
In terms of fan headers, Biostar have unfortunately put much effort in here, with only three to play with—a 4-pin CPU fan header to the top right of the socket, and two 3-pin at the south end of the board. Anyone requiring headers for fans will have to resort to providing their own fan control.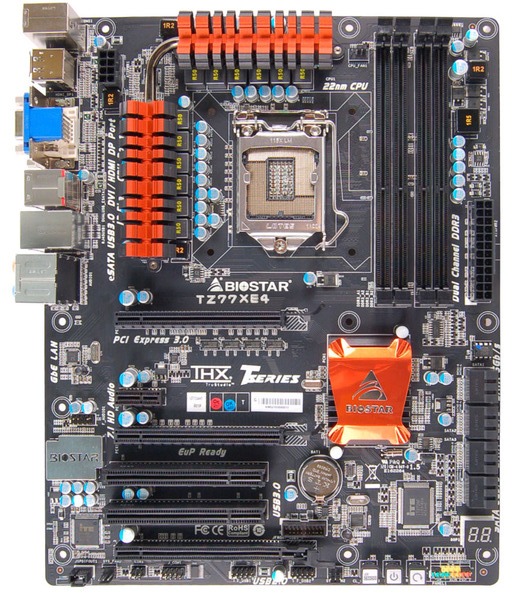 Along the right hand side, apart from the 24-pin power connector, we have a series of eight SATA ports—two SATA 6 Gbps from the PCH, four SATA 3 Gbps also from the PCH, and another two SATA 6 Gbps from an ASMedia controller. These are unfortunately not color coded, meaning users will have to double check every time that the SATA cable is going into the port as intended. Below these, we have a two-digit debug display for error reporting.
The chipset heatsink sports the bright orange Biostar color, but is rather small which could lead to it being warm to the touch. On the south side of the board, we are not exactly bursting with headers—aside from the fans, we have front panel headers, a pair of USB 2.0 headers, and power/reset/clear CMOS buttons. These buttons are all similar and next to each other, so I can just see myself accidentally pressing the wrong one from time to time. It is also important to note the location of a USB 3.0 header, just above the third full-length PCIe slot. This is a rather awkward place, and cements its use primarily for rear facing adaptors (as long as there is nothing in the PCI slot beside it).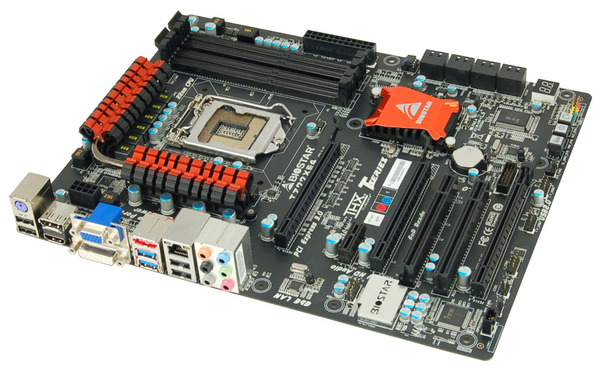 The PCIe layout is better than previous iterations, featuring an x16 (x8 in dual-GPU), x1, x8, PCI, PCI and Gen 2.0 x4. This leaves a space between GPUs, and a spare x1, PCI and x4 when dual GPUs are being used. Note we do not have a molex connector here, suggesting that Biostar are happy with the power delivery when the PCIe slots are in use.

For back panel functionality, we have a PS2 keyboard port, two USB 2.0 ports (black), DisplayPort, HDMI, D-Sub, DVI-I, eSATA, two USB 3.0 (blue), gigabit Ethernet, two more USB 2.0 (black), and audio jacks. I should stress that even though there is a DVI-I on the back panel, it does not accept analog signals by adaptor.
Board Features
Biostar TZ77XE4
Size
ATX
CPU Interface
LGA-1155
Chipset
Intel Z77
Power Delivery
10 + 2 + 1 + 2 (CPU/GPU/VCCIO/Memory)
Memory Slots
Four DDR3 DIMM slots supporting up to 32 GB
Up to Dual Channel, 1066-2600 MHz
Video Outputs
DisplayPort, HDMI, DVI-D, D-Sub
Onboard LAN
Realtek 8111E
Onboard Audio
Realtek ALC898
Expansion Slots
2 x PCIe x16 Gen3 (x16, x8/8)
1 x PCIe x16 Gen2 (x4)
1 x PCIe x1 Gen2
2 x PCI
Onboard SATA/RAID
2 x SATA 6 Gbps (PCH), Support for RAID 0, 1, 5, 10
4 x SATA 3 Gbps (PCH), Support for RAID 0, 1, 5, 10
2 x SATA 6 Gbps (ASMedia Controller)
1 x eSATA 3 Gbps
USB
4 USB 3.0 ports (2 back panel, 2 from headers)
8 USB 2.0 ports (4 back panel, 4 from headers)
Onboard
4 x SATA 6 Gbps
4 x SATA 3 Gbps
1 x USB 3.0 Header
2 x USB 2.0 Header
3 x Fan Headers
1 x CIR Header
1 x SPDIF Output Header
1 x Front Panel Audio Header
Power Connectors
1 x 24-pin ATX connector
1 x 8-pin 12V connector
Fan Headers
1 x CPU Fan Header (4-pin)
2 x SYS Fan Header (3-pin)
IO Panel
1 x PS/2 Keyboard Port
1 x eSATA
2 x USB 3.0
4 x USB 2.0
1 x DisplayPort
1 x HDMI
1 x DVI-D
1 x D-Sub
1 x Gigabit Ethernet
Audio Jacks
Warranty Period
3 years from date of sale
Product Page
Link
Aside from the extra SATA controller, PCI slots, Power/Reset buttons and the use of all four display outputs, there's nothing much 'extra' that Biostar have put on the board which isn't already in the default chipset. This could perhaps be their downfall when it comes to conclusions after testing.