MSI Z77A-GD65—Visual Inspection
Whenever it comes to a motherboard comparison involving ASUS, Gigabyte or ASRock against an MSI board, the MSI board always tends to show a strong result—either in terms of price, performance or features. So when it comes to the new batch of motherboards for Ivy Bridge, it is fair to say that I expect a strong showing from MSI. For this preview, we have their Z77A-GD65, which will be one behind their future released GD80 that got attention back at CES for being Thunderbolt equipped.
The Z77A-GD65 is another motherboard in this roundup that comes in a black and blue livery. This time MSI have more of an excuse than others do as they have been using it for a fair while now. Using what is essentially a 10 + 2 phase power delivery, MSI are using somewhat beefier heatsinks than their rivals, connecting both via a heatpipe. The socket area is right up against Intel's minimum requirements from left to right, but there is some room to maneuver big air coolers from top to bottom. Around the socket there are at least four fan headers to use: one 4-pin CPU header between the top VRM and the memory slots, a 4-pin system fan header just the other side of the memory slots, a 4-pin to the bottom left of the socket area, and another 4-pin beside the 24-pin ATX power connector. A fifth fan header can be found at the bottom of the board.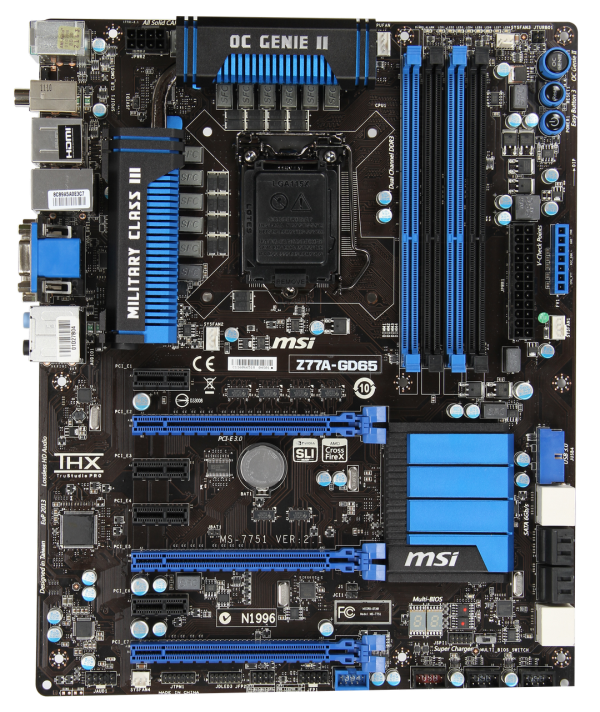 Along the right hand side, we have the standard MSI trio of power/reset/OC Genie buttons, followed but a series of voltage checkpoints for overclockers. Aside from the 24-pin power connector and the system fan header, there is also a USB 3.0 header at right angles to the board, indicating its primary use is to the front of the case. Underneath this are the eight SATA ports—two SATA 6 Gbps from the PCH, four SATA 3 Gbps also from the PCH, and another two SATA 6 Gbps from an ASMedia controller.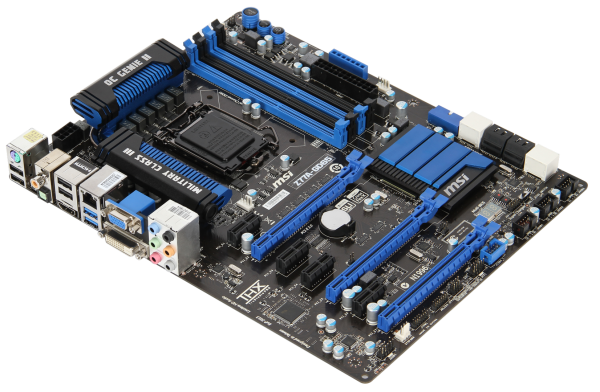 As the power/reset/OC Genie buttons are at the top right, the bottom of the board has more room to fit in all the headers as needed—front panel audio, TPM, front panel headers and USB 2.0 headers. In terms of PCIe, MSI have done away with the PCIe to PCI bridge and focused purely on PCIe. We have an x1, x16 (x8 with dual GPU), x1, x1, x8, x1, and a PCIe 2.0 x4. In this instance, there is plenty of room for a dual GPU setup with PCIe slots to spare for any extras.
Also of note is the chipset cooler, which is very flat and large with minimal fins, perhaps suggesting that MSI is confident about their heatsink design. Underneath this is a two digit debug display, and a BIOS switch for changing between two BIOSes.

On the rear IO panel, I think MSI have been reasonable with what they have left in and what they have left out. From left to right, we have a combination PS/2 port, two USB 2.0 ports (black), a clear CMOS button, digital and coaxial SPDIF outputs, two more USB 2.0 ports (black), a HDMI port, gigabit Ethernet, two USB 3.0 ports (blue), D-Sub, DVI-D, and audio jacks.
Board Features
MSI Z77A-GD65
Size
ATX
CPU Interface
LGA-1155
Chipset
Intel Z77
Power Delivery (CPU/iGPU)
8 + 1 + 2 + 1 (VRM/VTT/GPU/SA)
Memory Slots
Four DDR3 DIMM slots supporting up to 32 GB
Up to Dual Channel, 1066-2667 MHz
Video Outputs
HDMI, DVI-D, D-Sub
Onboard LAN
Intel 82579V
Onboard Audio
Realtek ALC898
Expansion Slots
2 x PCIe x16 Gen3 (x16, x8/8)
1 x PCIe x16 Gen2 (x4)
4 x PCIe x1 Gen2
Onboard SATA/RAID
2 x SATA 6 Gbps (PCH), Support for RAID 0, 1, 5, 10
4 x SATA 3 Gbps (PCH), Support for RAID 0, 1, 5, 10
2 x SATA 6 Gbps (ASMedia ASM1061)
USB
4 USB 3.0 ports (2 back panel, 2 from headers)
10 USB 2.0 ports (4 back panel, 6 from headers)
Onboard
4 x SATA 6Gbps
4 x SATA 3 Gbps
1 x USB 3.0 Header
3 x USB 2.0 Headers
1 x IEEE1394 Header
1 x TPM Header
1 x Front Panel Audio Header
Power/Reset Buttons
OC Genie
5 x Fan Headers
Power Connectors
1 x 24-pin ATX connector
1 x 8-pin 12V connector
Fan Headers
1 x CPU Fan Header (4-pin)
4 x SYS Fan Headers (two 4-pin, two 3-pin)
IO Panel
1 x Combo PS/2 Port
1 x Clear CMOS Button
1 x Coaxial S/PDIF Port
1 x Optical S/PDIF Port
4 x USB 2.0
2 x USB 3.0
1 x Gigabit Ethernet
Audio Jacks
1 x HDMI
1 x DVI-D
1 x D-Sub
Warranty Period
3 Years
Product Page
Link
It is good to see an Intel NIC on this $180 MSRP motherboard. There are plenty of headers to go around. The only things missing where other motherboards may have better all-round functionality are a PCI slot, mSATA and on-board WiFi.