Maxwell Render Suite
The developers of Maxwell Render Suite--Next Limit--aim at delivering a renderer that is physically correct and capable of simulating light exactly as it behaves in the real world. As a result their software has developed a reputation of being powerful but slow. And "powerful but slow" always attracts our interest as such software can be quite interesting benchmarks for the latest CPU platforms. Maxwell Render 2.6 was released less than two weeks ago, on November 2, and that's what we used.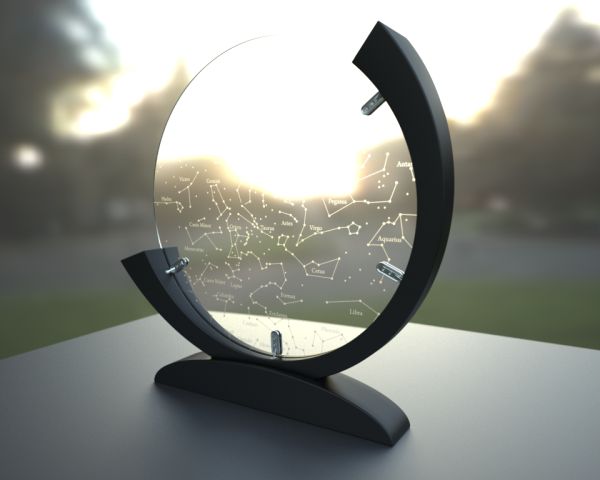 We used the "Benchwell" benchmark, a scene with HDRI (high dynamic range imaging) developed by the user community. Note that we used the "30 day trial" version of Maxwell. We converted the time reported to render the scene in images rendered per hour to make it easier to interprete the numbers.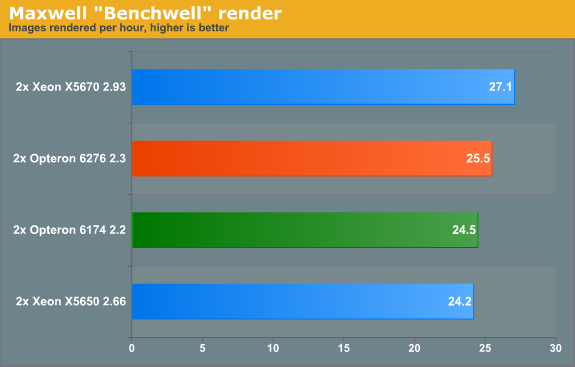 Since Magny-cours made its entrance, AMD did rather well in the rendering benchmarks and Maxwell is no difference. The Bulldozer based Opteron 6276 gives decent but hardly stunning performance: about 4% faster than the predecessor. Interestingly, the Maxwell renderer is not limited by SSE (Floating Point) performance. When we disable CMT, the AMD Opteron 6276 delivered only 17 frames per second. In other words the extra integer cluster delivers 44% higher performance. There is a good chance that the fact that you disable the second load/store unit by disabling CMT is the reason for the higher performance that the second integer cluster delivers.
Rendering: Blender 2.6.0
Blender is a very popular open source renderer with a large community. We tested with the 64-bit Windows version 2.6.0a. If you like, you can perform this benchmark very easily too. We used the metallic robot, a scene with rather complex lighting (reflections) and raytracing. To make the benchmark more repetitive, we changed the following parameters:
The resolution was set to 2560x1600
Antialias was set to 16
We disabled compositing in post processing
Tiles were set to 8x8 (X=8, Y=8)
Threads was set to auto (one thread per CPU is set).
To make the results easier to read, we again converted the reported render time into images rendered per hour, so higher is better.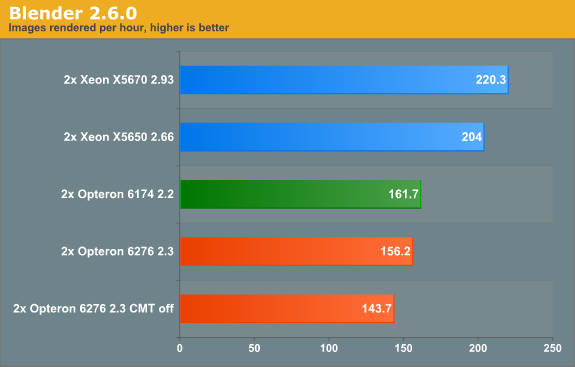 Last time we checked (Blender 2.5a2) in Windows, the Xeon X5670 was capable of 136 images per hour, while the Opteron 6174 did 113. So the Xeon was about 20% faster. Now the gap widens: the Xeon is now 36% faster. The interesting thing that we discovered is that the Opteron is quite a bit faster when benchmarked in linux. We will follow up with some Linux numbers in the next article. The Opteron 6276 is in this benchmark 4% slower than its older brother, again likely due in part to the newness of its architecture.