Rendering Performance: 3DSMax 2012
As requested, we're reintroducing our 3DS Max benchmark. We used the "architecture" scene which is included in the SPEC APC 3DS Max test. As the Scanline renderer is limited to 16 threads, we chose the iray render engine, which is basically an automatically configuring Mental Ray render engine. Note that these numbers are in no way comparable to the ones we have obtained before as those were all performed with the scanline render engine!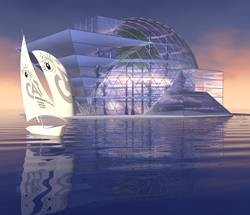 We rendered at 720p (1280x720) resolution. We measured the time it takes to render 10 frames (from 20 to 29) with SSE enabled. We recorded the time and then calculated (3600 seconds * 10 frames / time recorded) how many frames a certain CPU configuration could render in one hour. All results are reported as rendered images per hour; higher is thus better. We used the 64-bit version of 3ds Max 2008 on 64-bit Windows 2008 R2 SP1.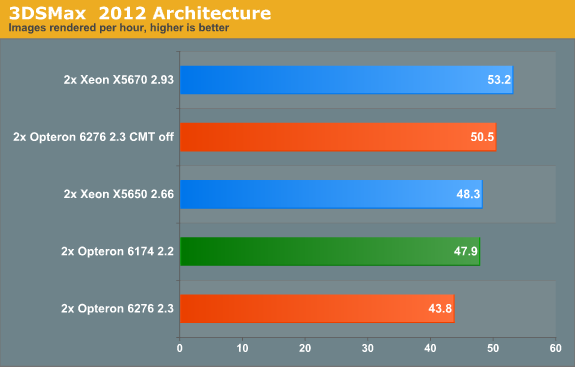 Something really weird happened here: once we disable CMT, the Opteron 6276 performs much better. Rendering performance is quite good as the Opteron 6276 beats the Xeon X5650.