Compute & Video Transcoding Performance
AMD's hope with Fusion is that the GPU transistors will regularly be used for more than just 3D gaming. Today we're still hunting for good uses for GPU compute, but we do have a few benchmarks that we can use to illustrate Llano's GPU compute prowess.
Our compute benchmark comes from Civilization V, which uses DirectCompute to decompress textures on the fly. Civ V includes a sub-benchmark that exclusively tests the speed of their texture decompression algorithm by repeatedly decompressing the textures required for one of the game's leader scenes. Note that this is a DX11 benchmark and obviously can't run on Intel's Sandy Bridge GPU.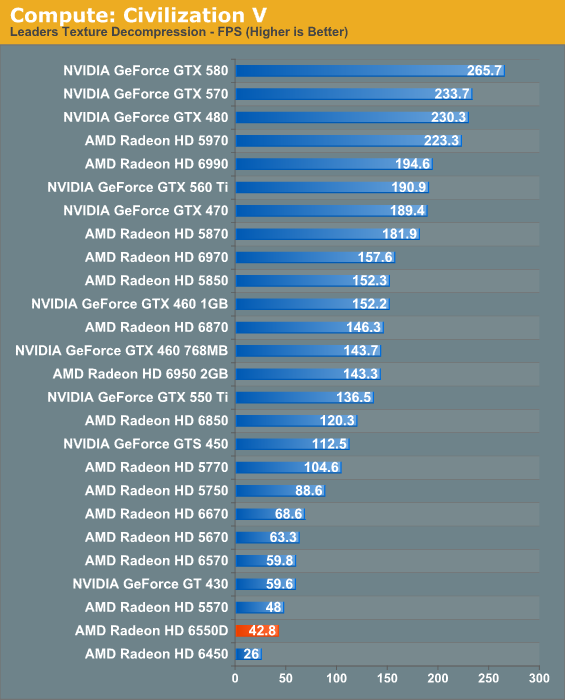 The Radeon HD 6550D performs as expected - it offers performance close to the 5570 and above that of the 6450. Memory bandwidth constraints are less of an issue here apparently as the 6550D delivers 89% of the performance of the 5570.
One area where we can compare the Radeon HD 6550D and Intel's HD Graphics 3000 is in video transcoding performance. For that we turn to ArcSoft's MediaConverter 7 and measure performance transcoding a 15Mbps H.264 encoded 1080p Quantum of Solace rip to a 4Mbps 720p iPhone 4 compatible file:
Video Transcoding Comparison
AMD A8-3850
Intel Core i3-2105
Frames Transcoded per Second
63.7 fps
165.2 fps
While the A8-3850 can exploit its GPU cores for transcoding, Intel's Quick Sync continues to be the faster method of transcoding video as we found in our original Sandy Bridge review.