ASUS N53JF: Four Times Lucky?
We've had a decent run of midrange laptop reviews of late; our favorite for overall features remains the Dell XPS 15 L501x, but there's a catch: you really want the upgraded 1080p LCD, which it just so happens is now missing from Dell's online configurator. We saw the RGB LED backlit panel on the old Studio XPS 16 come and go over time, so hopefully the LCD upgrade will make a return to the XPS 15, but without that panel the view of the 15.6" laptop market changes. The Dell XPS 15 remains the best sounding laptop that we've tested, but the standard 768p display is nothing to write home about. When you've got options like the Clevo B5130M, Compal NBLB2, and now the ASUS N53JF all offering 1080p displays, there are plenty of alternatives.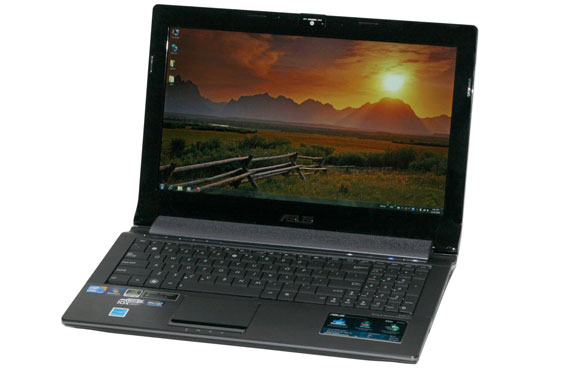 Build quality is standard ASUS, which means it's good but not necessarily great. Like Dell XPS (Waves Maxx) and HP (Beats Audio), ASUS is now sporting speakers from a well-known brand, in this case Bang & Olufsen. I've heard some really good home theater setups with B&O speakers, so my expectations were high. Could this notebook finally be ASUS' breakout midrange offering that would address most of my previous complaints? I won't spoil the review just yet, so let's start by looking at the components and specifications. The list will be strikingly familiar if you read the XPS or B5310M reviews.
ASUS N53JF-XE1 Specifications
Processor
Intel Core i5-460M
(2x2.53GHz, 32nm, 3MB L3, Turbo to 2.80GHz, 35W)
Chipset
Intel HM57
Memory
2x2GB DDR3-1333 (Max 8GB)
Graphics
NVIDIA GeForce GTX 425M 1GB GDDR3
96 SPs, 560/1120/1600MHz Core/Shader/RAM clocks
Display
15.6" WLED Glossy 16:9 1080p (1920x1080)
(AU Optronics B156HW1)
Hard Drive(s)
500GB 7200RPM HDD
(Seagate Momentus 7200.4 ST9500420AS)
Optical Drive
Blu-ray Combo (Philips/Lite-On DS-4E1S)
Networking
Gigabit Ethernet (Atheros AR8131)
802.11n (Atheros AR9285, 150Mb)
Audio
Realtek ALC269
2.0 Bang & Olufsen ICEpower Speakers
ASUS SonicMaster Technology
Microphone and two headphone jacks
Capable of 5.1 digital output (HDMI/SPDIF)
Battery
6-Cell, 10.8V, 4.4Ah, 48Wh
Front Side
None
Left Side
1 x USB 3.0
1 x eSATA/USB 2.0 Combo
Flash Reader
Ethernet
HDMI 1.4
TV Input (Optional)
Exhaust vent
Right Side
Headphone and Microphone Jacks
2 x USB 2.0
Optical Drive
WiFi On/Off Switch
Back Side
AC Power Connection
VGA
Kensington Lock
Operating System
Windows 7 Home Premium 64-bit
Dimensions
15.6" x 10.6" x 1.2-1.6"(WxDxH)
Weight
6.4 lbs (with 6-cell battery)
Extras
2MP Webcam
102-Key Keyboard with 10-Key
Flash Reader (SD, MS/Pro, MMC, xD)
Warranty
1-year standard warranty
Pricing
Online Starting at $1030
Note: N53JF-A1 starts at $930 (with a 768p LCD)
If you compare the above table with the Dell XPS 15 and Clevo B5130M, there's a ton of overlap. The LCD is reported as the same model Dell shipped us in the XPS 15, though the performance characteristics are actually quite different. ASUS uses the GT 425M as opposed to the 420M in the XPS, which means 12% higher core/shader clocks but the same memory bandwidth; the i5-460M is also clocked 5% higher than the i5-450M. The N53JF is actually slightly heavier, wider, thicker, and deeper than the XPS 15, which in turn is slightly larger than the Clevo B5130M. Pricing is competitive with the other options, and without the 1080p LCD we can almost eliminate Dell from the running. ASUS also takes a multimedia slant by including a Blu-ray combo drive, which pairs up nicely with the display. A single USB 3.0 port and an eSATA combo port round out the connectivity options, again maintaining the status quo with the other laptops.
Everything else we've covered before, so let's look at the design aspects and our subjective evaluation of the N53JF.