Power Consumption
SSDs are at their highest power consumption when performing large file sequential writes. The majority of the power consumption comes from writing to the NAND flash and when you're doing sequential writes you have more flash devices engaged at a time. Thus my peak power consumption test involves measuring power used over the 5V rail while the drives perform my 2MB sequential write benchmark in Iometer and at idle of course.
First, the idle numbers: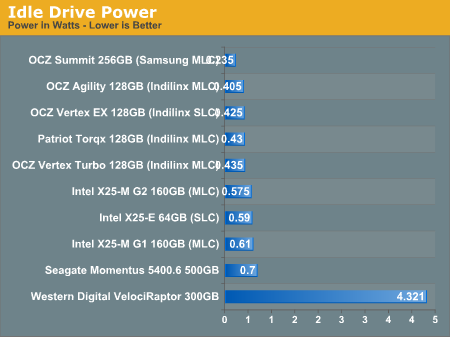 The Samsung and Indilinx drives use the least power, while the Intel drives use the most out of the SSDs. Intel honestly just needs to stick some power gate transistors in front of the controller and flash to curb power consumption at idle. They are all still lower than a mechanical drive, and much lower than a 3.5" HDD.
It's also worth noting that given the order of magnitude performance advantage these drives hold over traditional hard drives, they spend far more time at idle than their mechanical counterparts.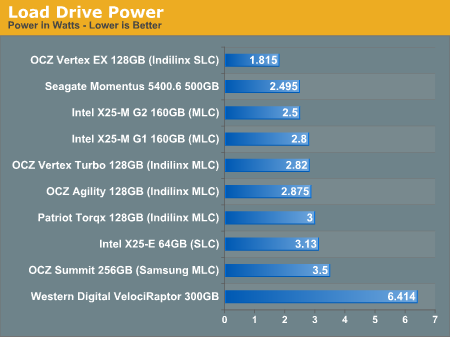 Under load the SSDs use anywhere from 2.5 - 3.5W, the exception being the Indilinx SLC drive which comes in at under 2W. Power consumption is roughly half if you switch to a random write workload, and the standings also switch places. While Intel's X25-M G2 draws less power than the OCZ Vertex Turbo in the sequential write test, it draws more power in a random write workload:
| | | | |
| --- | --- | --- | --- |
| Random Write Power Consumption | Min | Average | Max |
| Intel X25-M G2 160GB (MLC) | 1.55 W | 1.60 W | 1.7 W |
| OCZ Vertex Turbo 128GB (Indilinx MLC) | 1.13 W | 1.17 W | 1.21 W |
As I alluded to before, the much higher performance of these drives than a traditional hard drive means that they spend much more time at an idle power state. The Seagate Momentus 5400.6 has roughly the same power characteristics of these two drives, but they outperform the Seagate by a factor of at least 16x. In other words, a good SSD delivers an order of magnitude better performance per watt than even a very efficient hard drive.