Individual Application Performance
PCMark Vantage does a great job of summarizing system performance, but I thought I'd pick a couple of applications to showcase real world strengths/weaknesses of these drives.
The first test is our Photoshop CS4 benchmark by the Retouch Artists. I made one small change to the way this test is run however. Normally I set the number of history states in Photoshop to 1, this significantly reduces the impact of the HDD/SSD on the test and makes it a better measure of CPU/memory speed. Since this is an SSD article, I've left the setting at its default value of 20. The numbers are now a lot lower and the performance a lot more disk bound.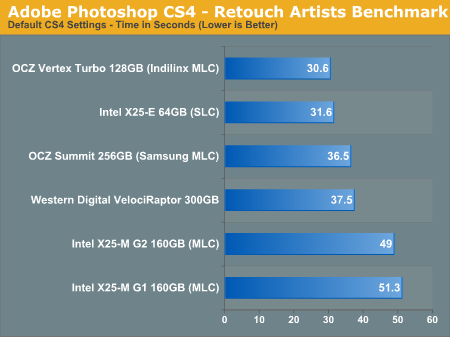 I didn't run all of the drives through this test, just one from each major controller. The results speak for themselves. The Indilinx drives are actually the fastest MLC drives here. Even the Samsung is faster than the Intel drives in this test. Why? Sequential write speed. Even the VelociRaptor has a higher sequential write speed than the X25-M. So while sequential write speed isn't the most important metric to look at when evaluating an SSD, there are real world situations where it does matter.
Intel's performance here is just embarassing. Sequential write speed is something Intel needs to take more seriously in the future. Throw in any amount of random read/write operations alongside your Photoshop usage and the Intel drives would redeem themselves, but this is a very realistic snapshot of their achilles' heel.
Many of you have been asking for compiler benchmarks so I did just that. I grabbed the latest source for Pidgin (a popular IM application) and followed the developer's instructions on building it in Windows: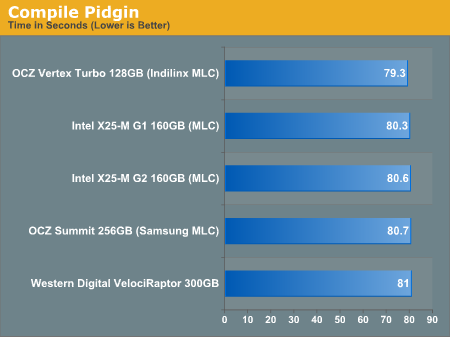 Nada. I thought perhaps it wasn't stressful enough so I tried building two instances in parallel: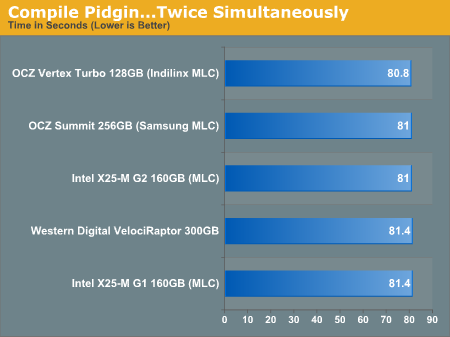 And...nothing. It seems that building Pidgin is more CPU than IO bound, or at least its IO access isn't random enough to really benefit from an SSD. I'll keep experimenting with other compiler tests but this one appears to be a bust for SSD/HDD performance testing.