Final Words
We've become complacent. In today's world of netbooks and nettops where performance is cast aside, we've let far too much slide. The bar of acceptability is too low. A good SSD is the anti-netbook, it is the most believable proof that PCs aren't fast enough today. We don't need good enough, we need orders of magnitude of performance improvement. And that's exactly what a good SSD can deliver today.
The performance improvement isn't limited to high end machines. In fact, some of the most perceivable differences in performance are on lower end machines, netbooks and nettops. The combination of a slow CPU and a slow hard drive is horrendous; the SSD allows you to at least alleviate some of the bottleneck in these slower machines. And today we actually have affordable options that make sense to even put in a netbook.
A year ago the market was full of worthless SSDs being sold at a premium. Today, we have two real contenders for the throne: Intel and Indilinx. Let me start with Indilinx.
Indilinx is a company that no one knew a year ago, nor would anyone even begin to trust back then. I remember talking to OCZ about the problems with their JMicron drives and being told that their next-generation drive would have a controller by a new company. They told me the name and I was more than skeptical. JMicron couldn't do it, why would this strangely named new company be able to get it right? Even when I first tested an Indilinx drive I was hopeful but still cautious; it's something I used in my system for a short period, but nothing I would commit to. If you wanted an SSD, Intel was still the only way to go.
When I started writing this article I took a big step. I felt that Indilinx drives had reached the point that their performance was good enough to be considered an Intel alternative. I backed up my X25-M, pulled it out, and swapped in an OCZ Vertex drive - into my personal work system. I've been using it ever since and I must admit, I am happy. Indilinx has done it, these drives are fast, reliable (provided that you don't upgrade to the latest firmware without waiting a while) and are good enough. We'll see how the drive holds up over the coming months but I don't have any regrets at this point.
If you're trying to move to an SSD at the lowest possible cost, there's finally a real alternative to Intel. We also have Indilinx to thank for driving SSD prices as low as they have been. If these drives weren't actually competitive, Intel would have no real motivation to deliver a sub-$300 SSD so quickly.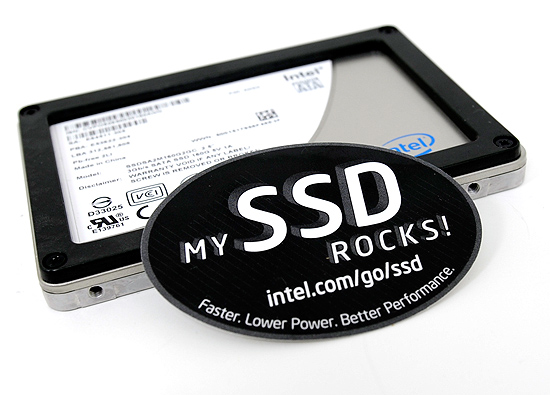 All of this Indilinx praise brings us to the next heir to the throne: Intel. The X25-M G2 is an evolution of the SSD that started it all, we see some specific but significant performance gains and hints of Intel's strategy moving forward. The G2's real strength lies in the fact that it is the only Intel drive that will support TRIM later this year. While the G1, even in its used state, will outperform an Indilinx drive - the G2's TRIM support will ensure that it's even faster than the G1.
The only bad thing I have to say about the G2 is that it doesn't address Intel's only weakness: sequential write speed. While on average the G2 is a better performer than the Indilinx drives in real world use, there are distinct situations where it falls behind.
I should also take this time to chastise Intel for absolutely botching the launch of the drive. I'm not talking about the embarrassing stop-shipment caused by poor validation, I'm talking about the fact that X25-M G2s are still out of stock even as I publish this article. The SSD group at Intel clearly needs to take lessons from the CPU teams: you don't launch product without availability.
Many readers have been emailing me asking what SSD they should get for their new Windows 7 builds, honestly the decision mostly comes down to capacity. Look at this table of prices:
| | | |
| --- | --- | --- |
| | Price | Cost per GB |
| OCZ Vertex 64GB | $219.99 | $3.437 |
| Intel X25-M 80GB | $279.99 | $3.500 |
| OCZ Vertex 128GB | $369.00 | $2.883 |
| Intel X25-M 160GB | $499.99 | $3.125 |
| OCZ Vertex 256GB | $725.00 | $2.832 |
You should buy the largest drive you need/can afford. If you only have 30GB of data on your system, buy the 64GB Indilinx drive. If you have 50GB? Opt for the 80GB Intel drive. Indilinx and Intel seem to complement one another more than compete thanks to differing numbers of flash channels on their controllers resulting in different capacities.
Is Intel still my overall recommendation? Of course. The random write performance is simply too good to give up and it's only in very specific cases that the 80MB/s sequential write speed hurts you. Is Indilinx a close runner up? Absolutely. It's truly a lower cost alternative. Am I relieved to be done with this article? You betcha.