Somehow I'd managed to dodge meeting with Globalfoundries since the company was formed earlier this year. For those of you who don't know, AMD is now officially a fabless semiconductor. AMD provided its two existing fabs to the new company and its partner, ATIC (Advanced Technology Investment Company) provided $6B. ATIC owns 65.8% of the new company and AMD owns the rest, although the two share voting rights.
AMD's biggest limitation has always been capital. Intel currently has four fabs that will be producing 32nm chips by the end of 2010, AMD currently has (err, had) a single 45nm fab in Dresden. There's simply no way AMD could compete in the fab game with Intel, so it chose to partner up with ATIC, take $6B of their dollars, and spin off its fab business.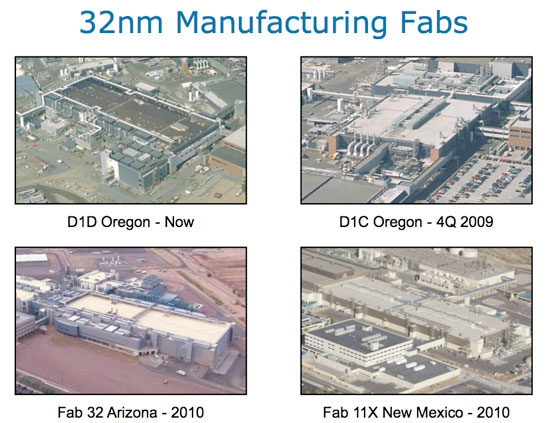 Intel's 32nm fabs for 2010
Until this morning, Globalfoundries only had a single customer - AMD, but that just changed with the announcement that STMicro would be using their fabs. Currently Globalfoundries only has AMD's two fabs in Dresden, Germany, only one of which is producing modern 45nm SOI wafers. But that too is about to change.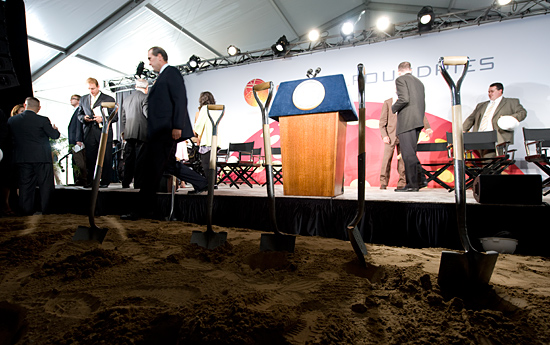 Ceremonial shovels, at a ceremonial ground breaking
My first official meeting with GF came just this past week, in Saratoga County, NY. That's the site where its brand new post-AMD fab will be constructed and it's sort of a big deal. I was there for the ceremonial ground breaking, but concrete doesn't get poured until September, the shell won't be finished until 2010 and the fab won't be done until 2011. Globalfoundries won't be able to ship revenue generating wafers until 2012. But that's ok, with $6B in the bank and a strong commitment from wealthy ATIC the company couldn't be in a better place.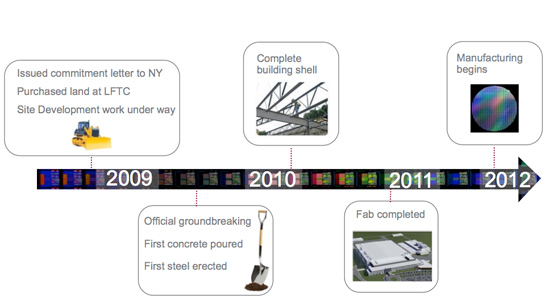 On Competing with TSMC
AMD couldn't last competing in the foundry game with Intel. The chart below just shows how expensive it gets: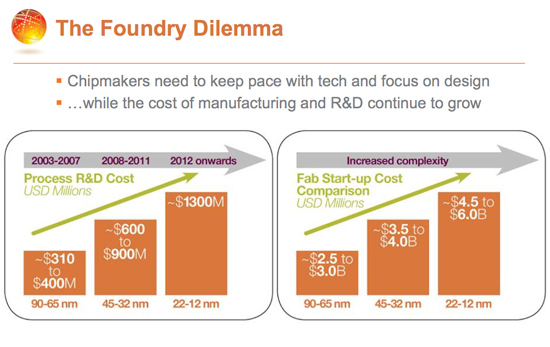 At 32nm a single fab can cost $4B and in just two years it'll need to be upgraded (to the tune of around a billion) to support 22nm production. For AMD to support the costs alone and remain competitive with Intel, it would have to virtually own the x86 microprocessor market. Even when AMD held the technology crown, that didn't happen.
The other alternative is to subsidize the cost of these expensive factories over multiple customers. This is where things get interesting. AMD alone may not be able to fill a fab and make the investment pay off, but AMD + Sony + Toshiba + NVIDIA + etc... can definitely make it work.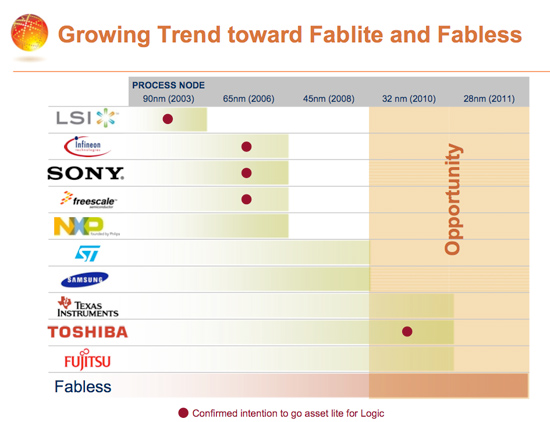 Globalfoundries' potential customers and when they plan on going fabless
Currently, fabless semiconductor manufacturers like NVIDIA (and the graphics division of AMD) go to foundry companies like TSMC for their manufacturing needs. In return, they get nearly the latest manufacturing processes (TSMC is at 55nm for volume and 40nm while Intel is at 45nm moving to 32nm) and don't have to worry about building expensive fabs.
There are problems with this approach. For starters, TSMC has been having troubles moving to 40nm - as you may have heard. Just as important, you don't get the most advanced manufacturing process technically available. There's also the fact that TSMC has very little real competition in the industry; all of the GPUs you're used to reading about are made at TSMC.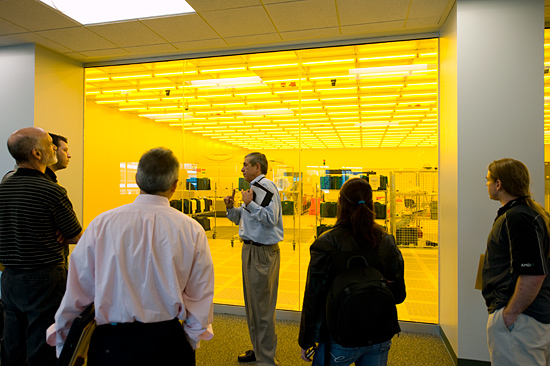 The machine to the left of the man's head in the center of the pic is a 193nm lithography machine. We weren't allowed to take close photos, but that machine costs around $75M. Fabs are expensive.
Companies like Sony, Freescale, Samsung, Toshiba and TI all currently fab their own chips. These chips are far less complex than a Nehalem or a Radeon HD 4890 and are thus made on 130nm, 90nm or 65nm processes. The SoC (System on Chip) in the iPhone 3GS is built on a 65nm process by Samsung at its own fab. Being able to move to 45nm or 32nm alongside Intel would give Apple, Samsung and even ARM in general a tremendous competitive boost in the market place. A 45nm iPhone 3GS would use less power or even run at higher clock speeds.
The need for a modern fab partner increases as you look at Intel's motions towards competing in the smartphone space. Once Atom finally makes its way into smartphones, Intel could have a manufacturing advantage over the ARM partners - allowing for quicker scaling to lower power and higher performance designs. In other words, companies making smartphone SoCs need a good foundry option to compete with Intel.