The Roadmap
There's clearly a need for a company like Globalfoundries, even if just to keep TSMC on its toes (hooray competition). But then reality sets in, Global isn't much of a TSMC competitor yet - it still only has one fab producing 45nm silicon and only SOI at this point.
Here's what Globalfoundries plans on doing with its existing fabs: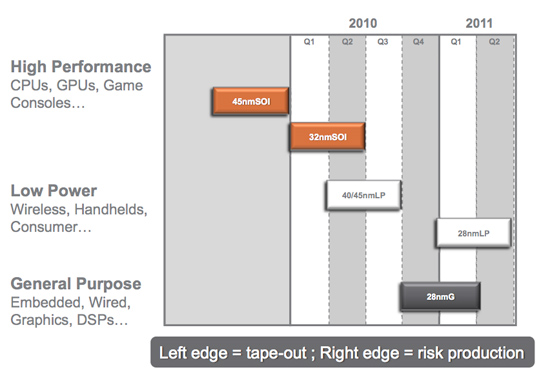 In the second half of 2010 Global will move one of its Dresden fabs to 32nm SOI production for AMD's CPUs. I'm not expecting anything else to be made on this process other than AMD CPUs at this point.
We'll see a "low power" 40/45nm process come out of Dresden near the end of 2010 as well. This will actually be for GF's first non-AMD customer: STMicro.
The real transition happens in 2011, when Global upgrades its older Dresden fab to support 28nm bulk silicon production. Globalfoundries views 28nm as the transition point for many potential customers. It's not that there's anything magical about 28nm, but many companies currently have designs for TSMC's 40nm process and it makes little sense to redo them for manufacturing at Globalfoundries. At 28nm they can simply design for Globalfoundries' process from the start.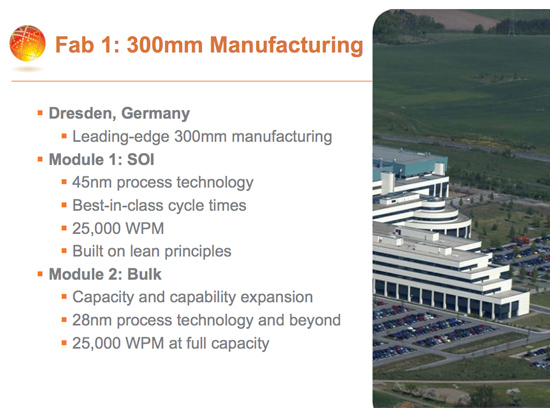 The fabs formerly known as Fab 30 and 36
Note that this 28nm process is a "half-node" (between 32nm and 22nm) and where I'm expecting to see ATI (and NVIDIA) GPUs made at Globalfoundries. The current 40nm products are being made at TSMC but it's possible that we'll see the next-generation pitched to GF. The first hybrid CPU/GPU from AMD will be built on GF's 22nm SOI process in 2012.
Bulk vs. SOI
Back in 2001 AMD started to move to SOI (Silicon on Insulator) for its CPU manufacturing. The benefits of SOI were lower power and faster switching rates, although it came at a higher manufacturing cost. AMD will continue to use SOI for its high performance CPUs because their price can justify the additional manufacturing cost. More price sensitive markets don't need the performance benefits of SOI and would rather not deal with the price penalties of it either; for those companies Globalfoundries needs to provide a bulk silicon process and in 2010, they will get just that.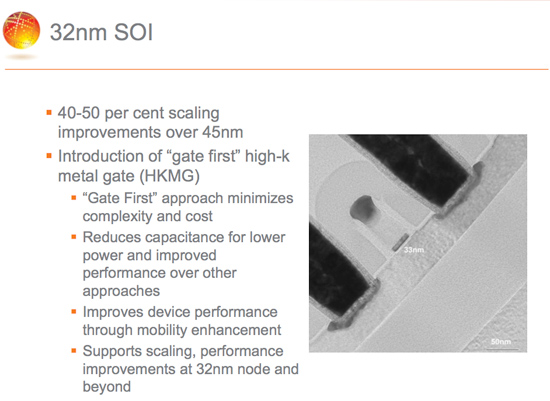 Enabling SOI as well as bulk silicon manufacturing isn't all that difficult but it does require some work. The first bulk process in Dresden will be a 40nm low power process out of Fab 1 Module 1. The first customer? Not AMD, but rather STMicro. These are the folks who used to make the old Kyro graphics cards, but obviously they'll be making low power SoCs here instead.
In 2011 Global will offer a 28nm LP bulk process as well as a 28nm general purpose bulk process. The latter will be used for GPUs and other non-ultra-low-power devices.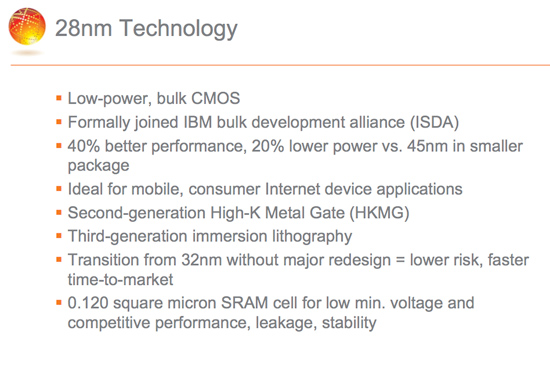 Again, all of these plans involve AMD's old fabs in Dresden, Germany (formerly Fab 36 and Fab 30, now Fab 1 Modules 1 and 2). Once 2012 rolls around, there will be a new player in town.